Erum Khan Couture gives the essence of pure feminine beauty and grace.
She has been known for her versatility and resilience.
Her dresses present the beauty, grace, and elegance of her personality and what she wants to see in other women.
Her commitment to her work can be seen easily in her clothes and their designs, colors, and quality.
Erum Khan has come around this year with an overwhelming, gorgeous, and extended collection of formal wedding wear and bridal dresses.
Erum Khan's wedding and bridal collection is like nothing you have seen before.
The wedding collection has a wide range of dresses which are traditional, modern as well as a fusion of both.
You can find a great variety of colors in this collection and more. The work done on these dresses is not just reliable but beautiful.
The work of her team is just so awesome that you will love it.
Erum Khan wedding and bridal collection has the best quality fabric you might found around. Moreover, she has given special importance to her bridal collection as well.
These dresses by her are just awesome and separate ranges for barat and walima make your options wider.
The color style and beauty of these dresses are just amazing and you will fall in love at first glance.
The royalty and regal look that these dresses give can make any bride go a week on her knees.
Let's have a look at this beautiful collection to see for yourself if you also love this Erum Khan's collection as much as we did. Which we are quite sure you would.
Erum Khan Bridal Collection 2020
Peplum Lehenga
This stunning and regal bridal outfit in gray with golden hues is out of this world beautiful.
This outfit has all the grace, style and an amazing fusion of modern and traditional styles.
It has a peplum embellished sleeveless top with a grand fully blown lehanga and a heavy Pakistani bridal dupatta.
Price: 1050000
Buy Here: https://erumkhanstore.com/product/garden-of-eden-xii-3/
Green Wedding Dress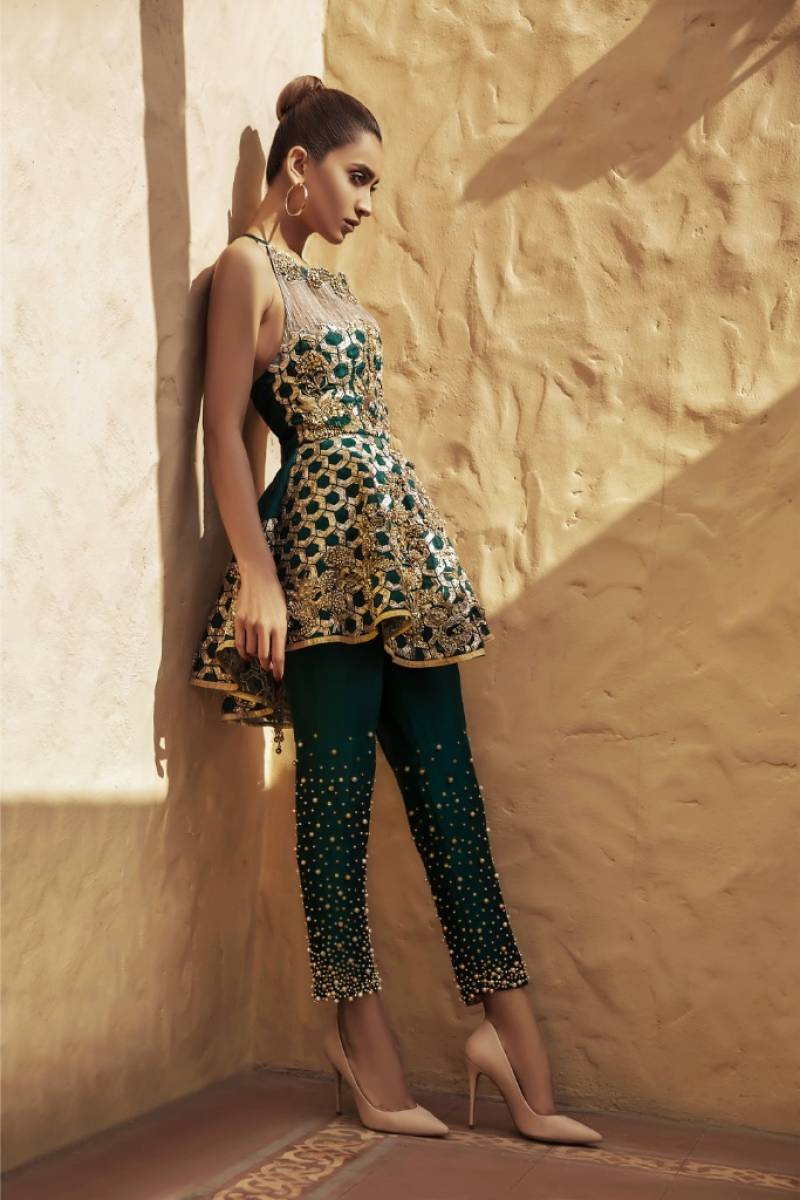 Who can deny the perfect fusion of west and eastern wear? We couldn't just find a better dress than this one to present as a symbol of that fusion.
Made into a peplum top with beautiful embellishments all over it in dark green color.
It comes with straight pants that have embellishments over them.
It is a perfect wedding dress for this wedding season.
Price: 140000
Buy Here: https://erumkhanstore.com/product/ola-de-nova-v/
Bridal Mehndi Dress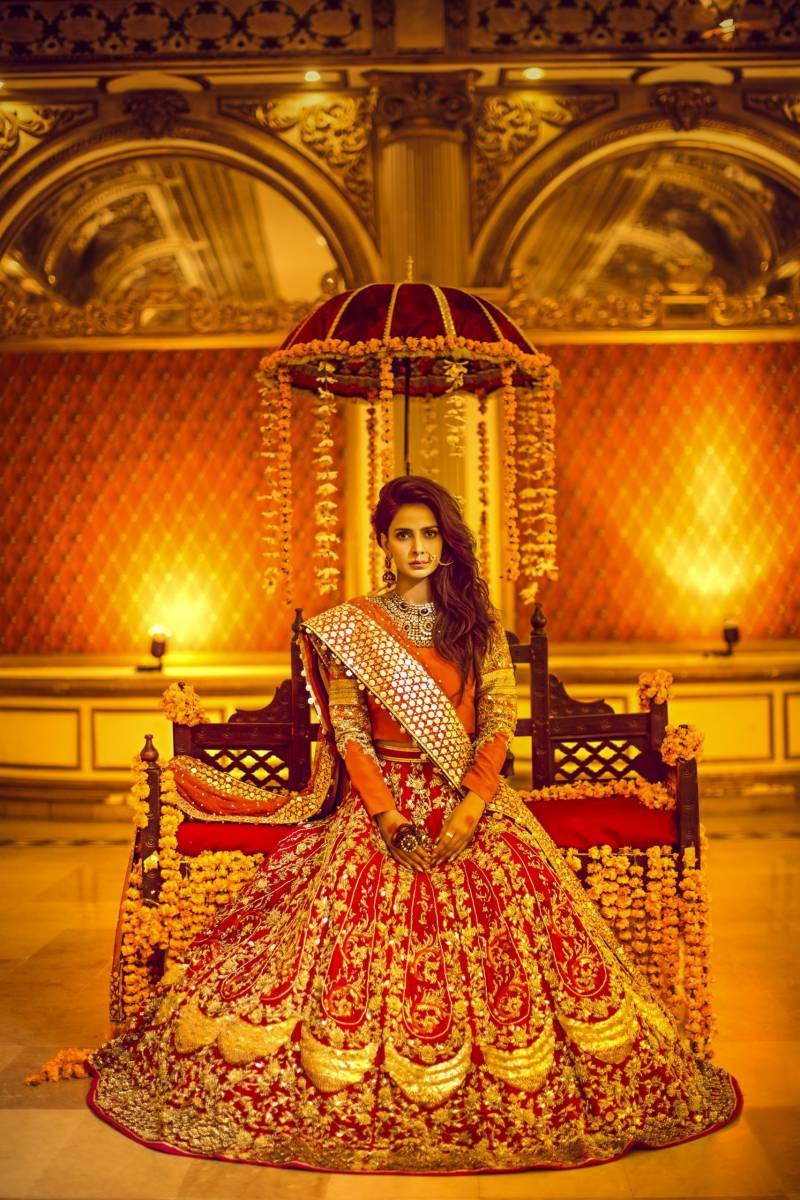 Erum Khan wedding and bridal collection has this awesome mehndi jora.
Adorned by the ever so beautiful Saba Qamar wearing Erum Khan Bridal Mehdni Dress, it looks just too perfect to be true.
It has embroidered and adorned flexed lehenga in pink with golden yellowish work all over it.
It comes with a raw silk orange shirt and a silver worked dupatta making Saba Qamar look like a royal nawabzadi.
Price: 580000
Buy Here: https://erumkhanstore.com/product/nawabzadi-ii-3/
Wedding Dress for Family Wedding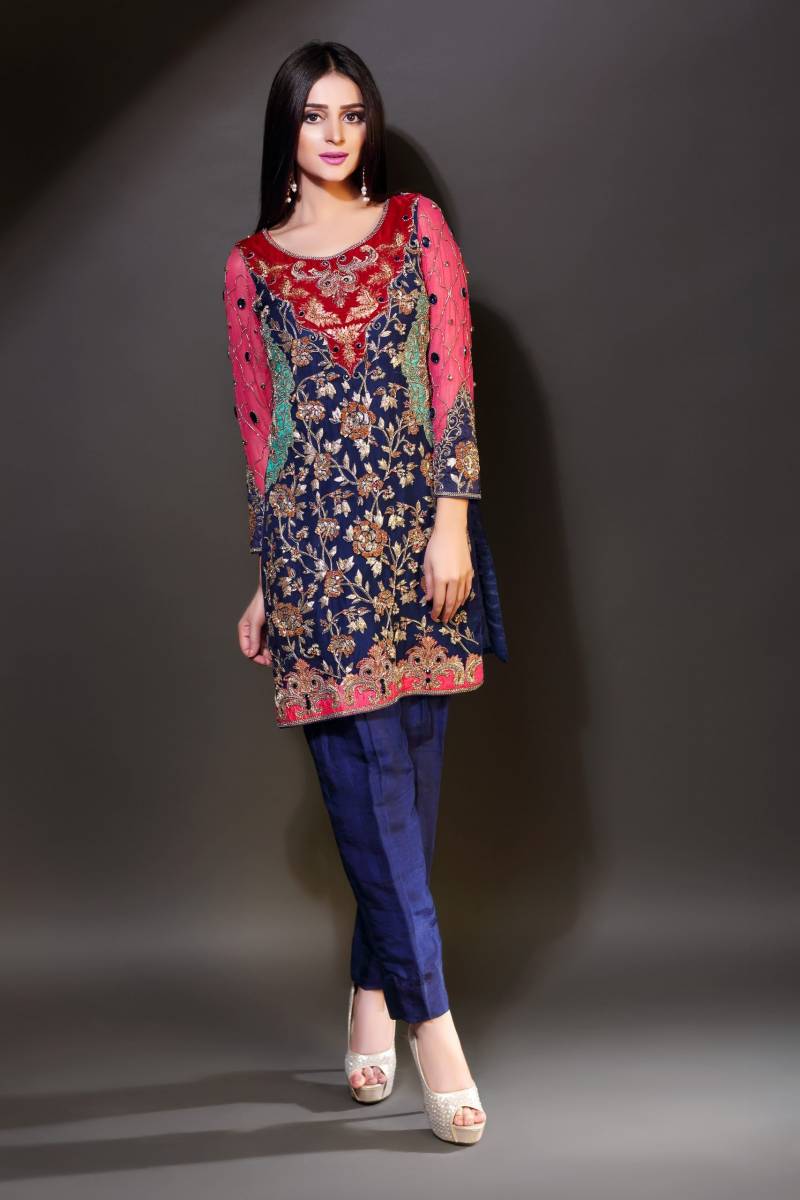 Playing with colors and making them perfect is a specialty that Erum Khan has and Erum Khan wedding and bridal collection is just an example of it.
Beautifully embellished traditional style shirt in blue basically with patches of red, tea pink and blue.
Paired with a blue silk shalwar it just looks perfect traditional outfit for a wedding guest.
Price: 14000
Buy Here: https://erumkhanstore.com/product/aphrodite-ii-3/
Erum Khan Shop Online
Silver Royalty by Erum Khan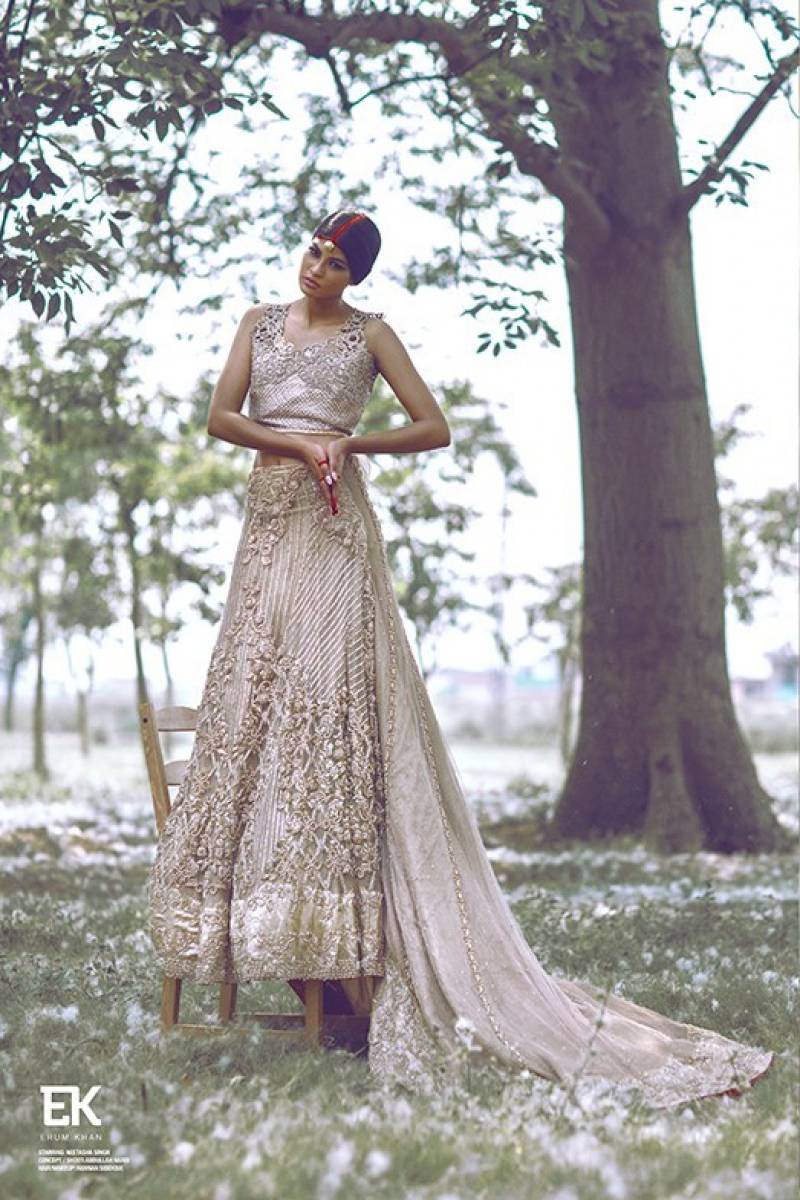 This beautiful dress by Erum Khan is simple yet elegant.
It has a silver net 3D embroidered lehenga that comes with a silk Jamawar choli.
Though not big and heavily adorned gives such a regal look that is encapsulating.
It comes with a beautifully adorned net dupatta to make this already beautiful dress more charming.
Price: 420000
Buy Here: https://erumkhanstore.com/product/progeny-of-venus-ii-3/
Traditional Wedding Dress for Bride's Sister
This beautiful outfit by Erum Khan is so beautiful and has such grace that it can't be ignored.
This dress has a beautiful medium-length heavily adorned shirt and it comes with equally adorned straight pants and a beautiful big printed silk dupatta.
That makes this dress perfect wedding wear for the bride's sister.
Price: 220000
Buy Here: https://erumkhanstore.com/product/dastan-e-mir-viii-3/
Fancy Wedding Dress Pakistani – Fairytale Bridal Gown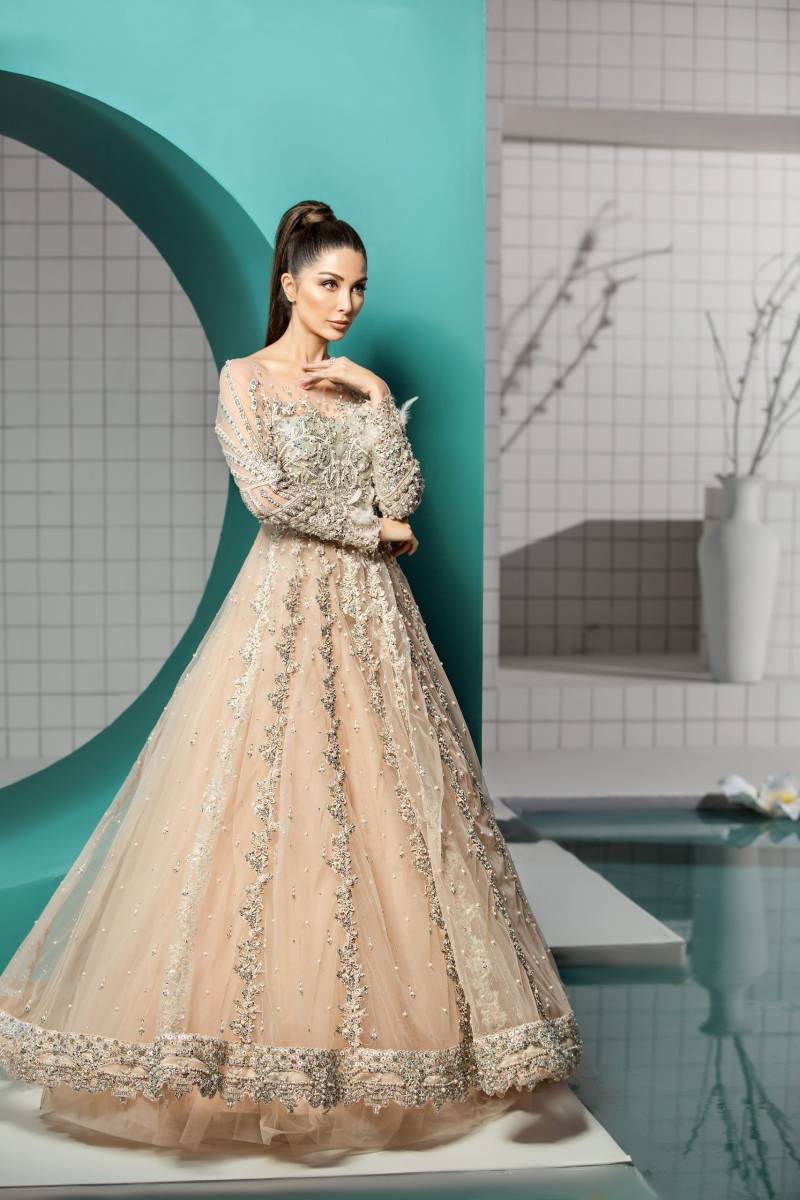 This beautiful bridal dress has 3D embroidery all over it. It is a light pink maxi in the frock style. This maxi has waterfall-style embroidery below the bodice.
It is so eye-catching and gives the vibes of a fairy tale. It comes with lehanga in the same color as pink.
Price: 220000
Buy Here: https://erumkhanstore.com/product/pink-maxi-3/
Walima Bridal Dress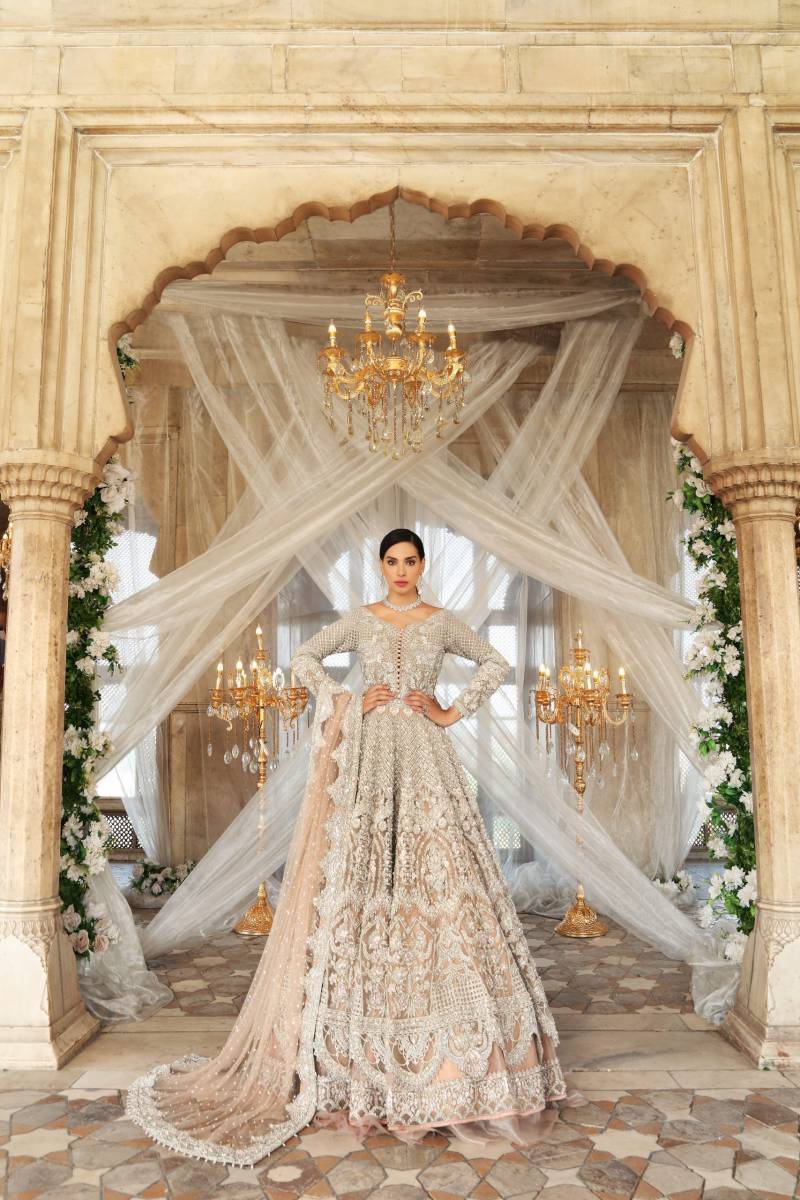 This pure regal, a pure royal walima dress is so mesmerizing that you just cannot deny its beauty.
It has heavy embellishments all over it. It makes a perfect walima dress with a beautiful full-length maxi and a lehanga pair within a peachy shade with silver grey work over it.
Price: 1450000
Buy Here: https://erumkhanstore.com/product/dreamy-bean-3/
Multicolor Lehenga Choli
This Pakistani wedding dress from Erum Khan wedding and the bridal collection has a white sequenced saree, which comes with a beautiful flared lehanga in multi colors, Pink being the main.
This lehanga has beautiful work of embroidery and stones all over it.
Price: 195000
Buy Here: https://erumkhanstore.com/product/aphrodite-vi-3/
Red Bridal Lehenga by Erum Khan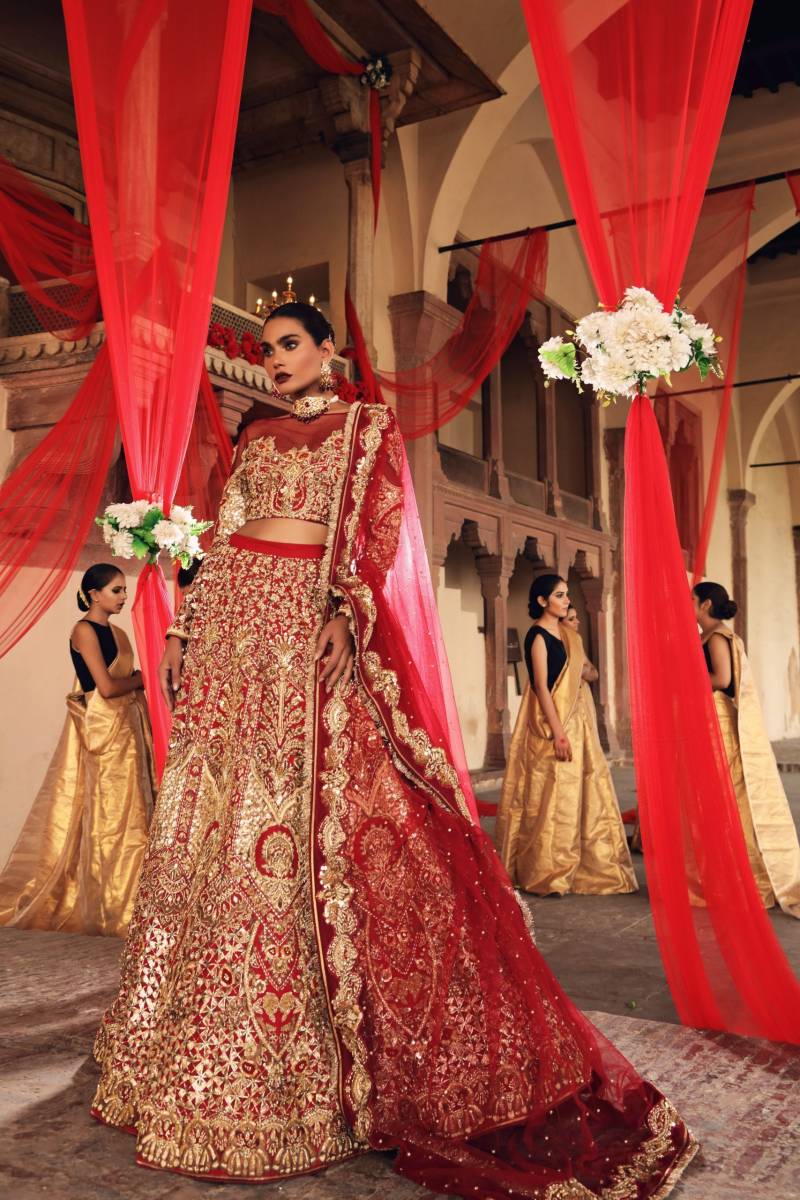 Isn't the red lehanga the thing we all crave as a perfect bridal dress.
And imagine a heavily embellished red lehanga.
This beautiful dress has golden adornments.
It has zari and dabka work on it with embellishments of stones, crystals and whatnot.
This perfect bridal wear for barat is all you want.
Price: 1250000
Buy Here: https://erumkhanstore.com/product/marigold-3/
Conclusion
These are just a few dresses from ever so gorgeous, vast and extended collection of Erum Khan wedding and bridal collection.
But these are a few of our favorite pieces and we cannot deny that we are fangirling on these dresses like anything.
You can see the grace and beauty of these dresses and understand why we love this so much and why we are going crazy about them.
Moreover, these dresses will make the bride and the wedding guests look fabulously amazing and you can shine at the event.
Doesn't matter whether you are the guest or the bride. This exclusive selection gives you both options to rock both looks.
You can buy these dresses from the links, or you can visit Erum Khan shop and select a dress for yourself.
If you want to explore more options you can visit Erum Khan's official website and see loads of new options as well.