Summary:
Fabric: Chiffon
Color: Mint
Price: 4766
Buy this beautiful Pakistani dress online by Sifona in mint. This beautiful dress ha fully embroidered shirt. While it comes with plain crepe trousers and slip. Also, it is paired with embroidered dupatta.
Description:
Mint green chiffon Pakistani dress online by Sifona officials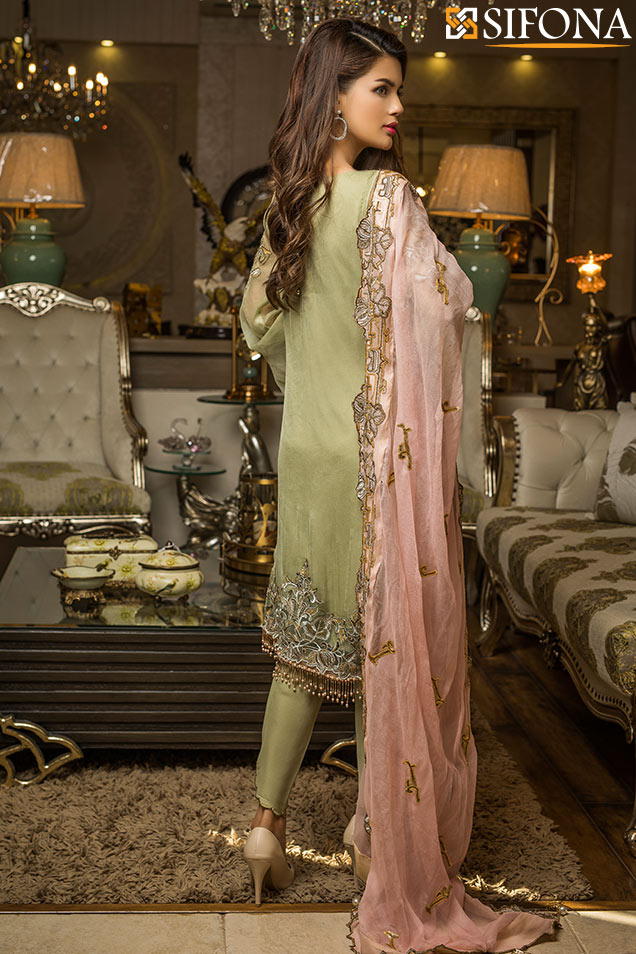 Beautiful and elegant mint green Pakistani dress online by Sifona official. This pretty dress has a fully embroidered chiffon shirt. Also, the trousers and slip are plain Russian crepe. While the dupatta is in pink color. Also, the dupatta is fully embroidered. Also, it comes in sale price of 4766 Pkr.
Pakistani Dresses Online You May Also Like to Buy Online:
Sifona is an emerging Brand of Elegance that deals in Women Clothing. It is a Fashion House that brings bang on trend pieces. Also, that in Flattering Prints and Fabrics of Supreme Quality at Reasonable Prices. Sifona is known for its versatility and style. Besides, always striving for better this brand has introduced best type of traditional dresses. While it work with keeping in view the demand, style and their personal preference. Hence, end up providing best of craftsmanship.
Besides, her services to the customers are exemplary. She provides heed to customer's choice and request. And produce from best of her skills the unique and updated attire.
While you can also place orders online. Online service is available all over Pakistan. You can visit her and place order here: https://www.sifona.com/product-category/luxury-elmas2-collection-18/