Pakistani Wedding Dresses by Aisha Imran, with its lovely delicate designs, has permeated Pakistani luxury wedding fashion.
A fashion house that ensures the uniqueness of each piece in its level of individuality and originality. At the same time, it brings the dynamic fusion of eastern wedding dresses.
Moreover, an elegant range of wedding dresses has been introduced by Aisha Imran over time. Her pieces are always a combination of traditional touch and modernity.
While season after season, these dresses show the combination of innovation with the origin.
Also, Pakistani Wedding Dresses by Aisha Imran's mind and customers' ideas are given importance. The dress is then transformed into the best of possibilities.
Graceful and classy Pakistani Wedding Dresses by Aisha Imran Online
#1 Smoky Pink Wedding dress
A luscious smoky pink Aisha Imran's embroidered net kurta with gota aari work details. It is paired with a dupatta and trousers.
It comes with a slip. Furthermore, the dupatta has embroidered tassels on it.
Priced 28500 available here
#2 Aqua Peplum dress
A gorgeous aqua peplum with overall embellishments.
Also, Pakistani wedding dresses by Aisha Imran have boot-cut raw silk trousers. It comes with a chiffon chan dupatta.
Priced 45500 available here
#3 Traditional Pakistani Wedding dress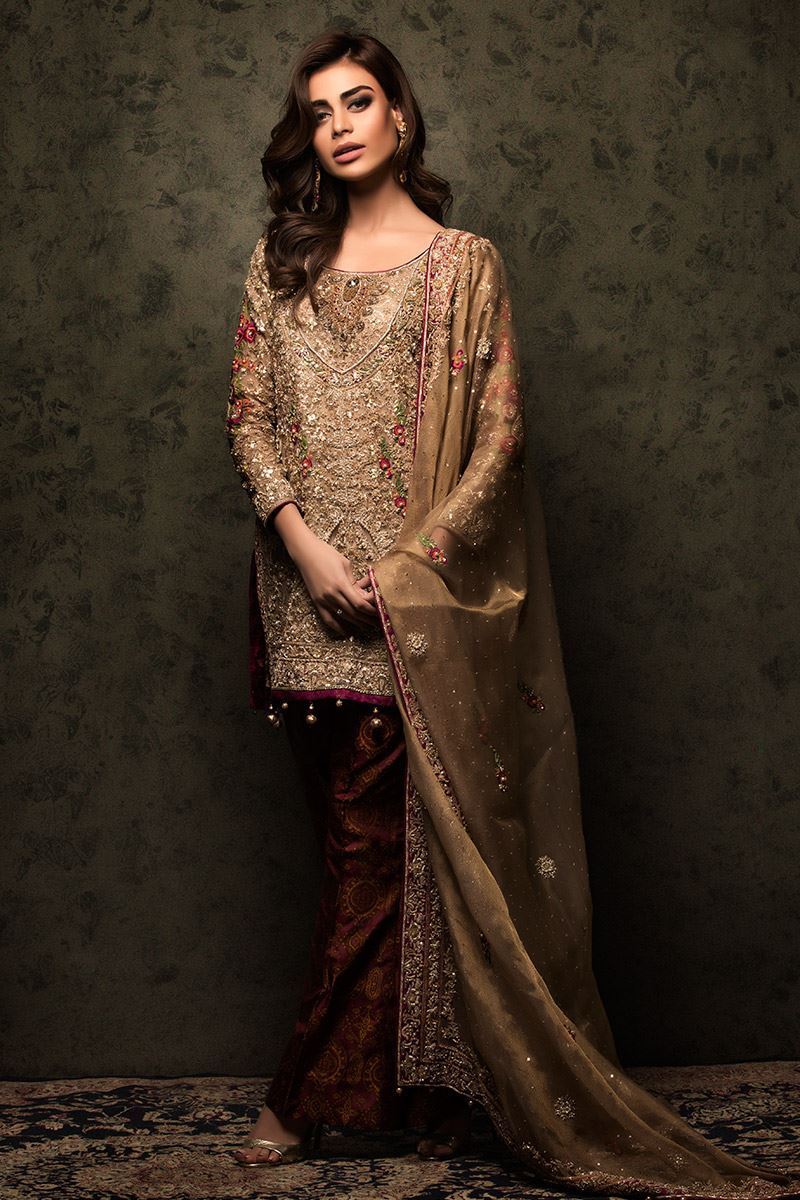 A very traditional brown and golden shirt embellished with zardozi and thread work.
Also, it is accessorized with a couture embroidered heavy dupatta and paired with boot-cut pants. Hence, a ravishing Pakistani wedding dress.
Priced 148500 available here
#4 Pink Angrakha Dress
Pakistani wedding dresses by Aisha Imran have pink net angrakha.
It is embellished with embroidery in chiffon. It comes along with raw silk straight pants and a chiffon dupatta. It really can't get any prettier than this!
Priced 71500  available here
#5 Embellished Maroon Dress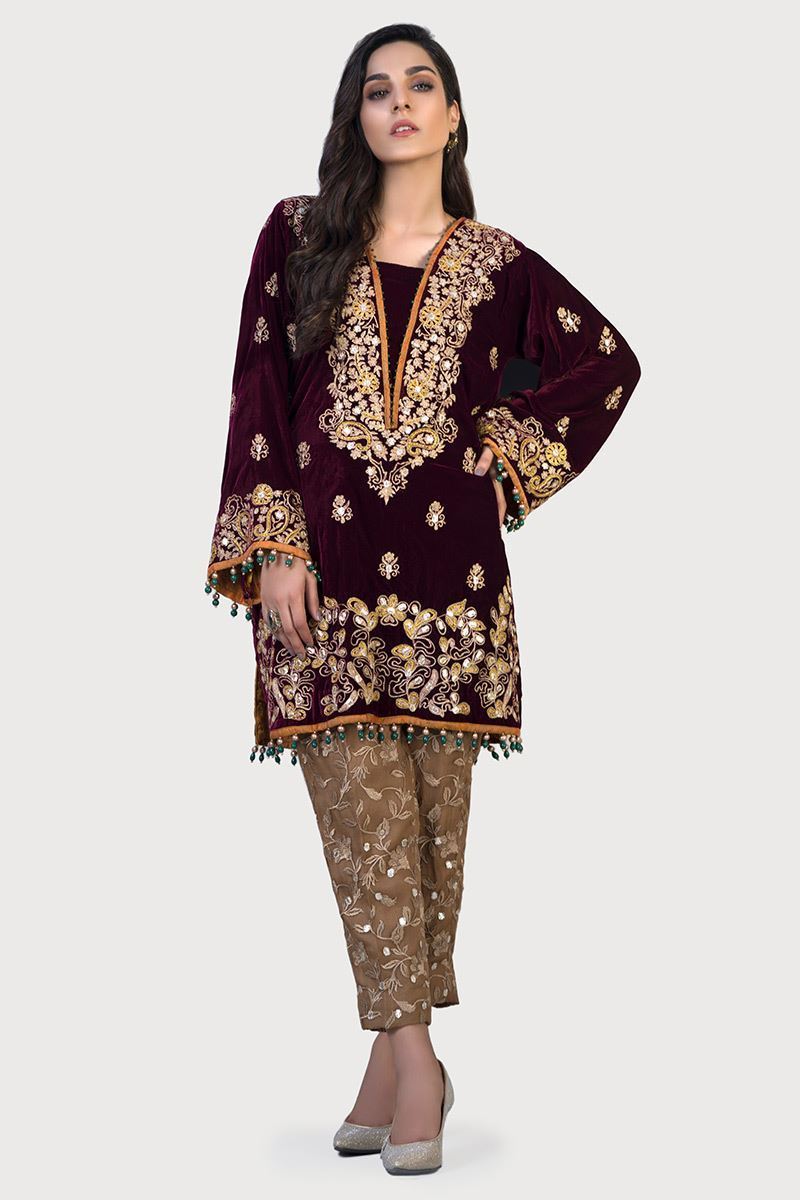 A very traditional plum Velvet shirt embroidered with Gota work.
Also, it comes with brown embroidered organza pants and a chiffon dupatta. Hence, making your go-to wedding dress.
Priced 44001 available here
#6 Vibrant Red Gown
Beautiful red Velvet gown by Aisha Imran.
This beautiful wedding dress is heavily adorned with gota work and embroidery on the front and a peacock motif on the back.
It comes along with jamawar trousers.
Priced 46501 available here
#7 Radiant Pink Wedding wear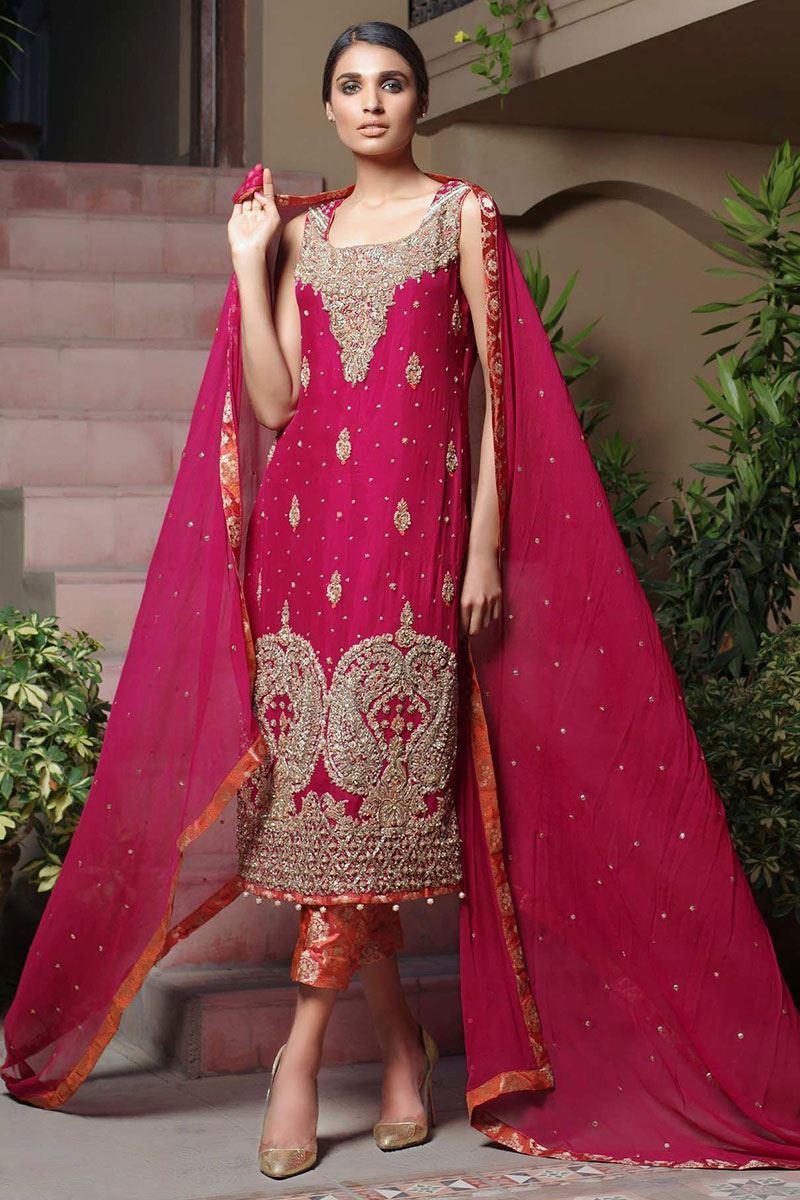 throughout the front and back of the daaman. Also, intricately embellished boti of stone and kora on both sides of the shirt.
Rust jamawar pants and chiffon dupatta with chan perfectly compliment the dress.
Priced 76000 available  here
#8 Alluring Ivory Gold Dress
Look alluring in this ivory gold trail gown heavily embellished in the front and back with green beads and finishings.
While completing the look with raw silk trouser and chiffon dupatta with sequins spray.
Priced 121007 available here
#9 Stunning Grey Suit
Buy this Aisha Imran's grey organza kurta with aari and gota work with slip.
Also, this is paired with a chiffon dupatta and trousers. Therefore, making an exquisite wedding dress.
Priced 16001 available here