The soft and the feminine, the bold and the strong, the fun and the daring.
The traditional and the modern combine to create Beautiful Pakistani Wedding Dresses by Moraab collection so unique and inspiring.
Each piece created with love, Mora'ab brings you the best designs in the finest finish and fabric, creating a piece so unique and timeless you will fall in love over and over again.
Moraab Formal Collection with Prices
Pakistani Wedding Saree with Gota Work
Bringing the back the grandeur of the past, the MAHARANI sari is a classic, timeless piece.
Set in a deep hue of electric blue, reviving the age-old gota work and detailed handwork & borders.
Price: 65,000/-
Click Here to Buy Now!
Moraab Formal Wedding Dress
A delicate mist grey organza paneled frock with floral trellises and ornate silver& golden handwork in zardozi and crystals, and we just love the cutwork adding the oomph here.
It comes with Raw silk trousers with embroidered & cutwork border on the hem.
Price: 55,000/-
Click Here to Buy Now!
Formal Pakistani Wedding Dress by Moraab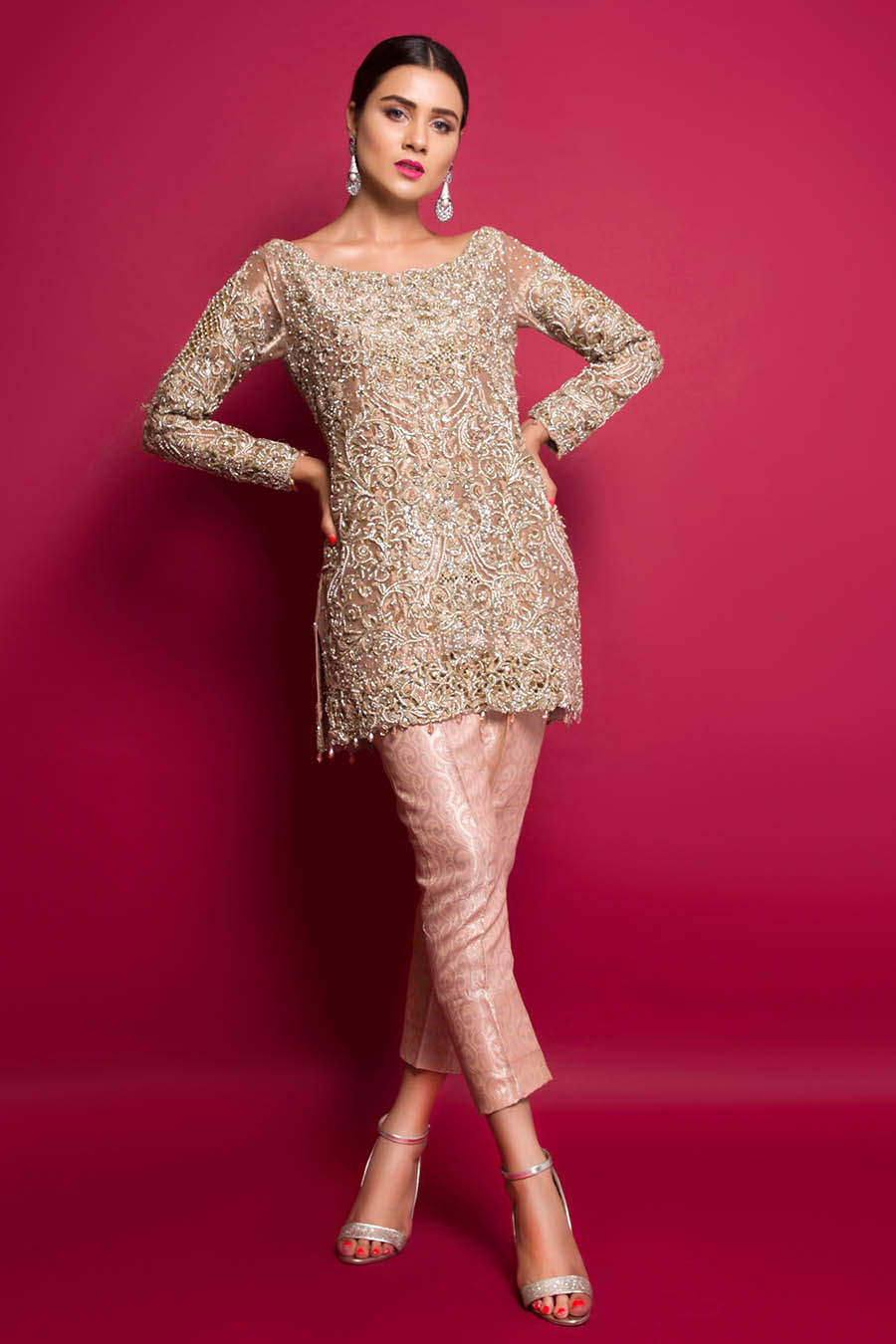 A beautiful amalgamation of the ornate and the dainty, this nude rose tissue shirt is fully worked with pearls, crystals, gold & silver zardozi, and delicate resham and ribbon work.
We love the neckline, sitting just on your shoulders and the sheer net detail on the back neck.
Price: 70,000
Click Here to Buy Now!
Formal Peplum Shirt with Silk Skirt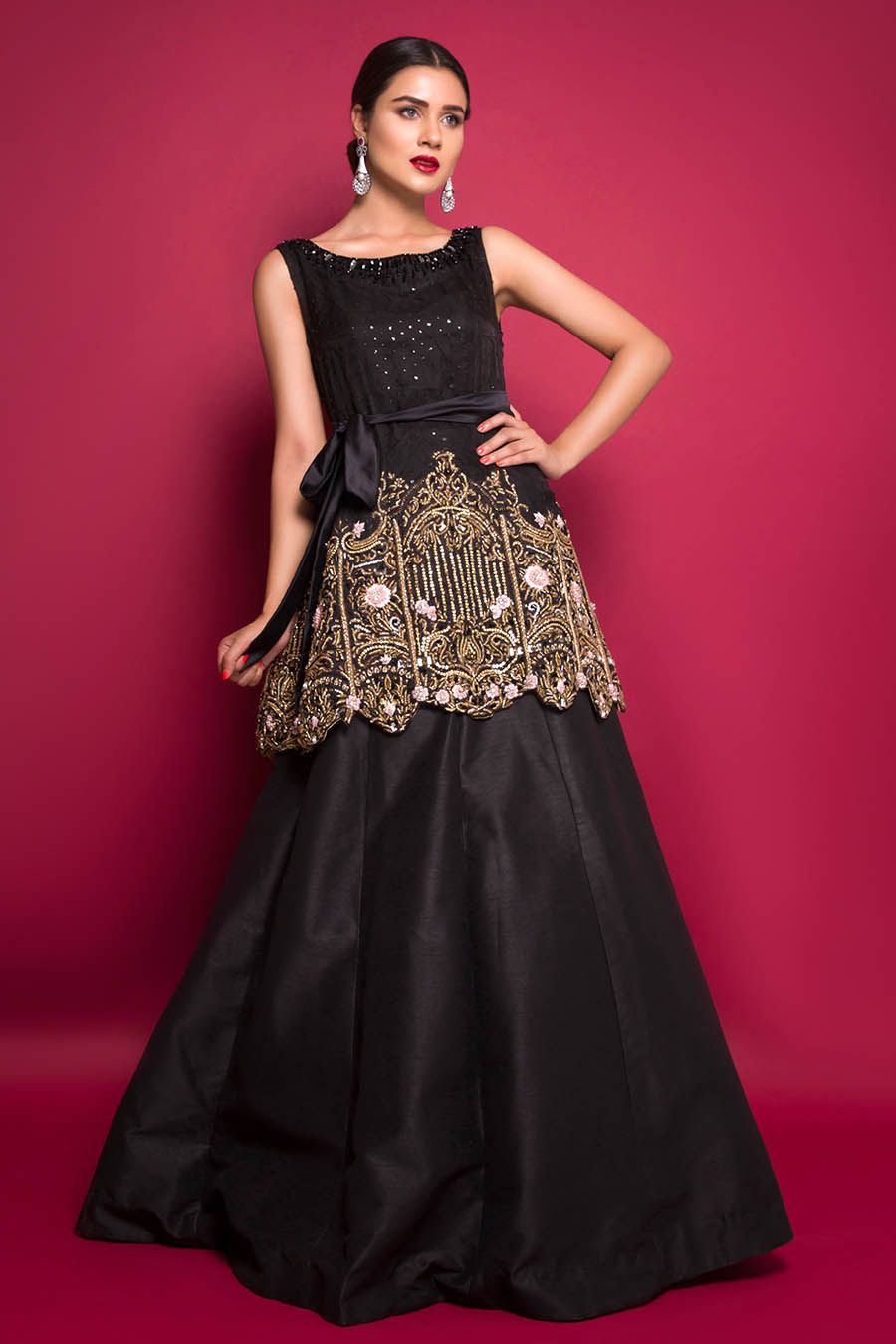 In love with this look! The renaissance age with this black peplum with crystals and handwork, paired with a full skirt in raw silk.
Price: 85,000/-
Click Here to Buy Now!
Formal Gown by Moraab for Pakistani Wedding
The jewel of our collection, taking grandeur to a whole new level.
Orante hand word with crystals, resham and zardozi work all over. This gown is bound to take your breath away.
Price: 225,000/-
Click Here to Buy Now!
Moraab Semi Formal Collection with Prices
Formal Angrakha for Friend's Wedding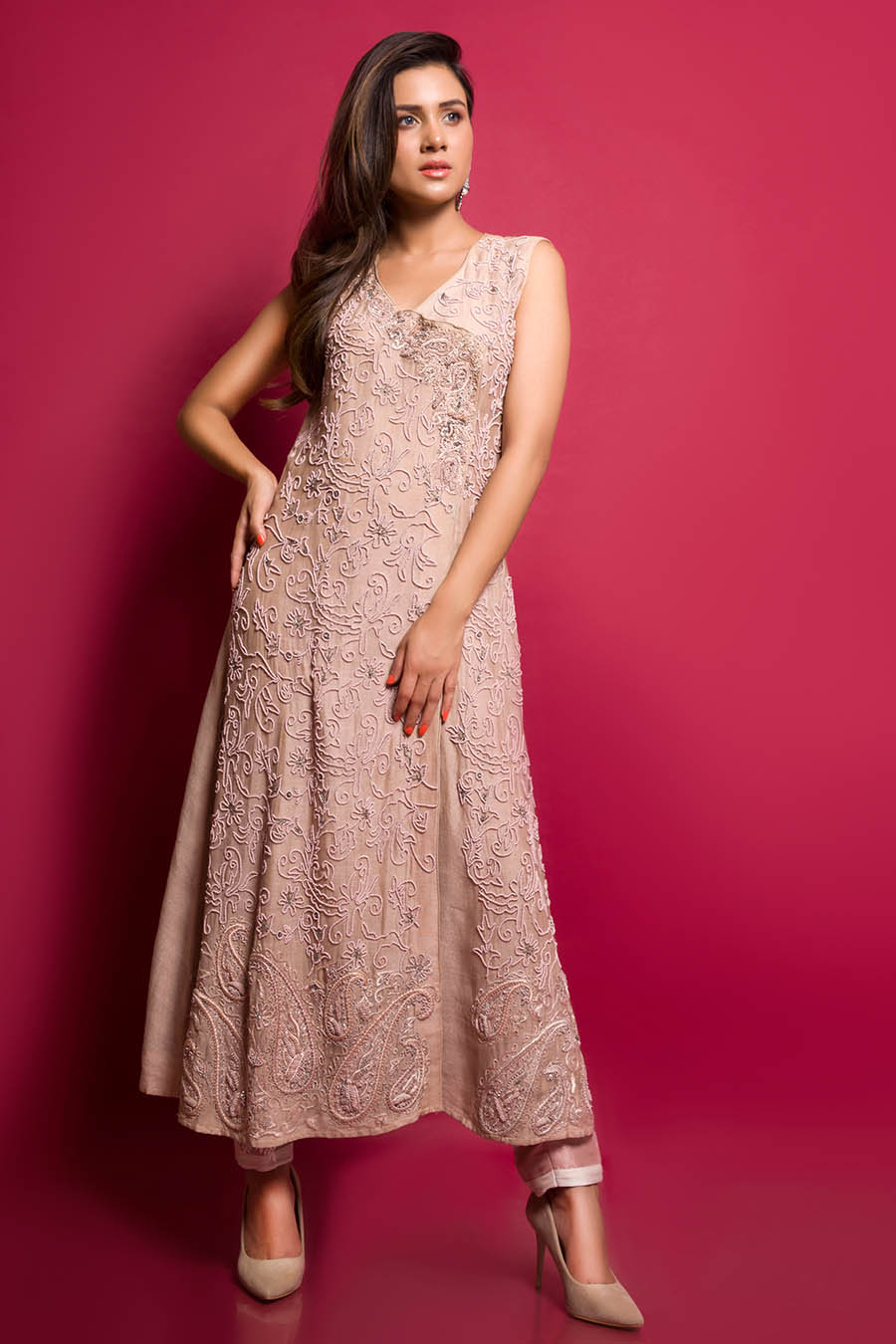 Our specialty beadwork overall with French knots border on hem and neckline, this nude pink number is our take on this traditional Indian angrakha cut.
Price: 45,000/-
Click Here to Buy Now!
Maroon Ethnic Wedding Dress with Golden Trousers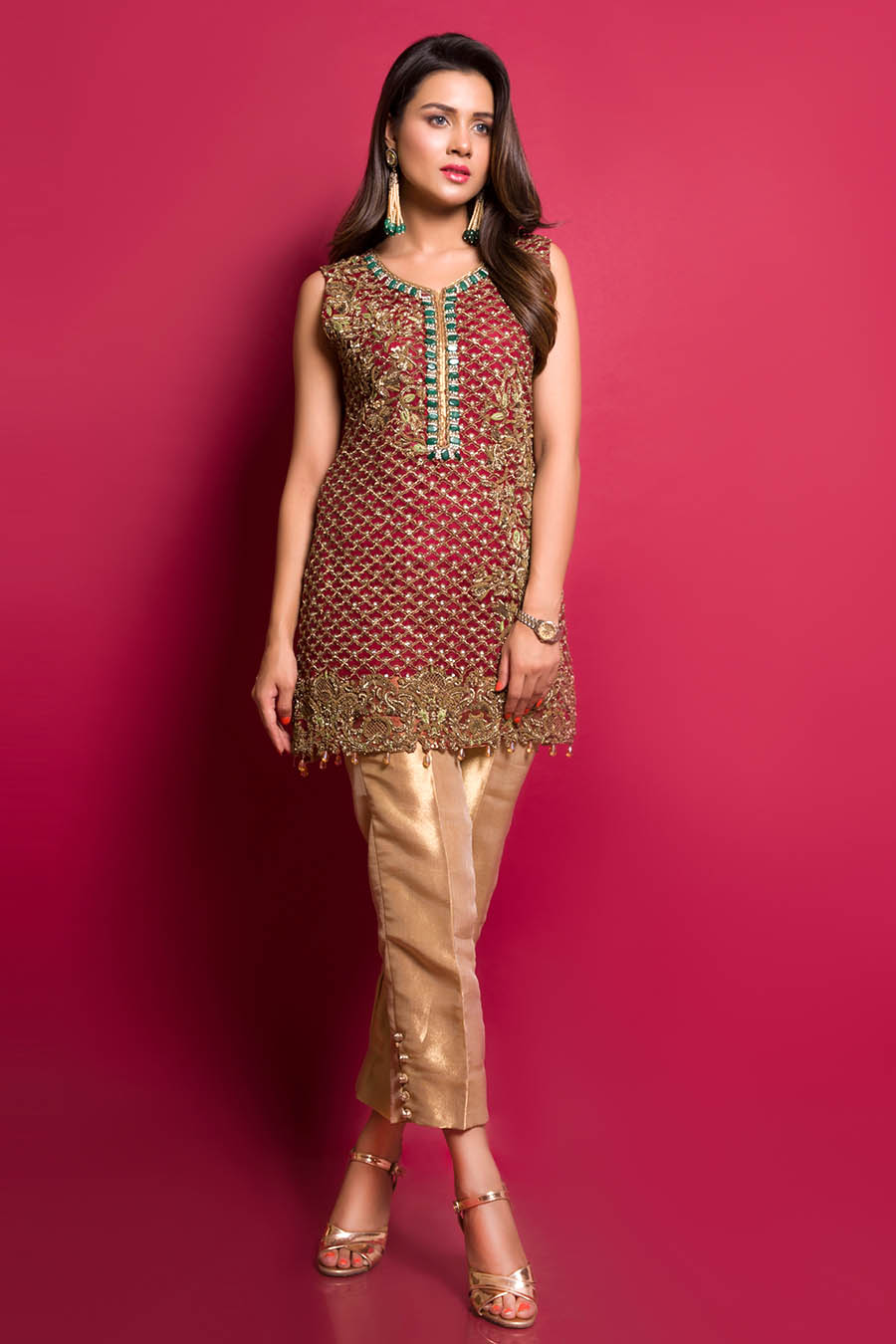 A classic maroon shirt that will never go out of style.
It has a beautiful Persian pattern with asymmetrical motifs and baroque borders, intricate handwork, and ornamental green jades.
It is paired with golden tissue trousers and the perfect choice for ethnic wear in a clean cut.
Price: 55,000/-
Click Here to Buy Now!
Silk Lehenga with Chiffon Choli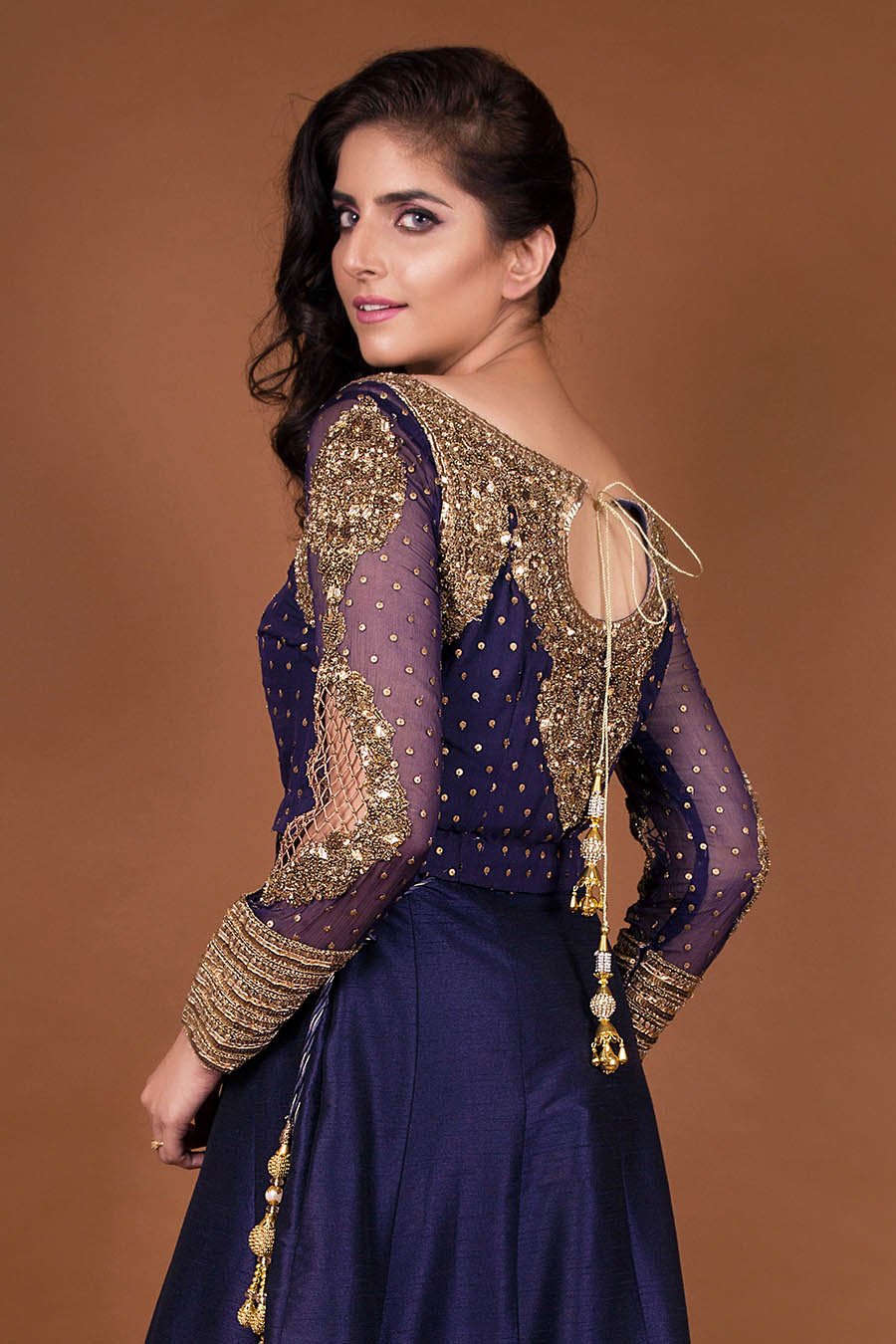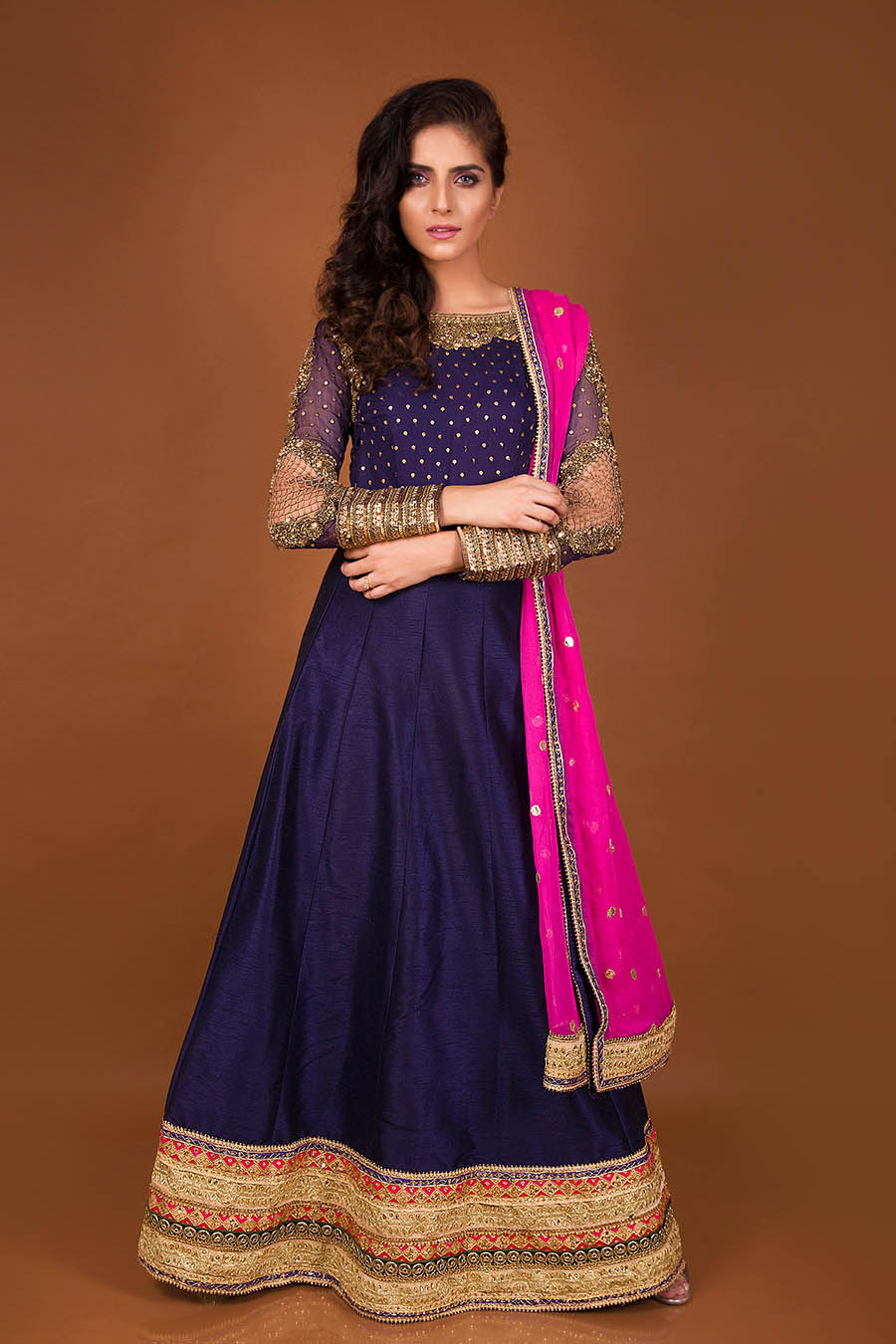 Deep blue raw silk lehnga with Indian borders in gold & pink, with a chiffon choli with detailed traditional hand work & gota work.
Pakistani Wedding Dresses by Moraab has a spray of dull gold sequence all over, while the neckline & sleeves are heavily embellished with zardozi work.
The key-hole detail of the back neck and the thick cuffs are our favorite.
It comes with a shocking pink dupatta with Gota spray and Indian borders on all four sides.
Price: 42,000/-
Click Here to Buy Now!
Pure Organza Wedding Suit for Bride's Sister
Beautiful and elegant coffee colored wrap in pure organza with self textured embroidery, intricate hand work, and sequence detail on the hem, front, shoulders, and sleeves.
Pakistani Wedding Dresses by Moraab come with a pure silk lining and pure jamawar trousers.
Price: 45,000/-
Click Here to Buy Now!
Pakistani Dresses You May Like to Buy Online:
The MORA'AB Woman
Beautiful Pakistani Wedding Dresses by Moraab with Prices
Her beauty captured the universe with a smile.
A wanderer s soul, her quest for beauty never-ending. She would travel through the world looking for the perfect image, the perfect moment, or even the perfect look.
The fashionista, the beautiful, the traveler, the diva, the MORA'AB woman.
The amalgamation of love and craft, of art and design, and of soft& fluid with the bold and beautiful creates the unique signature mora'ab look.
Lahore Pakistan
03217311114
DHA PHASE-4 LAHORE
info@moraab.com