Harris Shakeel bridal collection 2019 is to die for. This splendid collection came out recently and is alluring and beautiful beyond words.
We checked the whole collection and realized that its graceful style, patterns, sequences, and cut are so beautiful.
Harris Shakeel bridal collection of 2019 has come a long way.
Starting from the very bottom, now one of the most trusted names in the fashion industry, Harris Shakeel has earned it all.
With her exquisite designs, high-quality fabric, beautiful color selection and detailed work on all her dresses, she undoubtedly has won the hearts of her customers.
This one has incorporated different styles, from traditional to modern and touches of western.
Here are elegant lehanga cholis and lehangas with a long embellished shirt. You can get anything of your choice here.
We loved their alluring wedding gowns. With beautiful work overall and the fact, they represent beautiful the fusion of desi and western bridal dress.
Also, we found an elegant and pretty umbrella and anarkali frock in their bridal collection, which is a very creative and risky approach in this day and age.
But, those are so eye-catching and attractive. Besides, what got us going was the new and innovative approach to bridal dresses as they introduced gorgeous bridal sarees into their collection.
Harris Shakeel bridal collection 2019 has an excellent color selection. This collection has used beautiful, refreshing and eye-catching colors.
You will find all such amazing colors in this beautiful collection, from the very basic red and gold to the not-so-common mustard, lime and peach.
Also, the uses of some unique shades add extra beauty to it. In contrast, combination and fusion of colors made is no doubt well thought out.
These combinations give new life and elegance to the dress that they become hard to resist.
This beautiful collection uses high-quality fine fabric.
The most in-trend fabric silk has been used and infused in many dresses with such elegance that it gives the dress vibes of royalty.
Other than that, fabrics such as organza, jamawar, tissue, raw silk, net, and velvet have been used.
Even though velvet is not commonly used in bridal dresses, this collection has been used with such grace that it adds to the beauty of the dress.
Haris Shakeel Bridal Dresses 2019
Green Wedding Dress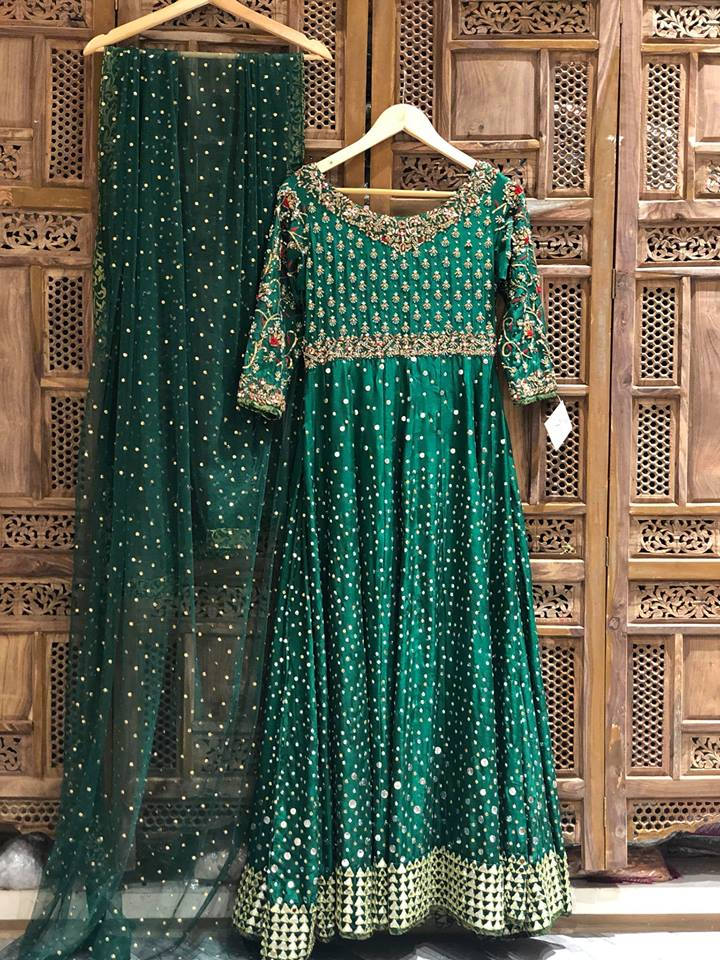 Minal Khan sizzles in a beautiful gold lama tissue peplum dress by Harris Shakeel.
This beautiful wedding dress comes with bootlegged pants and red kaamdani inner and organza Duppata.
A must-have piece if you want to look classy and traditional on your big day.
Birdal Dress Online
An elegant and gorgeous walima dress by Harris Shakeel has silver tissue heavily embellished crop top.
This beautiful dress comes with an organza sheer Duppata.
Also, a beautiful tissue lehanga with silver silk under with beautiful embellishment completes the look.
Wedding Lehenga
Harris Shakeel bridal collection 2019 has this deep red bridal dress having a long, heavily embellished gown with zardozi and Swarovski. 
It comes with a heavily embellished dupatta and a jamawar Lehenga.
Haris Shakeel Festive Collection 2019
Bridal Pishwas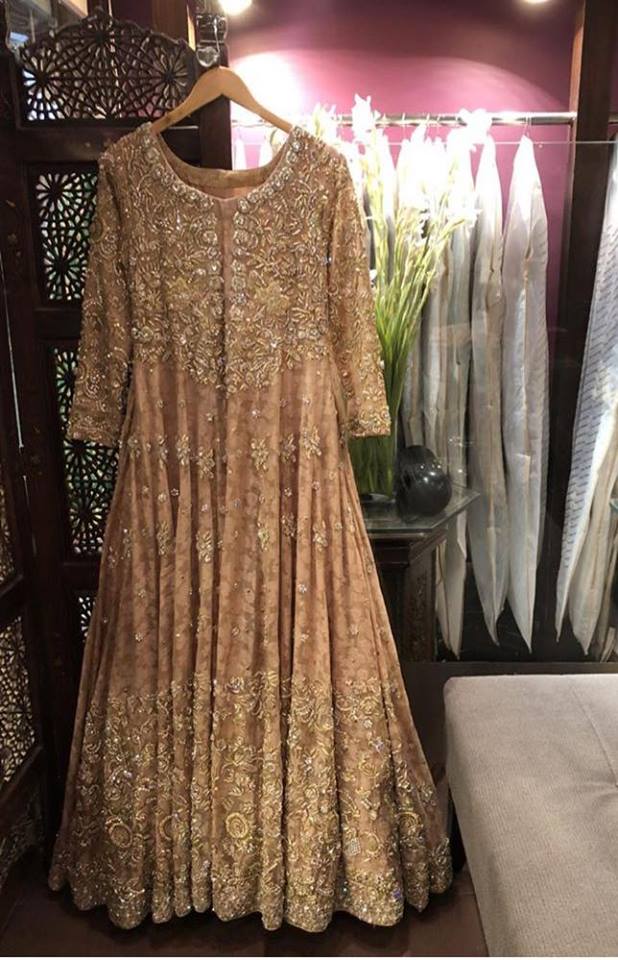 Get this beautiful lavender-colored designer pishwas dress by Harris Shakeel. This dress has beautiful embellishments all over it.
The work of beads, pearls and 3D floral stand out and makes this dress more attractive.
Red Bridal Dress
A stunning off-shoulder maxi can give you a very modern look.
With beautiful red color and gold work of zardosi all over it, this dress can make you a memorable bride.
Embellished Wedding Dress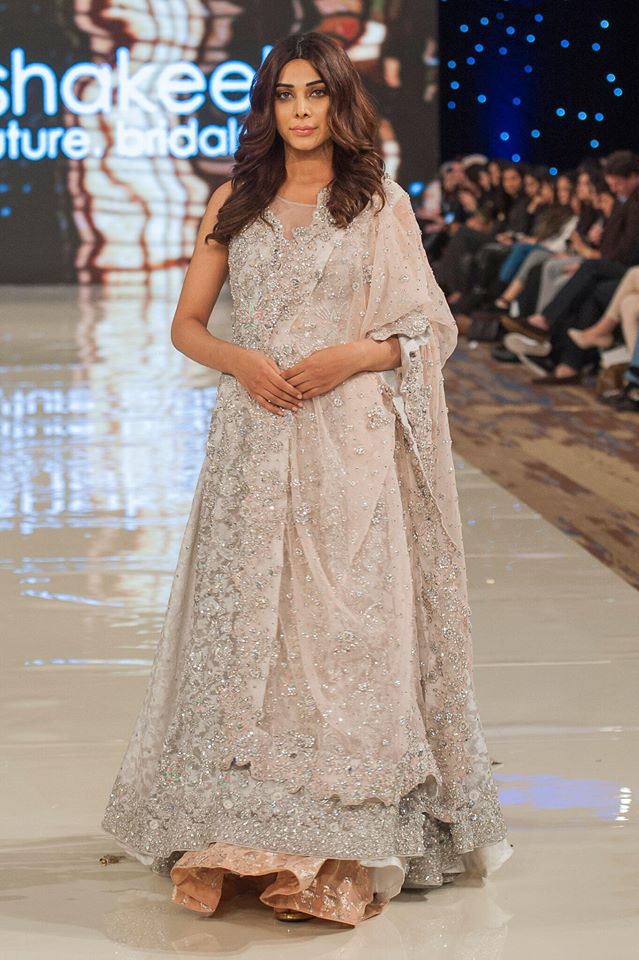 Encompassing the true essence of heritage wear, Harris Shakeel bridal collection 2019 evokes glamour of the resplendent past and harmoniously blends modern elements for creations entirely unique and distinct.
Haris Shakeel Wedding Dresses for Mehndi, Barat, and Walima
Bridal Lehenga for Barat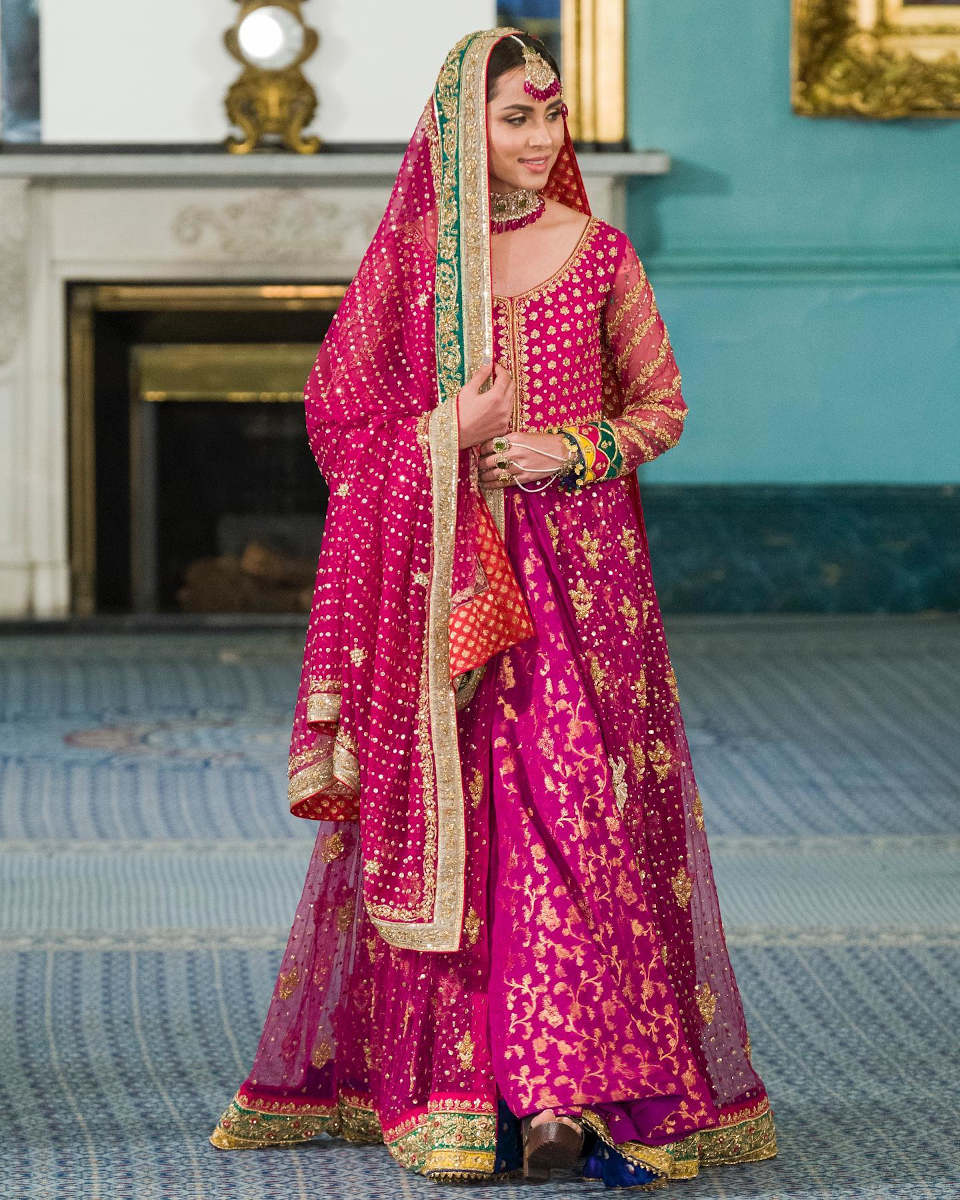 A beautiful trail Lehenga never fails to impress and this heavily embellished wedding dress by Harris Shakeel bridal collection 2019 is so stunning that it must make an impression.
Worked heavily with gold zardosi and zari, it comes with traditionally worked silver-colored Lehenga.
And to enhance the beauty of the dress, it is paired with chiffon maroon dupatta with borders adorned with kora and dabka work.
Mehndi Dress for Pakistani Women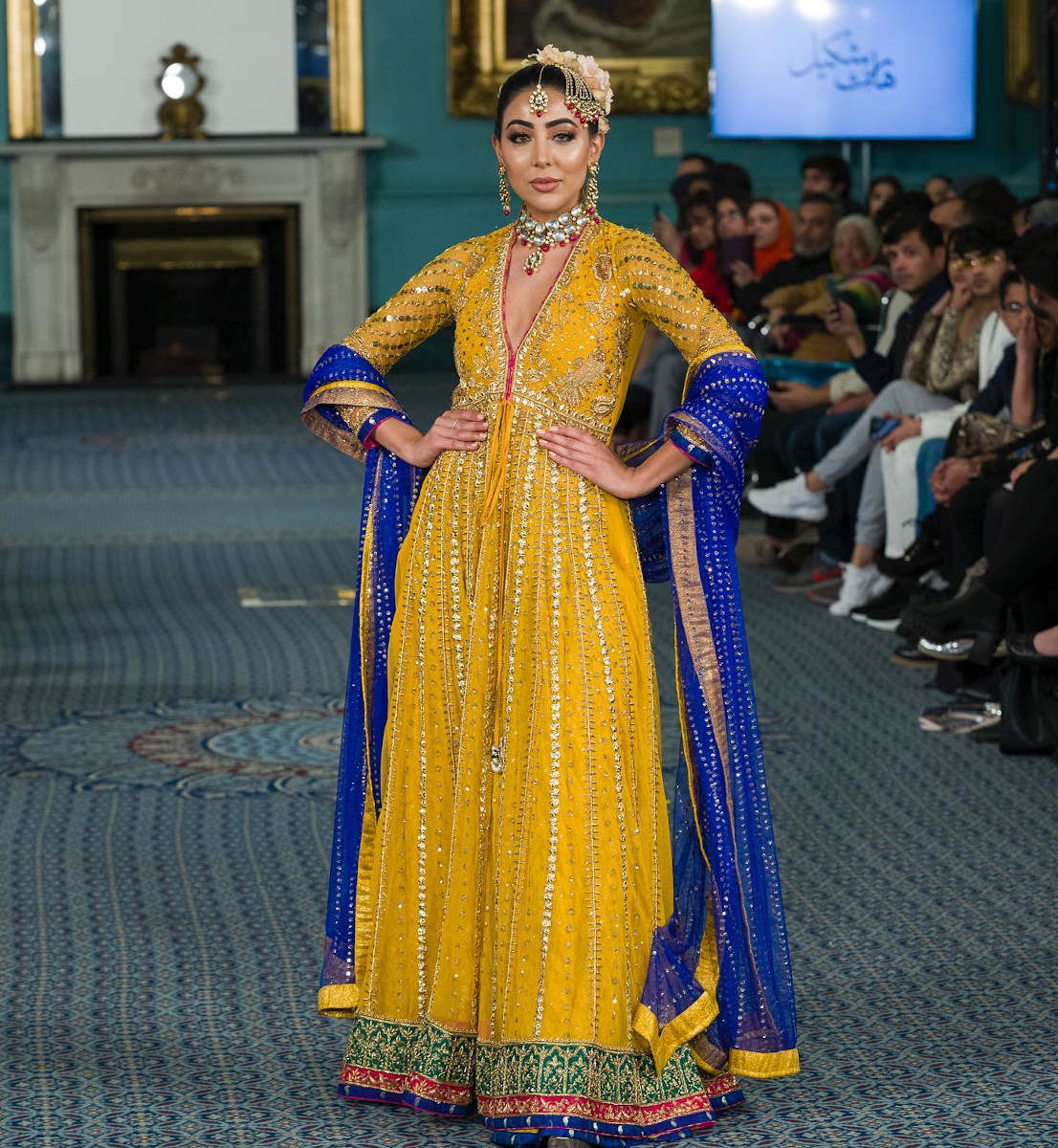 Hira Mani rocks the ramp in Harris Shakeel's silver bridal maxi dress.
This gorgeous bridal maxi has a silk undershirt and tissue fabric.
It is worked beautifully in white all over. It comes with the same colored tissue dupatta. This dress is perfect for making a stunning walima bride.
Nikah Dress for Pakistani Brides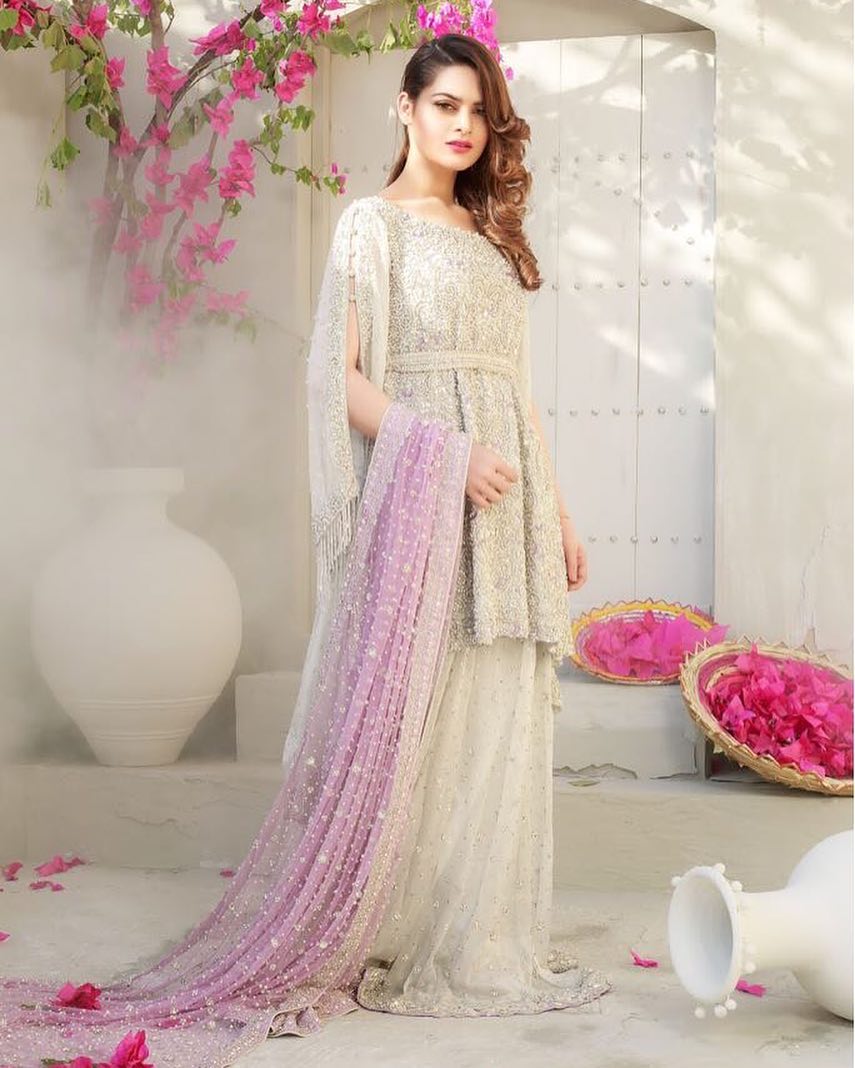 Harris Shakeel Bridal collection 2019 offers this elegant deep red long anarkali.
This sizzling dress has a beautiful neckline and bodice worked with very intricate zardozi and kaamdani work. Perfect for new wedding season coming ahead. 
Final words
Harris Shakeel bridal collection 2019 has used all the basic, traditional and culturally appropriate ways of embellishments on their dresses.
Also, they used in such a beautiful way that they make the heads turn.
Embroidery, thread work, kamdani, kora dabka, motifs, 3D handicraft are the main features of this collection.
While the work of crystal in this collection makes it so precious and elegant.
Nevertheless, we really loved this bridal collection from the core of our hearts and well will suggest you pay a visit to Harris Shakeel 019 bridal collection.
You will be able to find anything and everything you want, wish and need.