Summer has arrived, so has countless summer clothes collections.
With so many big, medium, and small brands launching their lawn collections, it is difficult to make the right choice.
From nice and firm colors to the quality of the fabric to pattern and designs and embroideries and even prices.
All these and many other significant matters concern the customer as to what and where to buy and where spending money will be an achievement.
So, we are here to ease your task by making the right choice for you.
Summer collection by Edenrobe is the right choice for everyone looking for some beautiful color, amazing patterns, high-quality fabric, and reasonable pricing this summer.
Yes, you got us right; the latest summer collection has everything we could dream of and more.
Their unstitched collection is vast this year and has everything from one-piece kurtis to three pieces elegant dressed.
They have stunning prints on their dress, the prints include both simple and digital printing.
Embroidered dresses are the focal point of this collection.
They are beautiful, attractive and gorgeous. They have amazing embroidery mixed with digital prints which make more eyes catching.
Other than that, they have elegant jacquard dresses. These can be worn anywhere from an event, meeting to a festival as they are just perfectly worked with some amazing patterns, easily adaptable for all gatherings.
Also, the fabric quality is something edenrobe has always worked on and you can also see in this collection that the quality is perfect of the fabric.
Not just fabric, the colors used on these dresses is firm and won't ruin after the wash, neither do these clothes shrink after machine wash.
These are some of our personal favorite dresses from summer collection 2019 by Edenrobe. We are quite sure that you loved them as well.
We suggest you visit edenrobe now and make out an elegant summer wardrobe.
You will find the style, color, pattern of your choice, that's for sure because this collection is full of diversity and style.
So don't wait and grab your favorite dresses now before the stock runs out.
Unstitched Lawn Dresses by Edenrobe
Unstitched Lawn Suit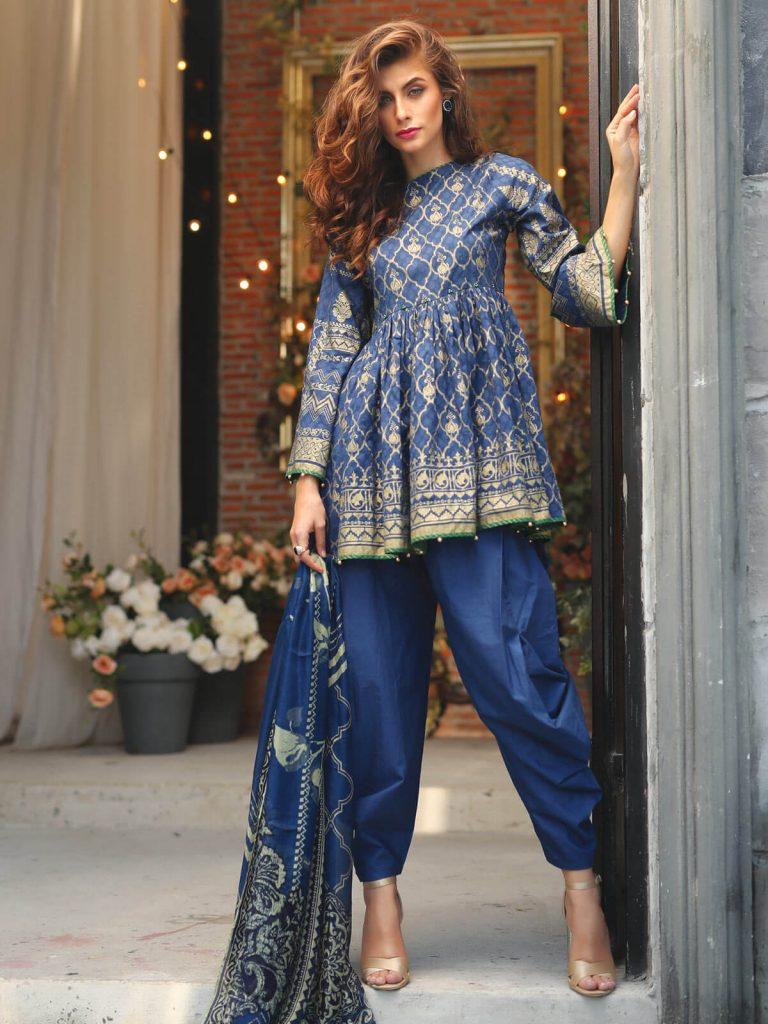 This beautiful dress by summer collection by Eden robe has an elegant jacquard printed shirt.
The shirt has a bright blue color with gorgeous patterns. It comes in plain dyed trousers.
To complement the look they have beautiful printed silk dupatta.
This dupatta not only enhances the beauty of the dress but also gives its wearer a very elegant and regal look.
Price: 4552/-
Buy here: https://edenrobe.com/product/woman/elu19v2-19522/
Embroidered Lawn Suit with Dupatta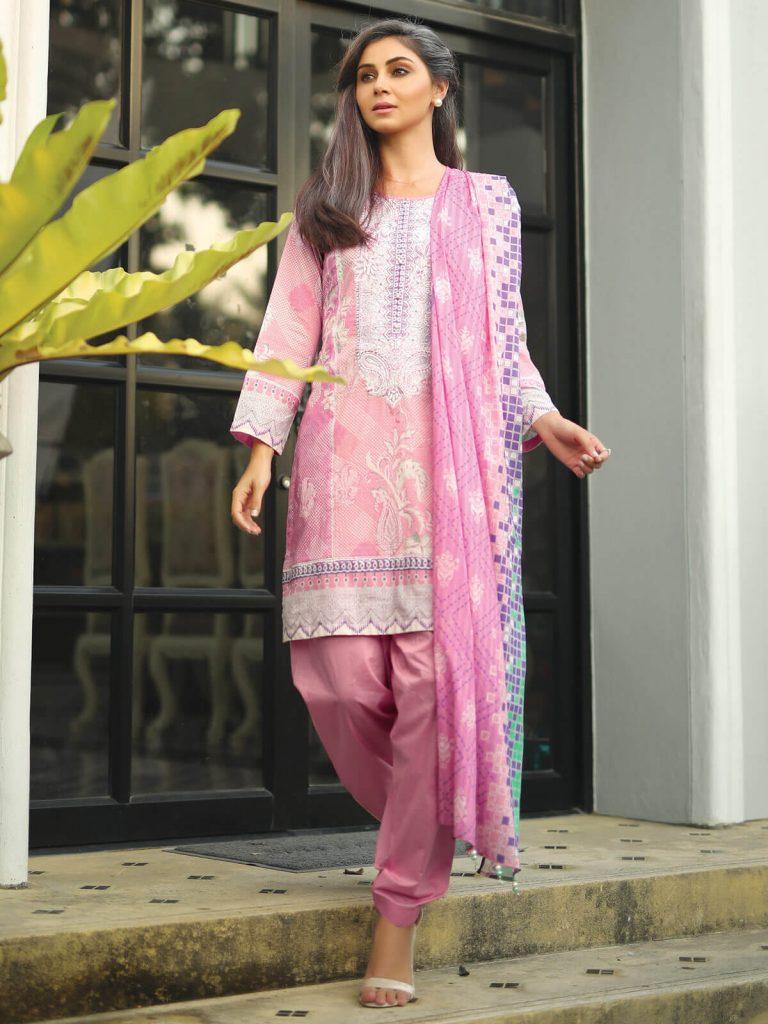 Buy this strikingly beautiful light pink Pakistani summer dress by Eden Robe.
This dress has printed shorts with embroidered neckline and plain lawn trousers.
This unstitched dress comes along with a soft printed chiffon dupatta. Also, this dress is presently available at a sale price.
Price: 2952/-
Buy here: https://edenrobe.com/product/woman/elu19v2-19546/
Sana Javed Wearing Edenrobe Lawn Dress
This elegant, refreshing dress is a must-have this summer.
It has a beautiful light brown shirt with jacquard printed back and beautifully embroidered front.
The d-sleeves are also embroidered. It comes with plain trousers and beautifully printed chiffon dupatta.
This dazzling dress can be worn at any event, Eid or any other festivity and it can definitely make some head turn.
Price: 6152/-
Buy here: https://edenrobe.com/product/woman/elu19v2-19487/
Unstitched Lawn Dress with Embroidery
Edenrobe, in their latest collection, has this lovely orange dress on the lawn.
This dress has been adorned with beautiful embroidery on front and with printed back and sleeves.
Also, it completes the look with a pretty printed chiffon dupatta which is also very soft. Besides, it comes with plain dyed trousers.
Price: 4392/-
Buy here: https://edenrobe.com/product/woman/elu19v2-19529/
Designer Lawn by Edenrobe
This beautiful dress in the soothing color of white and light blue is an amazing choice in this blazing heat.
To beat the heat, this summer apt for this light and casual looking dress with embroidered front and plain trousers.
Also, to make it look prettier it has printed chiffon dupatta.
Price: 2952/-
Buy here: https://edenrobe.com/product/woman/elu19v2-19521/
Summer Dress for Pakistani Girls
Sea green lawn dress with beautiful print all over by Eden Robe is an elegant and regal choice this summer.
This dress has light fabric, a refreshing color that gives out the sense of refreshing youth and beautiful print.
It is a two-piece Pakistani dress with plain trousers.
Price: 2552/-
Buy here: https://edenrobe.com/product/woman/elu19v2-19509/
Unstitched Lawn Clothes for Pakistani Women in the UK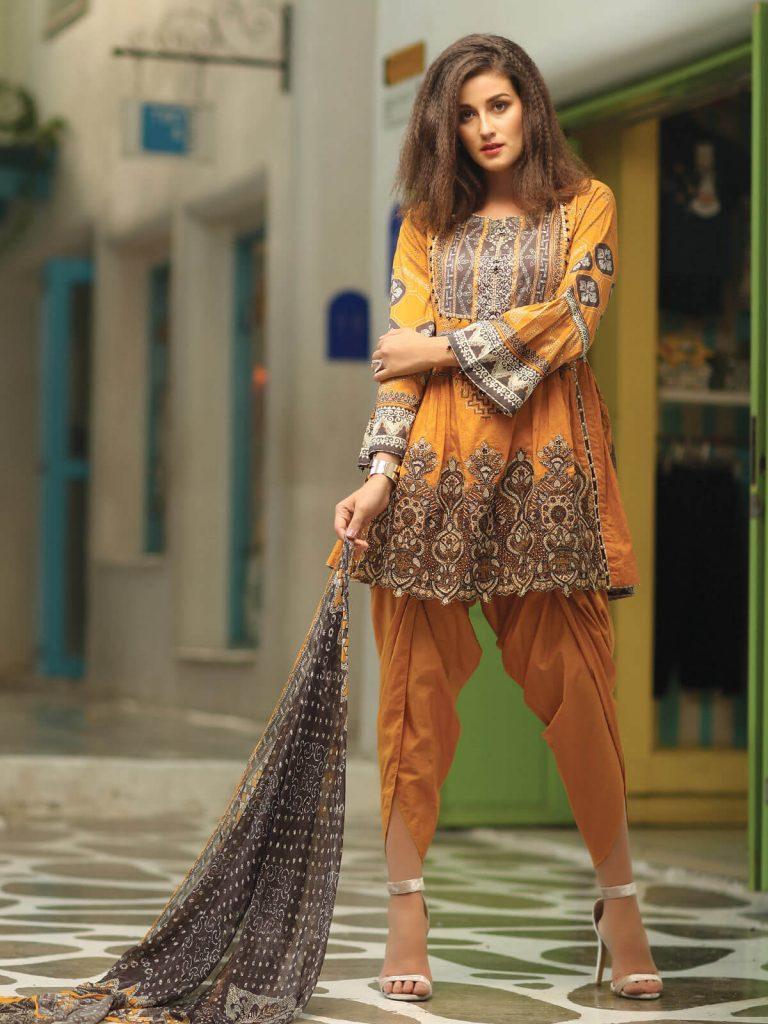 This beautiful and elegant fully embroidered lawn dress is to die for.
It's a go-to dress for any kind of summer event and can be stitched in many different ways.
It comes with plain trousers and pretty chiffon trousers.
Price: 4712/-
Buy here: https://edenrobe.com/product/woman/elu19v2-19519/
Unstitched Shirt to Wear at Work for Pakistani Women
A lovely looking blue kurti for your chick style is a must. This casual-looking beautifully printed lawn kurti is a must-have for a cool and chic look.
It has soothing blue color and orange hem and printed sleeves and back.
Price: 1032/-
Buy here: https://edenrobe.com/product/woman/elu19v2-19609/
Angrakha Style Kurta
If you want to wear something light, pretty and stylish this summer you can opt for eden robe stitched kurti in light green.
This pretty kurti has a long length and full sleeves.
It has a round neckline and side buttoning and a closed side. It can make you look decent, stylish and cool at once.
Price: 2890/-
Buy here: https://edenrobe.com/product/woman/eltkp19-66786/
Short Shirt to Wear for Pakistani Teens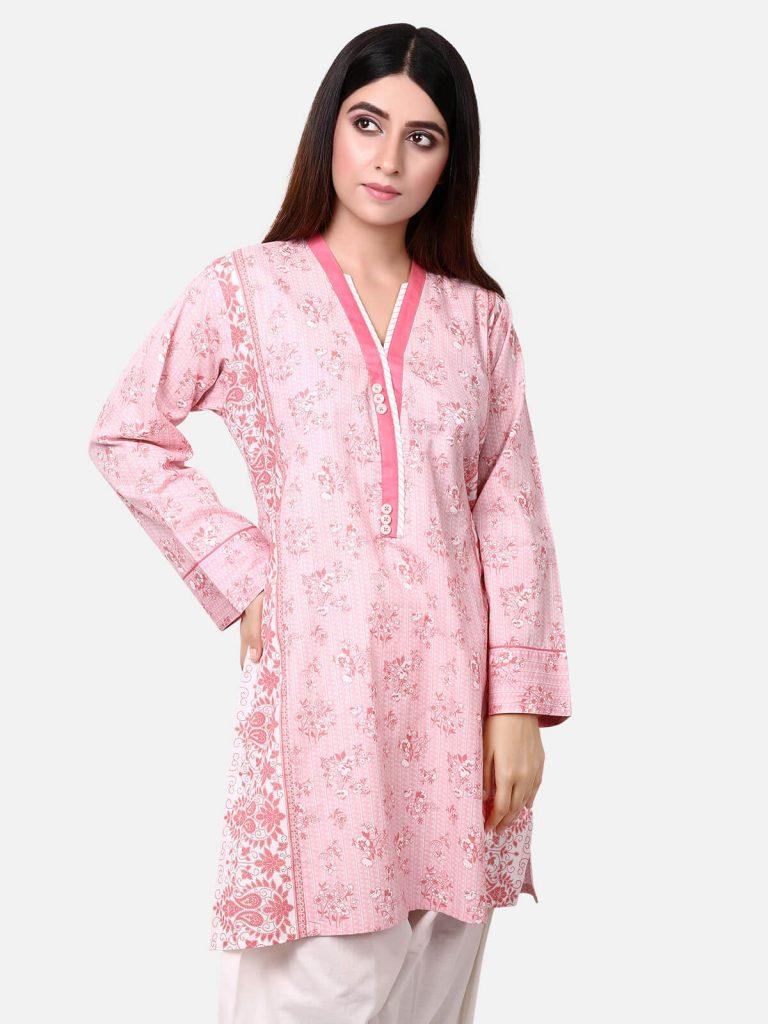 Buy this beautiful ready to wear kurti from summer collection by Eden robe. This pretty kurti has medium length and light print all over it.
Also, it has V-neckline with patti around it, also it is embellished with buttons.
You can pair it up with straight pants for a pure casual summer look.
Price: 2090
Buy here: https://edenrobe.com/product/woman/eltka19-66793/
Multi-Color Summer Lawn Suit
Buy this striking stylish medium length shirt with a white base and different color prints.
This multi-color summer lawn suit has a beautiful print and is made in angrakha style.
Price: 3590
Buy here: https://edenrobe.com/product/woman/eltkp19-66419/
Final words
Eden robe has stores all over Pakistan, so you can locate a store near you and can shop manually.
From Lahore, Karachi, Islamabad, Sialkot, Gujranwala to Swat, Dera Ghazi Khan and Multan, you can find edenrobe nationwide.
Not just that edenrobe online shopping option is always there if you want to have a virtual shopping experience.
You can visit and order your clothes at www.edenrobe.com
For further queries contact:
Email: [email protected]
Phone: 021-32554100