The most beautiful and alluring wedding dresses collection 2019 is out and it's by Zainab Chottani.
Yes, 2019 Zainab Chottani's wedding wear collection in the USA is beautiful beyond words.
The style cuts fabric embellishments and types of dresses it has is just gorgeous. And also, the cost-effectiveness has got us.
The collection has every type of dress one can dream to wear on a Pakistani wedding.
This beautiful Zainab Chottani's wedding wear collection in the USA is full of amazing dresses to leave one awestruck.
The dresses come in every size and style. You can find basic embellished shalwar kameez here as well as with some modern touch.
Also, perfect for wedding lehangas, shararas, gown, trousers and shorts, frock are all the part of this collection.
The beautiful angrakhas is a special part of this collection. Ever so favorite angrakhas are reviving and this collection has the prettiest of them.
While the embellishments on these dresses of beautiful and according to everyone's choice.
You can find in this collection heavily embroidered dresses as well as lightly embellished, so, everyone can avail according to choice and occasion.
The beautiful work of gota, dabka and kalamkari are mostly used in these dresses that too with other alternatives such as embroidery, threadwork and work of beads have been used to add beauty to these elegant dresses.
Also, the work of kundan and crystals in heavily embellished dresses is extremely graceful.
The work on these shows the hard work and passion of Zainab Chottani and her team. Only a team of experts can come with such a collection.
They possess the ability to make you feel beautiful and special.
#1. ORANGE AND HOT PINK
Beautiful orange choli with intricate detailing embellished with silver gold kora dabka. Kundan and pearls.
Gracefully enriched with hot pink sharara finished with colorful chatapati and gota at the bottom.
https://www.zainabchottani.com/orange-and-hot-pink
#2. LEMON YELLOW
Lemon yellow peplum featuring embellishments in silver and gota kinari, kundan and kora dabka.
The outfit is decorated with a yellow net dupatta.
Also, the color scheme used in Zainab Chottani's wedding wear collection in the USA is so beautiful.
And we are marveled by the expertise with which the right colors for a type of dress are used.
Also, the color combination in dresses is so beautiful that it's mesmerizing.
https://www.zainabchottani.com/lemon-yellow
#3. IVORY PEPLUM
Extremely elegant ivory peplum detailing
Decorated with:
gold
the antique gold embellishment on the neckline
finished with delicate pastel embroidered border
It comes with straight pants and melon pink net dupatta.
https://www.zainabchottani.com/ivory-peplum
#4. AURUM GLAM
Composition of tradition and modern sensibility to your look with this sensuous silhouettes adorned with cutwork neckline and chevron.
Decorated with silver kora dabka, kundan, and pearls.
Complete the look with these hot pink high waist pants enhanced with leather appliqué all over.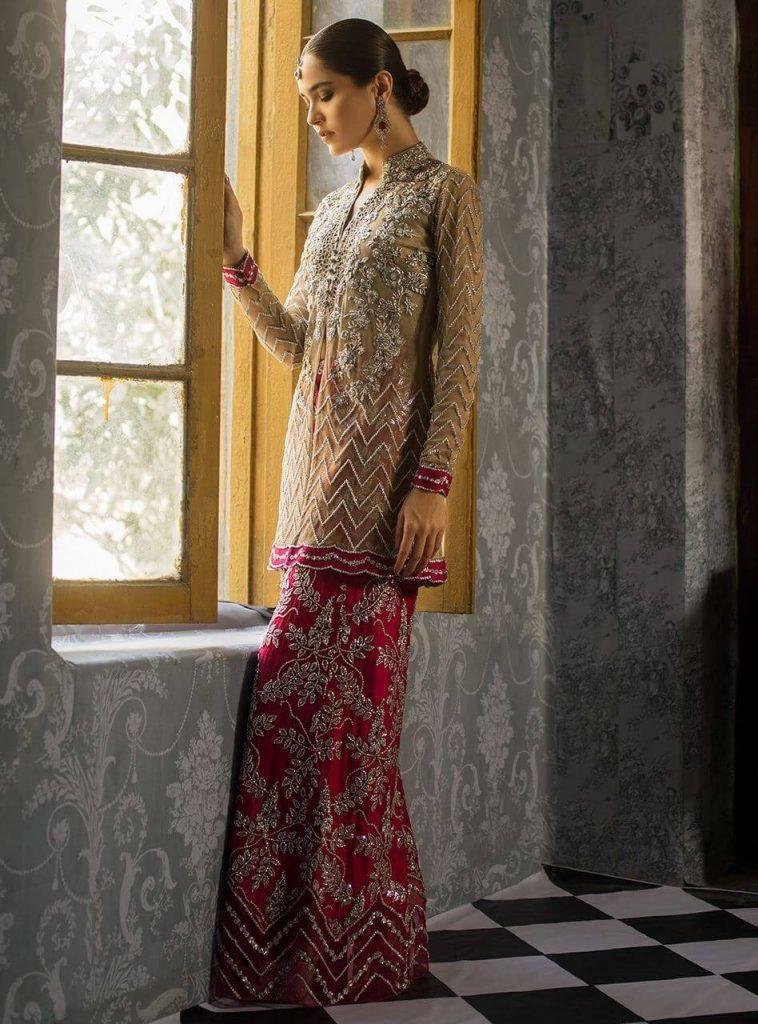 https://www.zainabchottani.com/aurum-glam
This collection has all the colors and shades.
From the bright maroon, red, green, and black to rustic brown, different shades of gold make the dresses beautiful.
Also, the elegant use of skin, grey, silver has made us a fan of this collection. While the beautifully embellished white dresses are a bonus.
These dresses can easily make people turn their heads to have another look at beautiful attire.
#5. BURGUNDY TOPAZ
Standout in this gorgeous front open shirt embellished with silver gold kora dabka and sequins.
Enriched with cutwork and floral embroidery.
It comes with jamawar gharara pants and organza dupatta decorated with sequins spray all over.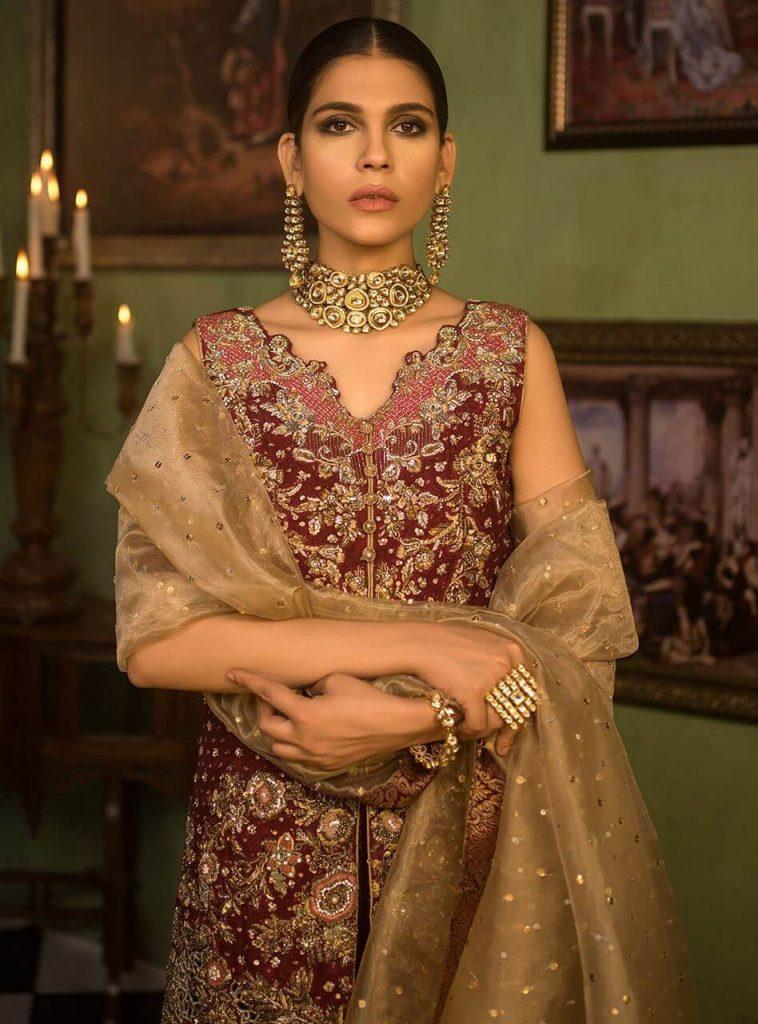 https://www.zainabchottani.com/burgundy-topaz
#6. SCARLET SYMPHONY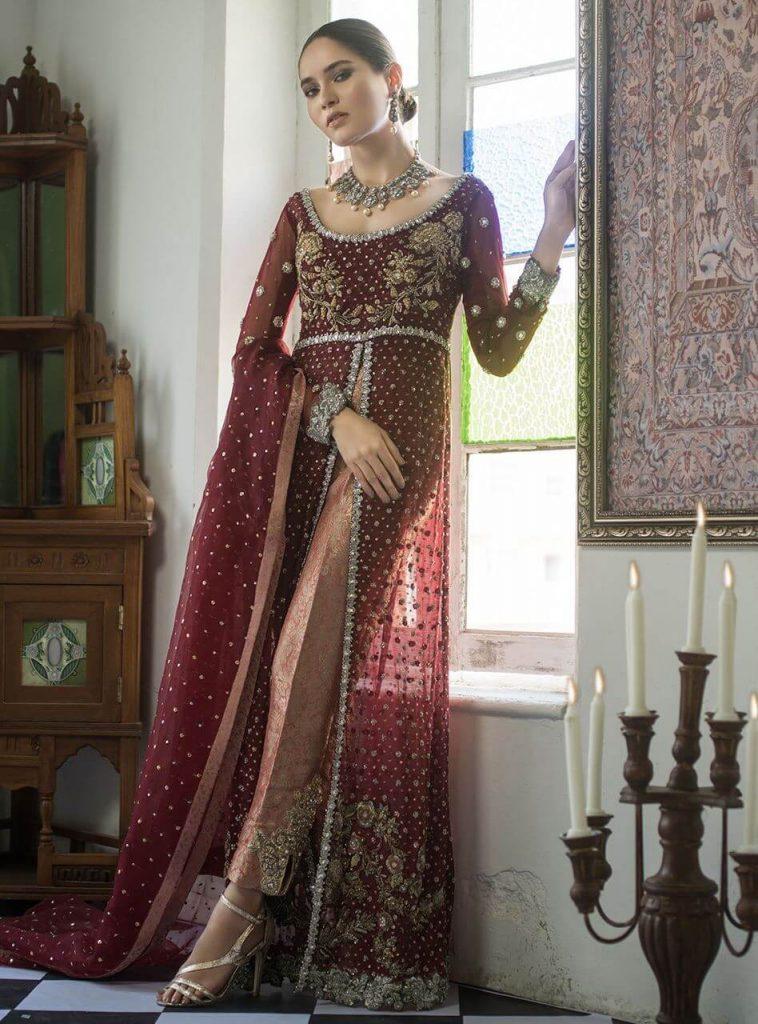 Ooze subtle glam in this gorgeous maroon front open shirt decorated with silver gold kora dabka, kundan and melon pink floral embroidery around the daman.
Coming with the beautiful melon pink pants adorned with a beautiful motif at the bottom.
https://www.zainabchottani.com/scarlet-symphony
The price range of Zainab Chottani's wedding wear collection in the USA is extremely cost-effective.
This collection doesn't just bring you beautiful, stylish and gorgeous dresses but that too at a very decent price.
Hence, making it more affordable for everyone to get the dress of their dream this wedding season.
Hence, we recommend you to visit your nearest Zainab Chottani's store right now or go to their online store and explore the most gorgeous wedding dresses collection this season.
Do your wedding dress shopping at the right place this season. Trust us you won't be disappointed by their collection.