As the wedding season is has come, so has the stunning wedding wear collections by all clothing brands.
But, here we are talking about Ammara Khan's wedding collection 2019.
Ammara Khan is a New York graduate fashion designer and she has made her way into the fashion industry in such a short period and made a name for herself.
And it is all because of her passion and love for her work.
This year she has come with an executive and regal wedding collection. This collection is striking and assertive. Its beautiful colors, styles, patterns are not just impressive but outstanding.
All the dresses in this collection accurately depict craftsmanship, focus, understanding, passion, and love for her work.
Here are some of our favorite dresses from Ammara Khan's latest collection and we are very sure that you will love them as much as we do;
Ammara Khan Bridal Couture 2019
The latest collection is a perfect example of luxury, exquisite craftsmanship and a harmonious blend of classic and contemporary dresses.
We have exclusively selected the best bridal dresses for our audience from Ammara Khan's latest bridal collection.
Lehenga Choli for Bride's Sister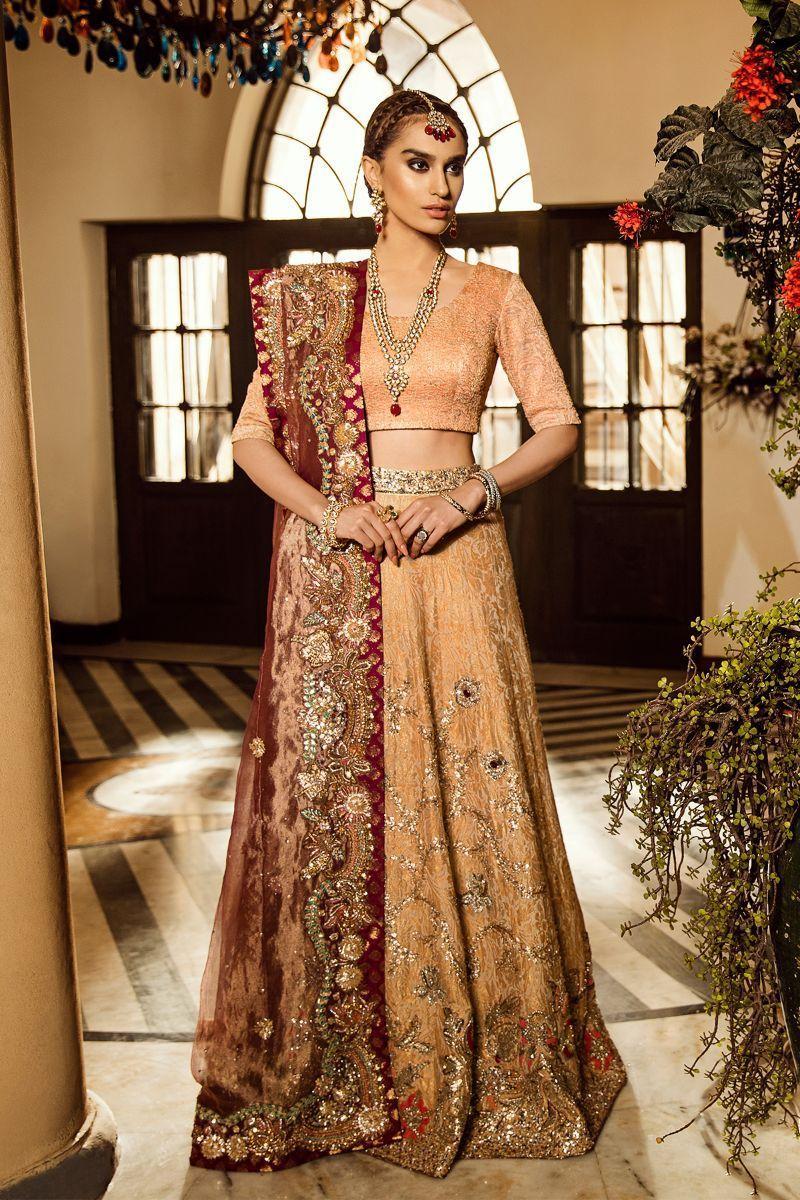 Gold Lehenga Choli by Ammara Khan Wedding Collection is the perfect dress for Bride's Sister.
The beautiful wedding dress is embellished with French Knots, Succha Gota, Zardozi, and Kundan, meticulously crafted for perfect looks.
Price: Please contact Ammarah Khan here for Pricing.

Silk Blouse with a Handcrafted Lehenga for a Traditional Pakistani Wedding in the UK
The mesmerizing ensemble features a silk blouse with puffed sleeves, and handcrafted embroidered Lehenga embellished with gold tile, and such a gota work.
This elegant dress creates a Regal and high Impact and makes you look spectacular at any event.
Price: Please contact Ammarah Khan Here for Pricing.
Ivory Peshwas for Wedding Reception
A symbol of beauty and Luxury, this beautiful Ivory Peshwas by Ammara Khan Bridal Collection 'Ronaq' featuring Pure Silk with a Brocade Border is a perfect dress.
You can also wear this dress at Nikah Ceremony pair it with a beautiful Embroidered Silk Organza Dupatta.
Price: Please contact Ammara Khan Here for Pricing.

Bridal Saree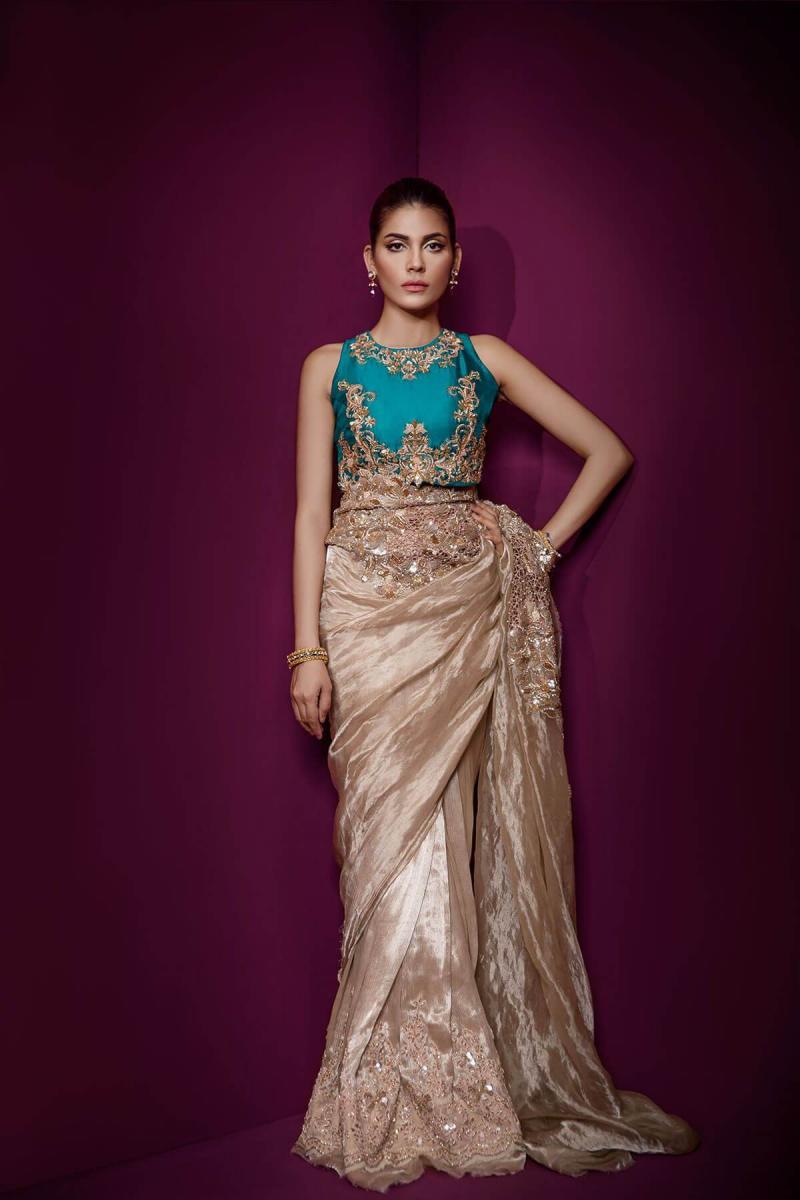 Ammara Khan's Bridal Collection 'Daria-e-Nur' features this beautiful Bridal Saree which comes with a Silk Blouse and a Champagne Gold Saree.
This dress is ravishing but simple, which creates a decent impression of the wearer.
The Saree and Blouse are embellished with unusual placement of motifs.
Price: Please contact Ammara Khan Here for Pricing.
Silver and Blue Bridal Gown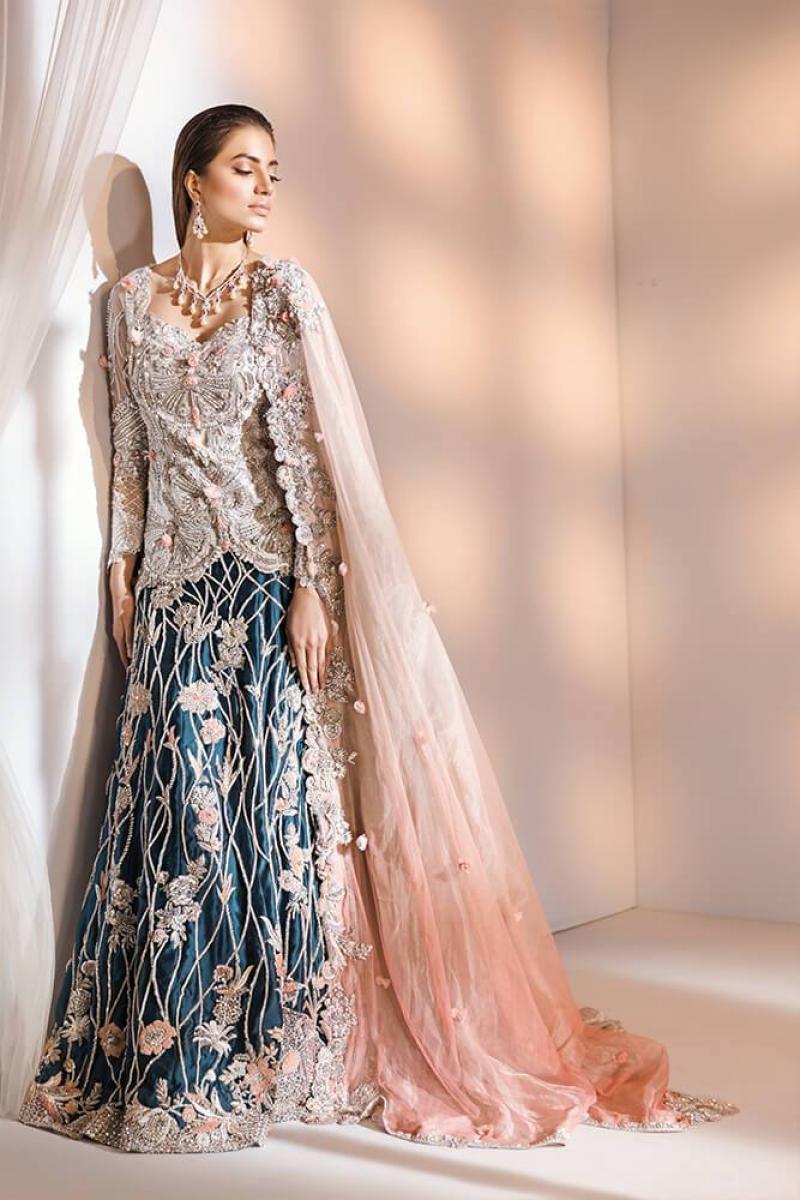 The latest Ammara Khan Bridal Collection 'Portofino Sunset' features this lovely and attractive Pakistani Bride.
The Silk Bridal Gown features gorgeous workmanship and unusual pops of coral in signature 3D floral accents.
This magnificent dress can make you look different and can make a strong statement on your part.
Price: Please contact Ammara Khan Here for Pricing.
Ammara Khan Luxury Formals 2019
Luxury Formal Dress for Summer Weddings

Beautiful Ready to Wear Formal Dress for Summer Weddings by Ammara Khan Venus Collection features a gorgeous color palette.
This eye-catching dress comes with Signature 3D floral beadwork and Swarovski Accents.
Price: 65,000/-
Click Here to Buy now at Ammara khan's Online Store.
Fully Embellished Silk and Net Semi Formal Dress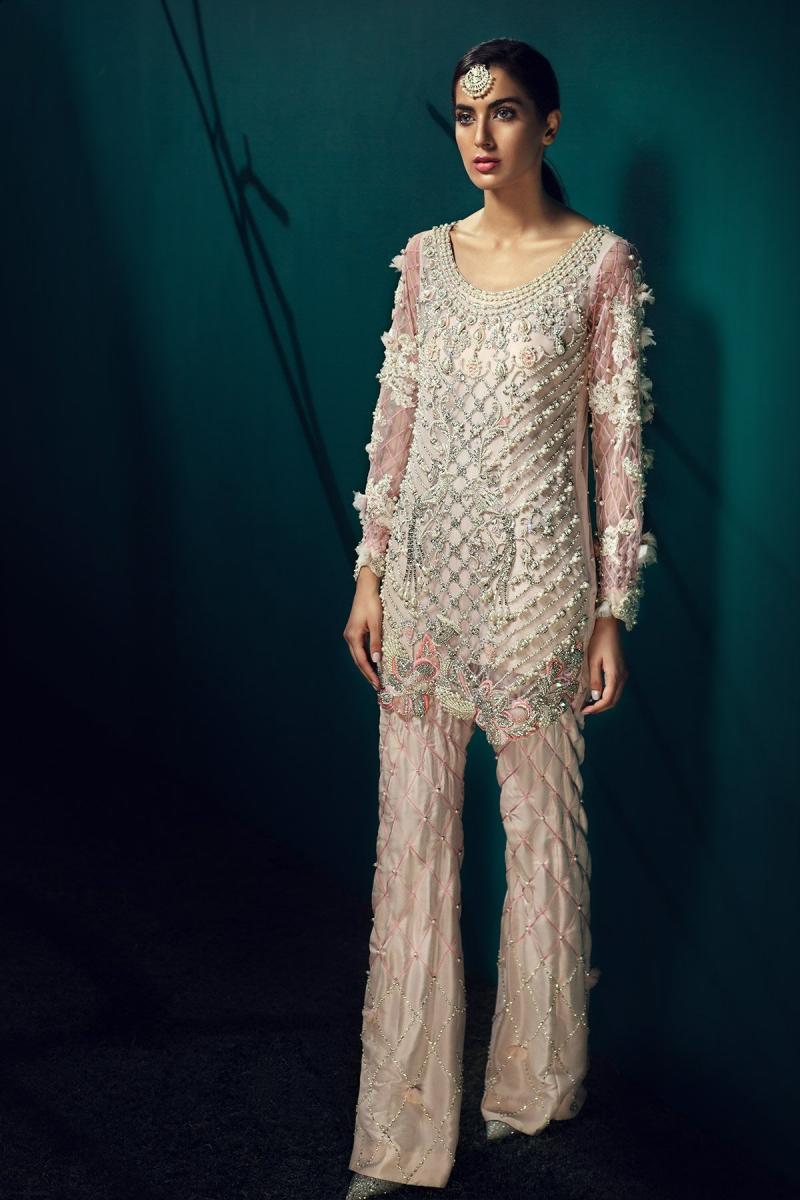 The Semi-Formal Dress by Ammara Khan 'The Pink Orchid' Collection features matching separates in 100% Net and Raw Silk Fabric.
It features fully embellished with delicate beads, lustrous pearls, crystals, and sequins.
Price; 90,000/-
Click Here to Buy Now.
Shalwar Kameez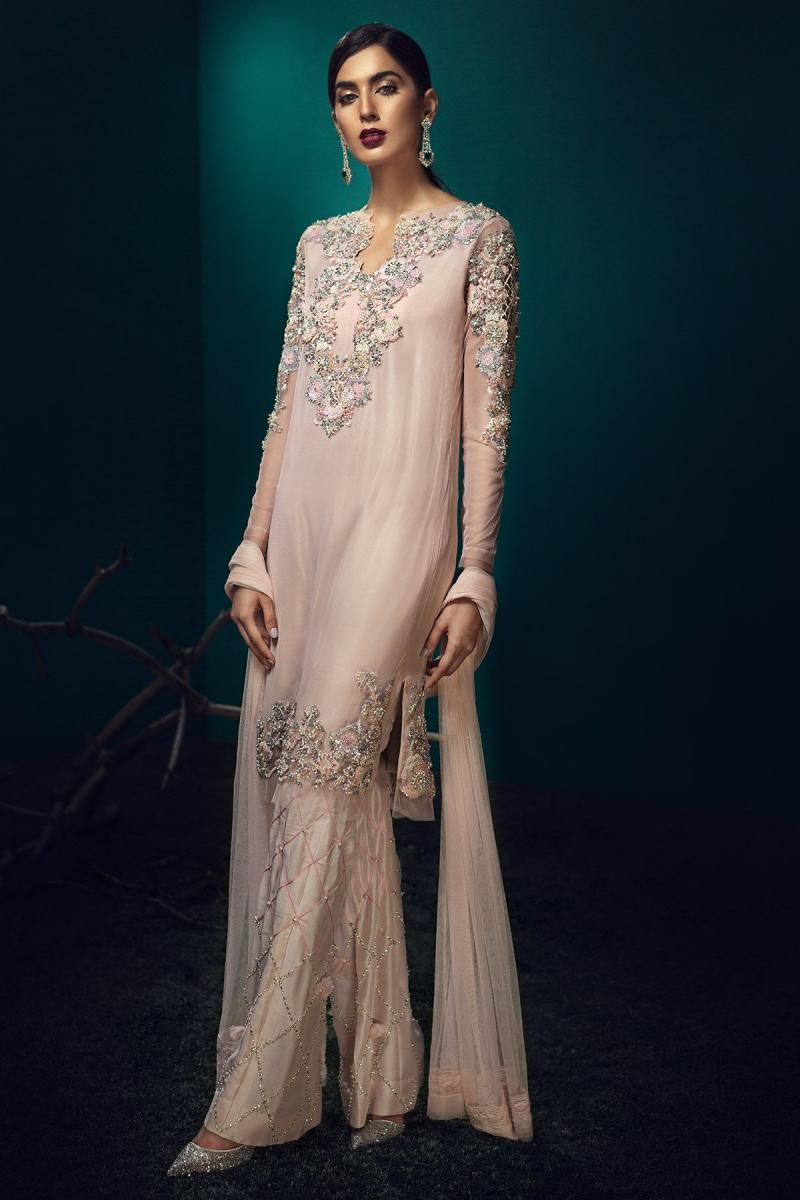 A contemporary Pakistani Style dress with luxurious looks, the pure silk shalwar kameez features a slim, fuss-free silhouette with gorgeous embellishment.
You can pair it with Boot cut or Cigarette pants for a Perfect style at a Pakistani or formal event.
You can also custom order a pure silk embellished dupatta with it.
Price: 90,000/-
Click Here to Buy Now.

Organza Silk Outfit

Gorgeous Silk Organza dress by Ammara Khan features Jamawar Pants with Nude Pink shirt beautifully and Heavily Embellished with 3D floral embroidery and sequin.
Also, it is paired with an organza light pink dupatta with banarsi patti at the border.
Price: Please contact Ammara Khan Here for Pricing.
Ammara Khan Ready to Wear Collection
Sophisticated Red Dress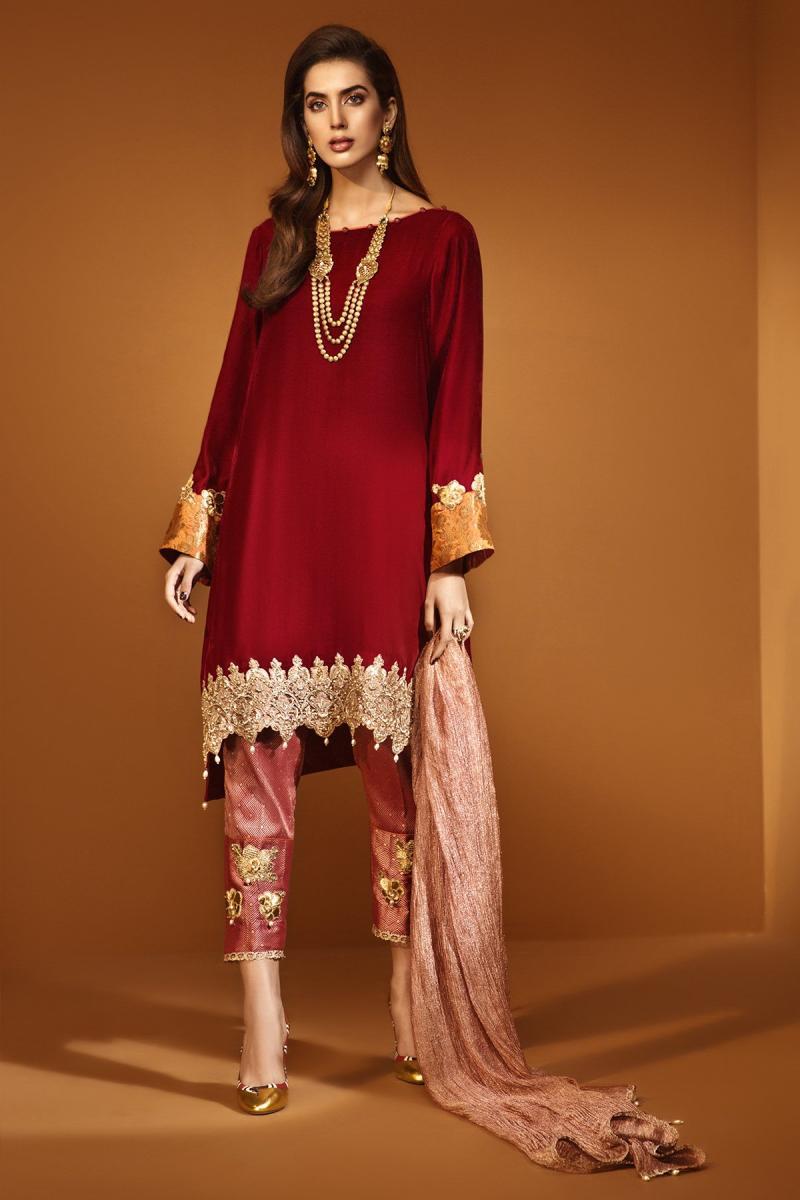 A breathtaking beautiful in a most gorgeous shade of red by Ammara Khan Ready to Wear Collection having silk velvet shirt with pure silk brocade cuffs, hand-embellished hemline, and a flowy silhouette for a perfect look.
To beautify it, it comes with jacquard pants.
Price: 37,950/-
Click Here to Buy Now.
Maysori Silk Tea Pink Dress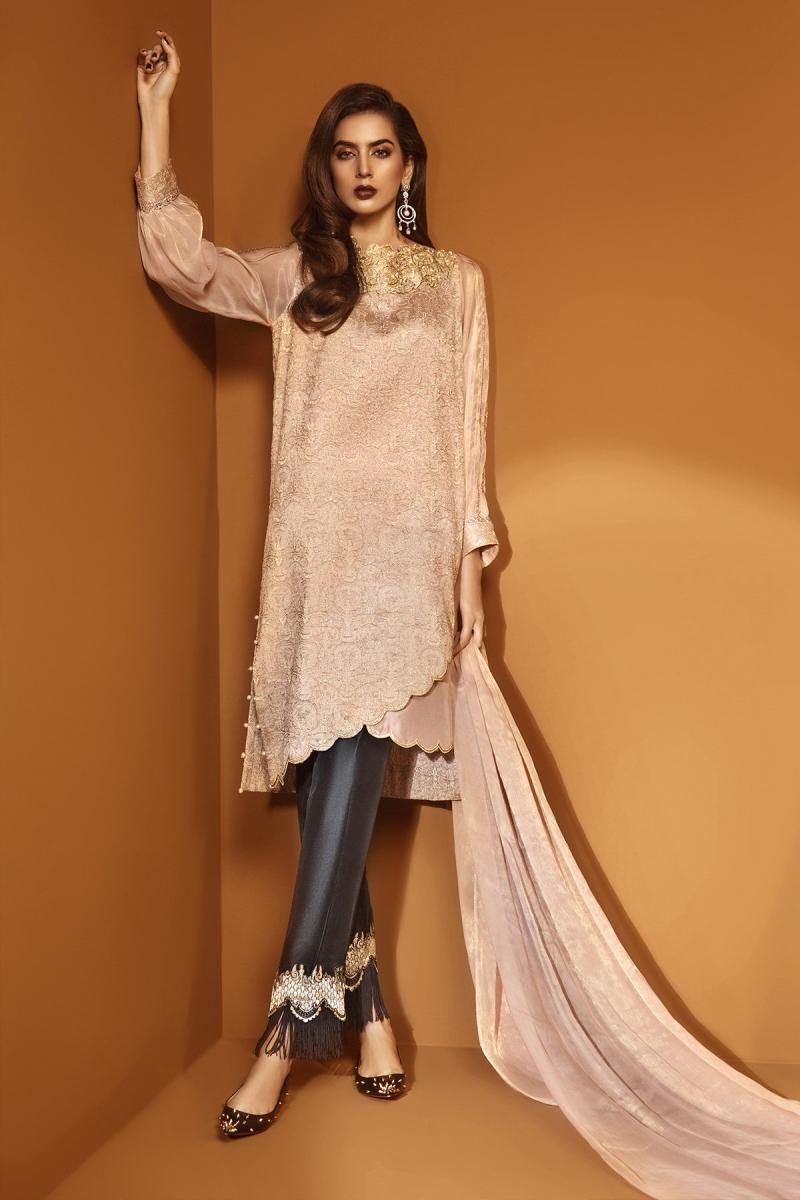 Beautiful Ensemble by Ammara khan is a stunning combination of pink tea shirt with dark charcoal pants.
This graceful dress features handcrafted embellishment on the neckline, with trims and details on the sleeves and the hemline and paired with Raw silk pants with an embroidered hemline.
Price: 29,950/-
Click Here to Buy Now.
Gold Wedding Dress – Bridal Jacket with Embroidered Pants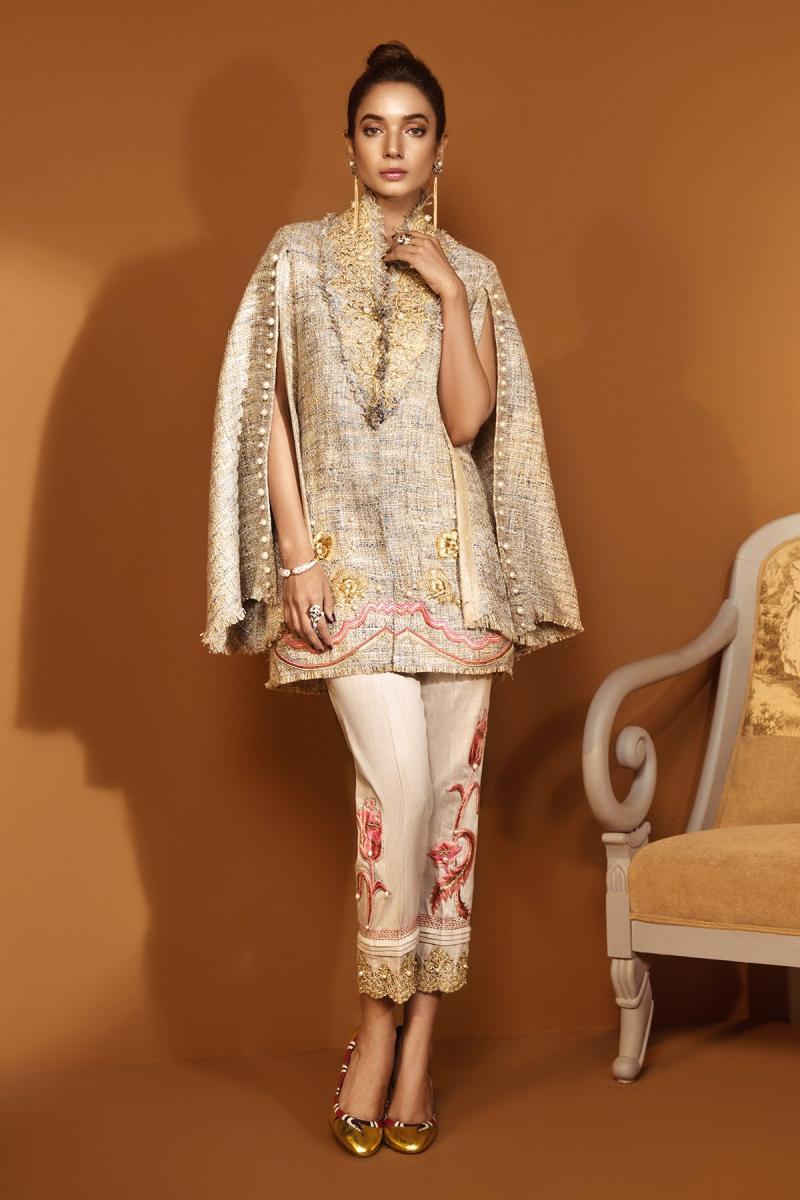 Bridal Jacket with statement sleeves, an oversized collar with beautiful gilded gold embroidered ad floral details with pops of peach and coral.
The perfect Gold Wedding Dress by Ammara Khan Ready to Wear Collection also comes with embroidered Pants with delicate tulip flora and finishing with gold embroidered trims.
The dress is also embellished with thick pears which add further details to its elegance.
Price: 32,950
Click Here to Buy Now.
Ammara Khan Atelier – Pakistani Dress Designer

This is just a peep into the stunning collection by Ammara Khan. The collection is full of such luxurious and breathtakingly beautiful dresses.
Clothes in this collection have used pure and high-quality fabric, which is the first quality of a lovely dress.
Also, color combinations, contrasts and patterns, prints, embroidery and other work done on these clothes are of executive quality.
Hence, this wedding season, we recommend you to visit Ammara Khan to get the most regal dresses for yourself and stand out on all your functions.
As these dresses will not only make you feel royal but, lots of head turn in your direction is a must. So, don't be late and grab your favorite outfit by Ammara Khan's latest collection now.
You can buy these clothes online and manually from Ammara Khan Store in Gulberg, Lahore.