Falls and winters are the two seasons that are considered ideal for weddings in Pakistan. As the fall has arrived, so has the wedding season.
The biggest problem for any girl getting married is what to wear? Where to find it? How to choose colors?
Pricing issues, fittings, and if the quality of the fabric and work will be good, it will make into something you always dream of.
Being the most memorable occasion of one's life, it is a dream of every girl to look her best on that day and wear the most beautiful clothes.
In Pakistani weddings, the most admired bridal dress is a lehenga. Bridal lehengas come in different styles, designs, looks, and varieties.
Girls love to dress up in a lehenga on their wedding day.
Pakistani fashion designers knowing the wish and demand of their customers, comes with an incredible bridal wear collection every year.
They make exquisite designs, use high-quality fabric, experiment with colors and combinations. Since the designers have made an appearance in bridal dresses choices has become vast.
People have more to browse and more to look forward to than in old times when you could only wear a red lehanga with gota and resham works.
Compared to that now designers offer different types of lehngas, with a variety of the shirt.
Also, a whole new color and combination has entered and has made bridal dresses more beautiful.
Moreover, the work done on these dresses is ravishing. Embellishments of stones, pearls, beads, crystals, and mirrors can also be seen in them.
With designers emerging on the scene where they have given people more choice, at the same time, they have made selection a little tricky.
Because the collections are so vast and incredible that it is hard to get one.
So to ease your selection process this wedding season, we have selected a few bridal dresses which we loved the most in this latest collection from some of our favorite designers.
Let's have a look.
Hassan Sheheryar Yaseen Bridal Lehenga
Hassan Sheheryar Yaseen is a Pakistani household name.
H is the pioneer of the modern Pakistani fashion industry and to date, his bridals are most loved and admired.
He loves to play with colors and dares to use spectacular dark colors in his collection.
His embellishments are detailed and keen.
HSY Red Bridal Lehenga


What is a bridal red if not red? Red is the most loved and admired bridal color in Pakistan.
This HSY's angrakha is a dream; it is beautiful and regal with embellishments all over it.
It has the same kind of chiffon dupatta.
To enhance the beauty, it comes with a copper-colored adorned lehanga.
Buy Here:
https://www.theworldofhsy.com/collections/bridal-collection/products/angharka
Embellished Lehenga for Barat by HSY


When you name HSY dark-colored beautiful embellished dresses to come to mind.
This elegant lehenga dress is no different. It has heavily embellished lehanga and choli with bail work and dabka.
It has chiffon dupatta with a beautiful adornment of the borders. This dress has a magnificent look to it.
Buy Here:
https://www.theworldofhsy.com/collections/bridal-collection/products/naulakha-bridal-1
Mohsin Naveed Ranjha Wedding Lehenga
Mohsin Naveed Ranjha is one of those Pakistani designers who have made a name in a very short span of time.
That too not only in Pakistan but also across the border, because of the quality of his work and a strange graceful aura that a wearer of his dress carries.
Gold Lehenga by Mohsin Naveed Ranjha

This gorgeous and purely royal-looking bridal dress by Mohsin Ranja is amazing. It has gold double lehanga with embellishments.
It comes with embellished full long-sleeved choli.
To make it more complementing it has a maroon shawl and scallop dupatta.
Buy Here:
https://www.mohsinnaveedranjha.com/collections/chahaar-bagh/products/noor-e-chashm?variant=30314072506416
White Lehenga for Nikah by Mohsin Naveed Ranjha


This personal favorite Lehenga in white is so beautiful and ravishing.
Decked with resham, dabka, zardosi and floral motifs this lehanga gives an amazing combination of tradition as in designs and creation and innovation in color.
This one can make a perfect modern-day bride with its grace and beauty.
Buy Here:
https://www.mohsinnaveedranjha.com/collections/chahaar-bagh/products/chandni?variant=30314083680304
Sania Maskatiya Lehenga Collection

When Sania Maskatiya emerged into the Pakistani fashion scene, she gave a whole new way of styling, dressing, and carrying.
She can create the perfect fusion of west and east in all her dresses. Her bridal collection this year is exotic and graceful.
Silk Bridal Lehenga by Sania Maskatiya

This elegant and innovative piece by Sania Maskatiya has a khadi silk front open shirt with a maroon embellished choli.
It is paired with khadi silk crushed bridal lehanga and dupatta.
Buy Here:
https://www.saniamaskatiya.com/net-worked-shirt-2
Zardoze Lehenga Choli by Sania Maskatiya
This Saniya Maskaitya bridal dress is so ravishing with its beautiful zardosi work on choli with beautiful embroidered work.
It is paired with kamdani worked dupatta with tassels and a jamawar lehanga with zardosi work and beautiful patterns.
Buy Here:
https://www.saniamaskatiya.com/zardoze-worked-choli-2
Zainab Chottani Bridal Lehenga Collection

Zainab Chottani needs no introduction; she is a class in herself. Zainab is undoubtedly the most sought out designer in the Pakistan fashion industry.
People admire her work and love to wear a dress designed by her. This season too, she has not failed to inspire us.
Have a look at her latest bridal collection, which has a different grace and royalty to it.
Embroidered Peplum Lehenga by Zainab Chottani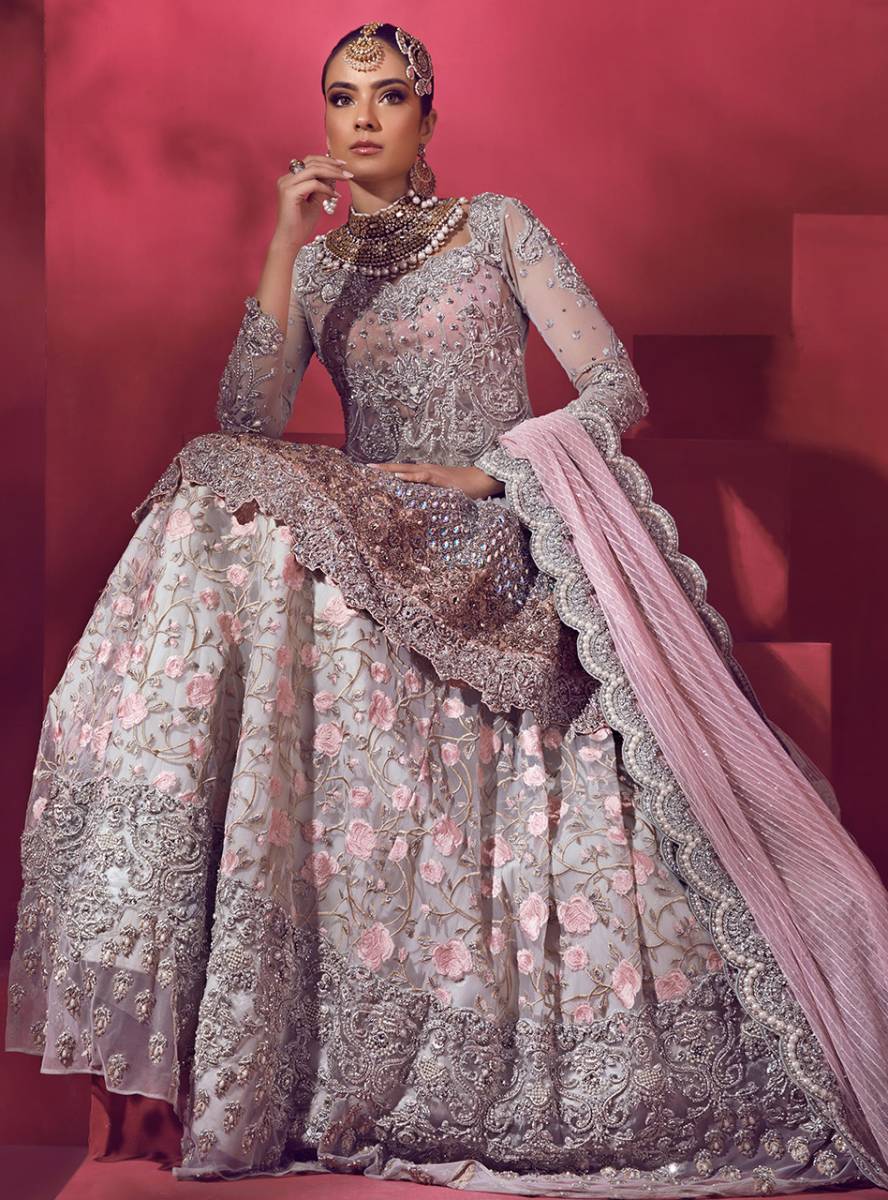 If you are a modern-day bride, you might be looking for a perfect bridal lehanga with a peplum top. This Zainab Chottani's bridal lehanga is what you need.
It has a silver embellished and embroidered peplum top with pink silk inner and equally beautiful, heavy lehanga to complement the look.
Buy Here:
https://www.zainabchottani.com/gardenia-redolence-2
Zainab Chottani Mahogany Bridal Lehenga

Buy this elegant bridal dress by Zainab Chottani has a long frock-like shirt with the maroon embellished body and copper shirt with scattered embellishments.
It comes with graceful lehanga and heavily embellished chiffon dupatta. This dress gives the bride a proper regal look.
Buy Here:
https://www.zainabchottani.com/mystic-mahogany-2
Faiza Saqlain Studio Wedding Lehenga
New Faiza Saqlain has made her prominent place in the fashion industry; her style is different.
She cherishes basic styles and makes them in such a way that they depict magnificence and a royalist look.
She has her own aura comprised of beauty, style, and fashion.
Gold Lehenga for Barat by Faiza Saqlain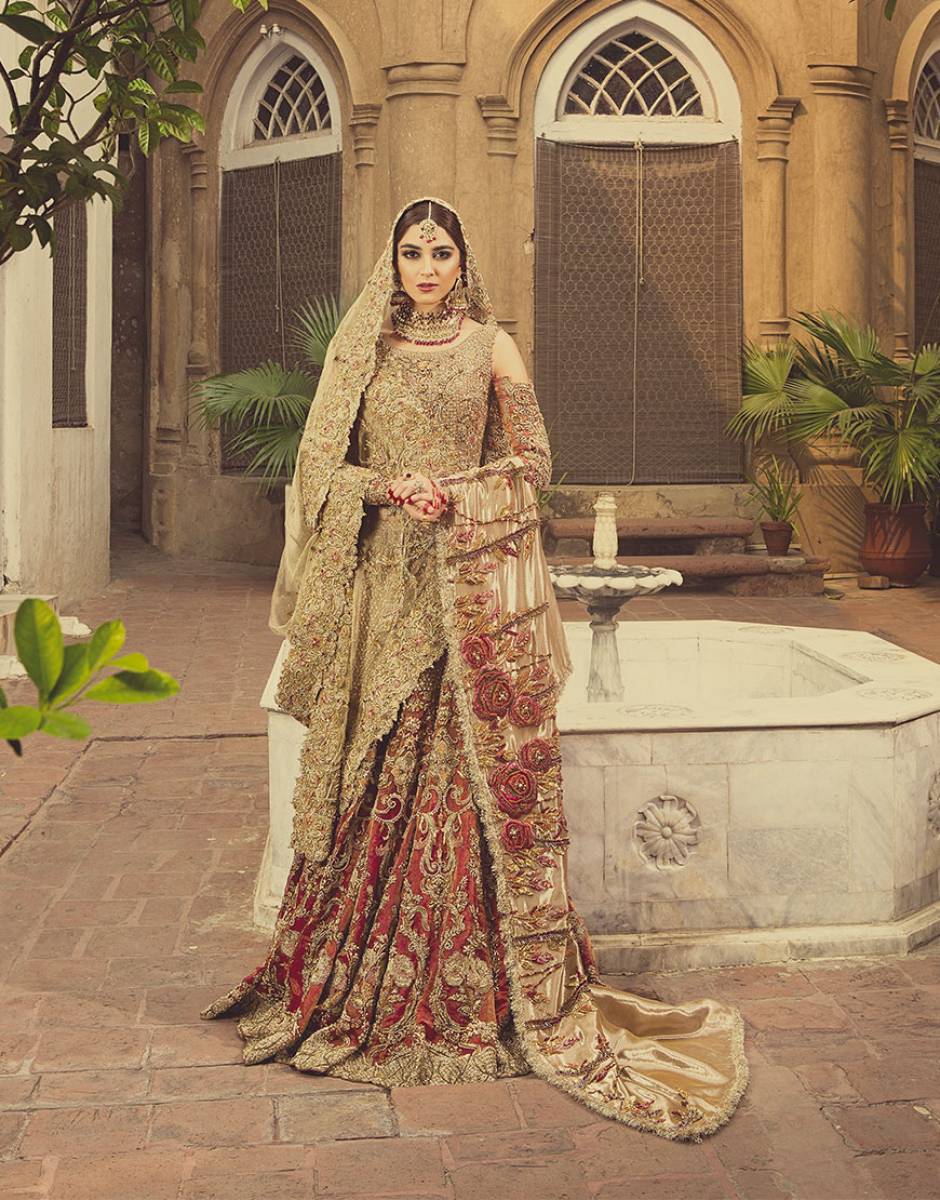 This Faiza Saqlain traditional dress is a perfect one for a barat bride.
It has a heavily embellished gold shirt paired with embroidered tissue lehanga in rust and a zardosi net dupatta to complete the look.
Buy Here:
https://faizasaqlain.pk/product/heer-jogni/
Kamdani Lehenga by Faiza Saqlain for Indian Brides

This graceful and royal burgundy-colored lehanga has cutwork embellishments all over it. It comes with short choli and double dupatta style.
This dress has a green dupatta with kamdani and zardosi work and another gold dupatta.
Buy Here: https://faizasaqlain.pk/product/shehnai/
Deepak Perwani Lehenga Collection 2019
Deepak Perwani is a renowned Pakistani fashion designer. His motto is to be proud of her own, his lands, and her culture's history. He loves to show this pride in his own craft.
Hence he aims to make clothes that show the beauty, grace, and magnificence of the cultural history of the Sub-continent.
And this same grace can be seen in his latest collection of bridal dresses.
Bridal Walima Lehenga by Deepak Perwani

Mehwish Hayat looks magnificent in this peplum lehanga bridal dress by Deepak Perwani. This silk dress has handwork all over it of heritage zardozi embroidery.
It comes with gold crushed dupatta. It has been worked in detail that is why its beauty looks irresistible.
Buy Here:
https://www.deepakperwani.com/mihr-un-nissa
Indian Bridal Lehenga for Reception by Deepak Perwani

This elegant and stylish dress by Deepak Perwani is a must.
This one has ivory and gold choli with plunging neckline, having worked with beautiful embellishments and a jacquard lehanga with hand-embroidered ghair.
This dress comes with a shawl to enhance beauty.
Buy Here:
https://www.deepakperwani.com/mumtaz-2
Final Words
These are some of our favorite bridal lehangas from the latest bridal wear designer dresses in Pakistan.
We hope you will find your favorite one here, as these are updated, have incredibly beautiful colors, designs and work done on them is mind-blowing.
They give the ethnic, traditional and modern stylish look all in one.
We suggest you consider these dresses if you want to look amazing on your wedding day.