As the monsoon sheds and fall begins, so does the extended wedding season in Pakistan.
This is the longest wedding season which lasts about 3 to 4 months. During this period almost everyone has to attend some wedding function.
For women and girls, the biggest problem is always what to wear, how to wear, what is in fashion? Where to buy it?
Even though this question has disturbed women for a long time, Pakistani designers have taken steps to help you cope with this problem.
They come out with exciting, beautiful, and ravishing wedding dress collections every season.
They have put so much effort and concern to make everything per time and customer demand.
This wedding season, as well as Pakistan designers has come up with exquisite designs, beautiful work, and craft.
Their quality of fabric, beautiful and cleanliness of work, beautiful designs, and embroideries, stonework, embellishments give away how much effort they put!
They have offered us such elegant, traditional and trendy dresses in such a huge variety that everyone with different choices and preferences will find a dress of their choice.
So, we decided to give you a glimpse of what Pakistani Designers have to offer this season.
Thus, we selected some ravishing and elegant wedding dresses we loved wholeheartedly and put them all together. To help you choose your favorite dress easily.
Zaheer Abbas Wedding Dresses with Prices
Zaheer Abbas emerged on the Pakistani fashion scene not too long ago but managed to develop trust and goodwill image among the masses.
Their customers trust him blindly and he never fails to inspire them.
Another reason to love his work is that he produces high-quality dresses at affordable prices.
Traditional Pakistani Wedding Dress
Beautiful, traditional and elegant dress is a representation of not only culture but the new trends in Pakistan.
This dress has kacha cotton shirt embellished with hand embroidery, kamdani and sequins work over it.
To make this dress perfect, it comes with organza dupatta in light gold color.
Price:36,500/-
Buy Here: https://www.zaheerabbas.net/shop/naqsh-za-gj-nq/
Embroidered Shalwar Kurta for Desi Weddings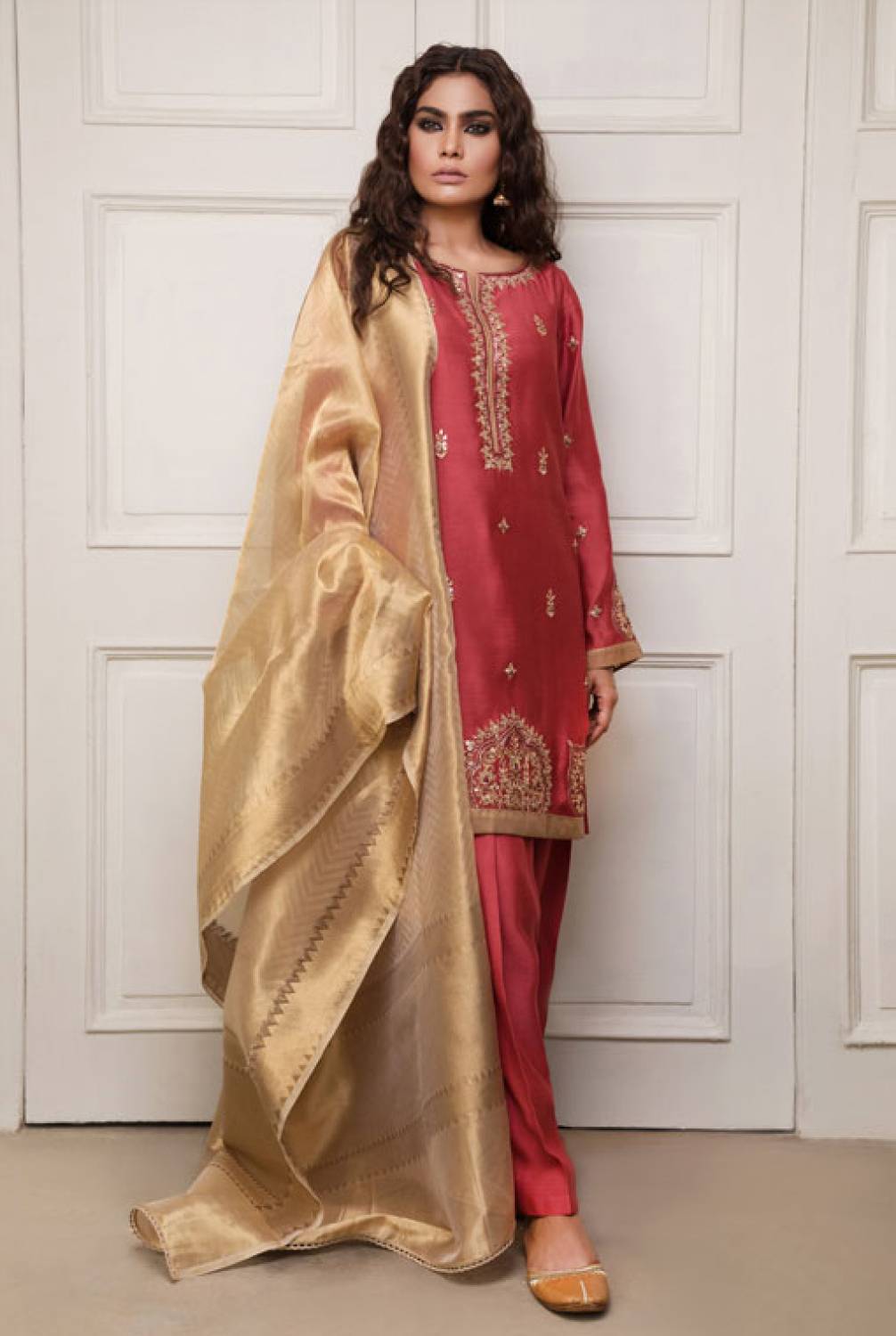 When it comes to traditional wedding dresses, the first thing that struck our minds is a beautiful shalwar kurta.
Zaheer Abbas designed this beautiful dress with an onion pink cotton shirt with elegant embroidered work around neckline.
This round-necked shirt with embroidered sleeves and borders looks exquisite with plain pink shalwar and a golden net dupatta.
Price: 32,500/-
Buy Here: https://www.zaheerabbas.net/shop/gulnar-eid-gn-003/
Zara Shahjahan Wedding Collection with Prices
Zara Shahjahan is a renowned Pakistani fashion designer.
Her motto is to be proud of her own, lands, and culture's history.
She loves to show this pride in her craft. Hence she is apt to make clothes that show the beauty, grace, and magnificence of the cultural history of the Sub-continent.
Contemporary Saree for Pakistani Girls and Women
This elegant formal wear Pakistani wedding dress is a beautiful mixture of trendy and traditional styles.
It has a jeweled halter neck olive green crop top with a beautiful black crystal-crafted net sari.
Price: 1, 15,000/-
Buy Here: https://www.zarashahjahan.com/pk/parizah-3046.html
Simple Pakistani Gharara Suit
When we think of tradition, style, and sub-continental fashion, one thing that emerges in our mind is a girl dress in a Gharara dress.
This elegant and desi dress has a beautiful white colored medium length shirt embellished with adda and resham work. It is paired with a white silk gharara.
Price: 1, 00,000/-
Buy Here: https://www.zarashahjahan.com/pk/parizah-white-3039.html
Sania Maskatiya Formals for Indian and Pakistani Weddings
Sania Maskatiya is known for her dynamic style. She makes both traditional and contemporary style clothes.
She knows the art of playing with color, fabric, and crafts, hence she is popular among the masses and everyone looks forward to her collections.
Heavy Embellished Pakistani Wedding Suit
Buy this graceful wedding dress by Sania Maskatiya. This dress has pink-colored beautiful heavily embellished with marodi work long kurta.
The dress is paired with jamawar marodi work shalwar and organza pink dupatta with hand-worked borders.
Price: 3, 72,500/-
Buy Here: https://www.saniamaskatiya.com/marodi-work-cotton-net-kurta-with-dupatta
Designer Pishwas for Pakistani and Indian Weddings
We are extremely happy to see beautiful and gorgeous pishwas back in fashion.
Sania Maskatiya has also added a few in her latest collection. This beautiful black pishwas is simple and elegant.
It has an embroidered and handcrafted body and a beautifully embroidered shawl.
Price: 1, 18,000/-
Buy Here: https://www.saniamaskatiya.com/long-crushed-peshwas
Faiza Saqlain Formal Collection with Prices

New Faiza Saqlain Collection has made her prominent place in the fashion industry.
Her style is different. She cherishes basic styles and makes them so that they depict magnificence and royalist look.
She has her aura comprised of beauty, style, and fashion.
Designer Frock for Pakistani Women by Faiza Saqlain
This regal maroon full-length peshwas is elegant and beautiful, gives out ethnic vibes and makes you look royal.
This Designer Frock has resham and embroidered body and gota kinari, dabka work is scattered all over it. This elegant dress comes with maroon net dupatta and chori dar.
Price: 80,000/-
Buy Here: https://faizasaqlain.pk/product/daneen/
Mesmerizing Pakistani Wedding Dress by Faiza Saqlain Luxe Formals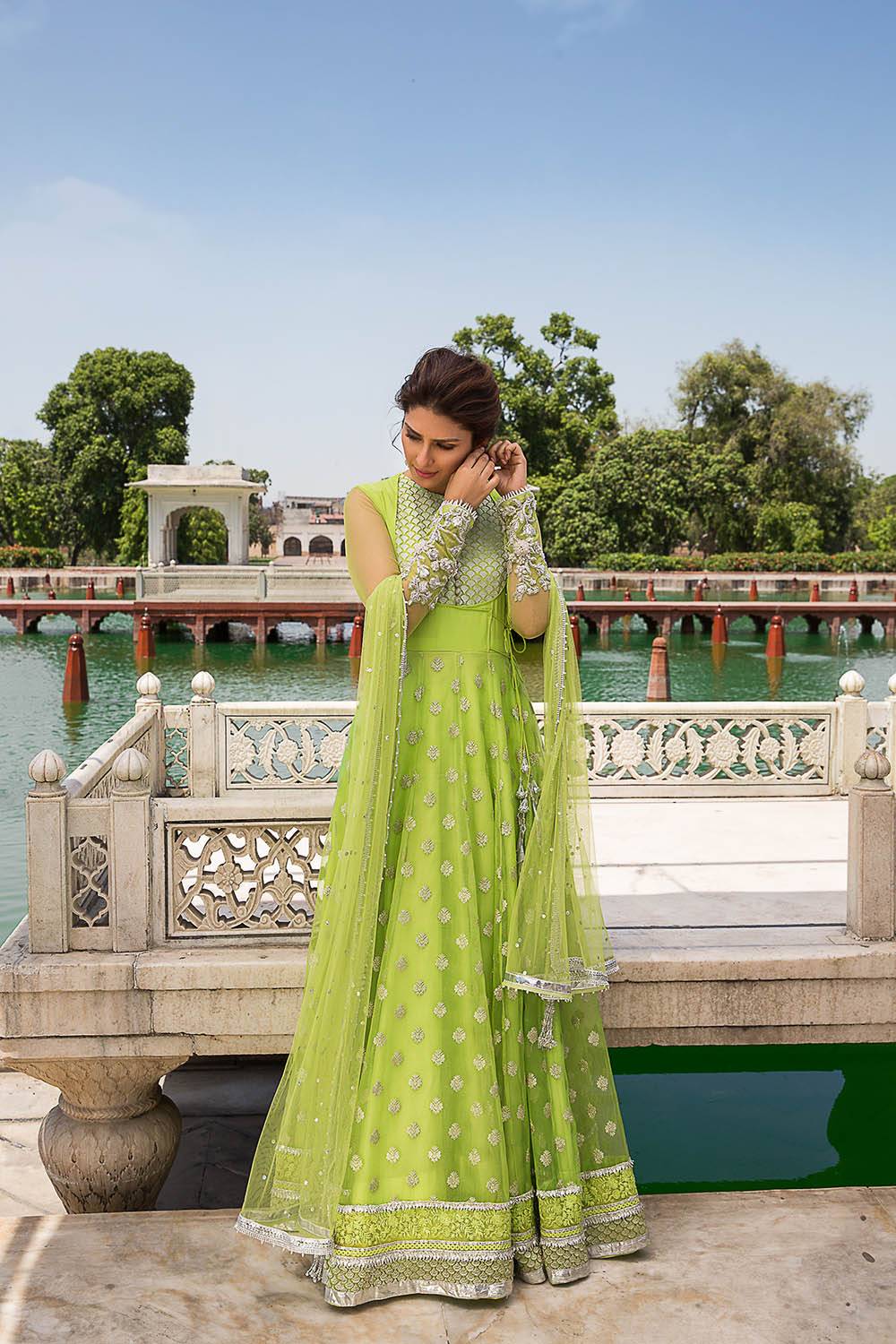 This olive green wedding wear dress is to die for. This graceful dress has a fully embellished shirt. It has embroidery, nakashi, resham and dabka work over it.
While it comes with jamawar gharara pants which gives the outfit a contemporary look. It also has a net dupatta.
Price: 62,500/-
Buy Here: https://faizasaqlain.pk/product/nisa/
Zainab Chottani Dresses and Prices
Zainab Chottani needs to introduction; she is a class in herself. Zainab is no doubt the most sought out designer of Pakistan fashion industry.
People admire her work and love to wear a dress designed by her. This season too, she has not failed to inspire us. Have a look
Zainab Chottani Luxury Pret Dress for Pakistani Weddings
This heavily embellished dress from Zainab Chottani's heavy wedding formal wear is mesmerizing.
One can feel like a royal wearing this dress. It has medium length shirt embellished with embroidery, stones, and pearls.
It comes along with bail embroidered sharara. It has a different and unique mix of both desi and western culture, which makes this dress all the more special.
Buy Here: https://www.zainabchottani.com/blooming-rose-bush-2
Zainab Chottani Ready to Wear Pakistani Wedding Dress
Maroon color can make anyone look beautiful. This color has some different kind of grace to it.
This light and elegant maroon shalwar kurta is a perfect wedding dress for anyone who wants to look graceful, trendy, stylish and simple at the same time.
It has a long embellished shirt with mukesh work on it and an equally beautiful dupatta.
Buy Here: https://www.zainabchottani.com/red-diamond
Sana Safinaz Party Wear with Prices
Sana Safinaz started their outlet in 1989 and has come a long way since then. Today they are a household name.
Sana Safinaz's designs and dresses are admired by everyone and they have created a trust in their quality and work among masses.
Front Open Pakistani Wedding Gown by Sana Safinaz
Buy this beautiful Sana Safinaz Front Open Wedding Dress which can make you look bold and authoritative.
This dress has feet length gown in cream color with maroon embroidery and prinks all over it. It comes with a cream silk inner.
Price: 13,000/-
Buy Here: https://www.sanasafinaz.com/pk/s19200589.html
Mohsin Naveed Ranjha Wedding Collection 2019 with Prices
Mohsin Naveed Ranjha is known for his incredible and keen work. His dresses carry a strange grace that cannot be found in any other designer's dresses.
This is why he becomes able to make a name for himself not only in Pakistan but across the border in a very short time.
Mughal Era Inspired Wedding Dress: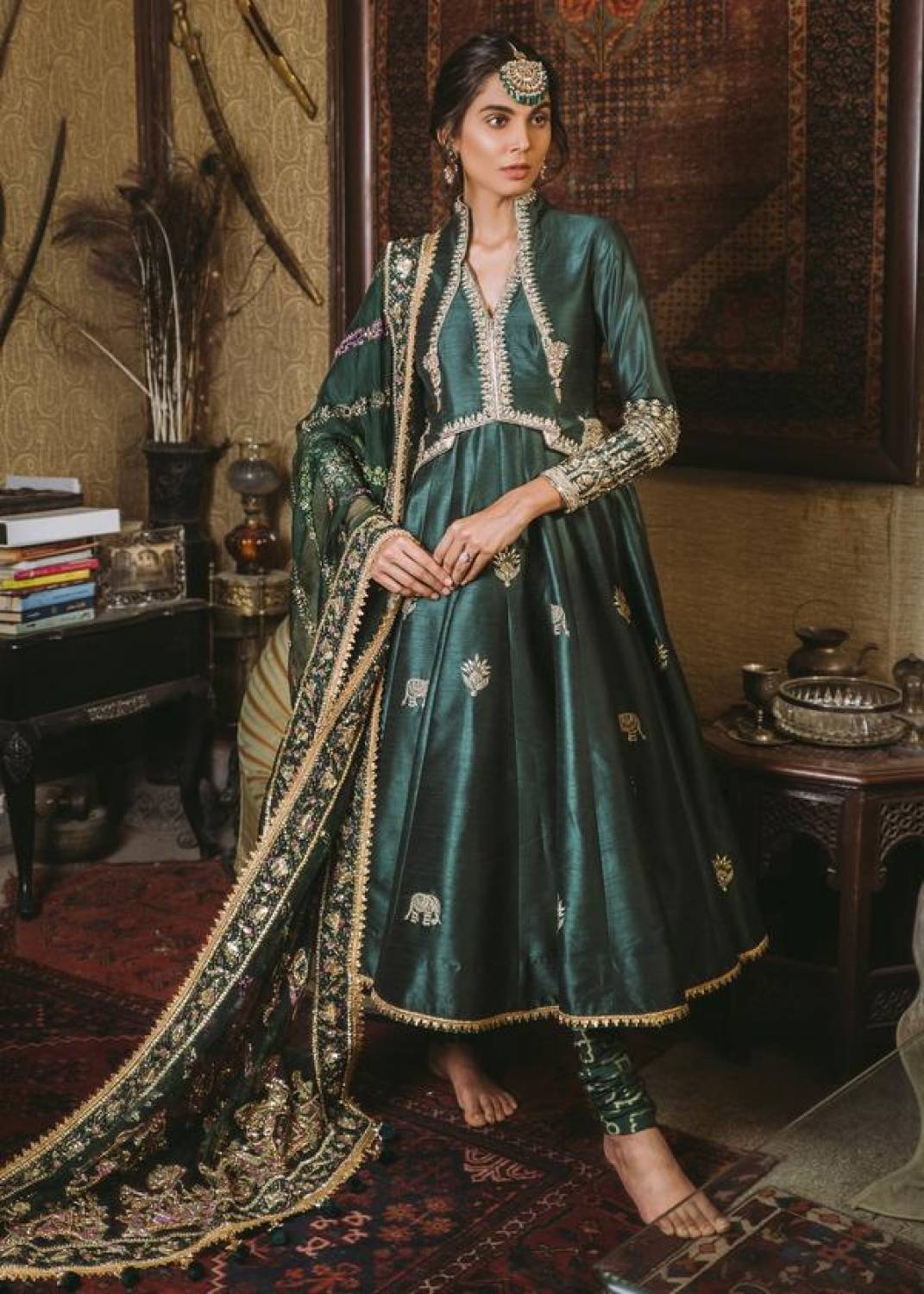 This elegant and regal Mughal era-inspired Anarkali dress in green is to die for.
This elegant dress carries the grace of sub-continent fashion and makes you look more feminine.
This dress has embroidery, gota and kinari work on it. It comes with Chori dar and jacquard organza dupatta.
Price: $1090
Buy here: https://www.mohsinnaveedranjha.com/collections/ghuncha-gul19/products/sheen-stooray-a?variant=28868240703536
Vibrant Color Sharara by Mohsin Naveed Ranjha for Mehndi
Powder blue color is not only in fashion right now but also looks absolutely stylish and graceful.
This particular wedding dress by Ranjha has a beautiful shirt with gota kinari and kamdani work over it.
It comes with Sharara that has a fuchsia pink border and dupatta. This traditional dress can make a perfect mehndi dress.
Price: $855
Buy Here: https://www.mohsinnaveedranjha.com/collections/beaa-jaani/products/nooria
Final Words
After seeing the latest collection by all these designers, my team and I were shocked and legitly wanted to have all of these dresses!.
Hence, we decided that everyone needs to know more about them.
This is just a peek into what these Pakistan designers have in store for us for this wedding season.
Instead of getting worried over what to wear, we suggest that you visit these designer's outlets or websites and check their amazing collection for you.
We are sure that you will not only love it but will end up buying your dream wedding dress for them.
And you will never regret it. If you wear a dress from this season's wedding wear collection, a few heads will surely turn your way admiringly.