Pakistani wedding season comes with the demand for luxurious and formal dresses. As the demand increase, so does the supply.
It becomes confusing for people to decide what to buy and not to and where to look for the right dress.
All the Pakistani fashion designer comes out with their own fashion range of luxurious dresses. Hence choosing luxury pret by Pakistani designer becomes a difficult choice to endure.
You become anxious against so many choices and cannot decide what to get and what to ignore.
Also, while browsing through so many designers, one cannot even remember or can miss one of the most heart-desired dresses.
To combat this problem, we have come up with a solution for you. We have browsed for you through all the latest luxury pret collections by Pakistani designers and selected a range of dresses.
Something that everyone can love, we have chosen a few designers whose work mesmerized us the most and then we selected the best of their offer.
We selected different type of dresses and some pairs of the same type for more choice. So everyone can get whatever they like and be satisfied with it as well.
Here, we have Pakistani fashion designers' luxury pret collection's chosen dresses which range from lehangas to shararas, angrakhas and pishwas as these dresses are back in fashion to very basic kurta and shalwar, as all these dresses make it a perfect Pakistani luxury pret collection.
We are sure that you will love this collection and appreciate our effort. Now look at what we have brought for you and choose your favorite luxury pret by Pakistani designer of your choice.
Velvet Luxury Suit by Faiza Saqlain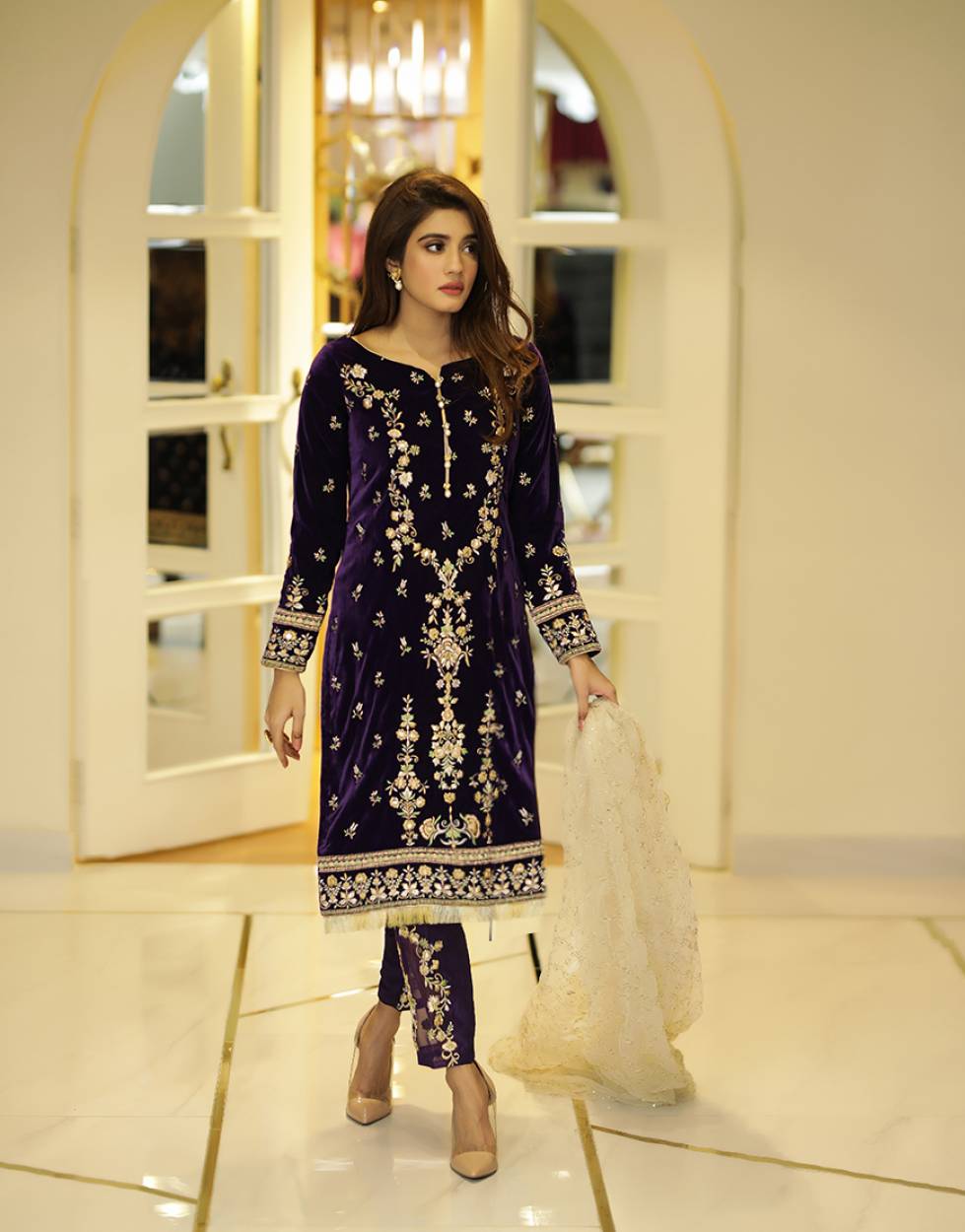 Faiza Saqlain, in her latest luxury pret collection has this beautiful and graceful traditional purple velvet dress.
It has front heavily embroidered velvet shirt paired with silk trousers.
The trousers also have some embroidered work on them. It comes with a plain tissue dupatta.
Price: 45000
Buy Here: https://faizasaqlain.pk/product/nur/
Gharara Suit by Maria B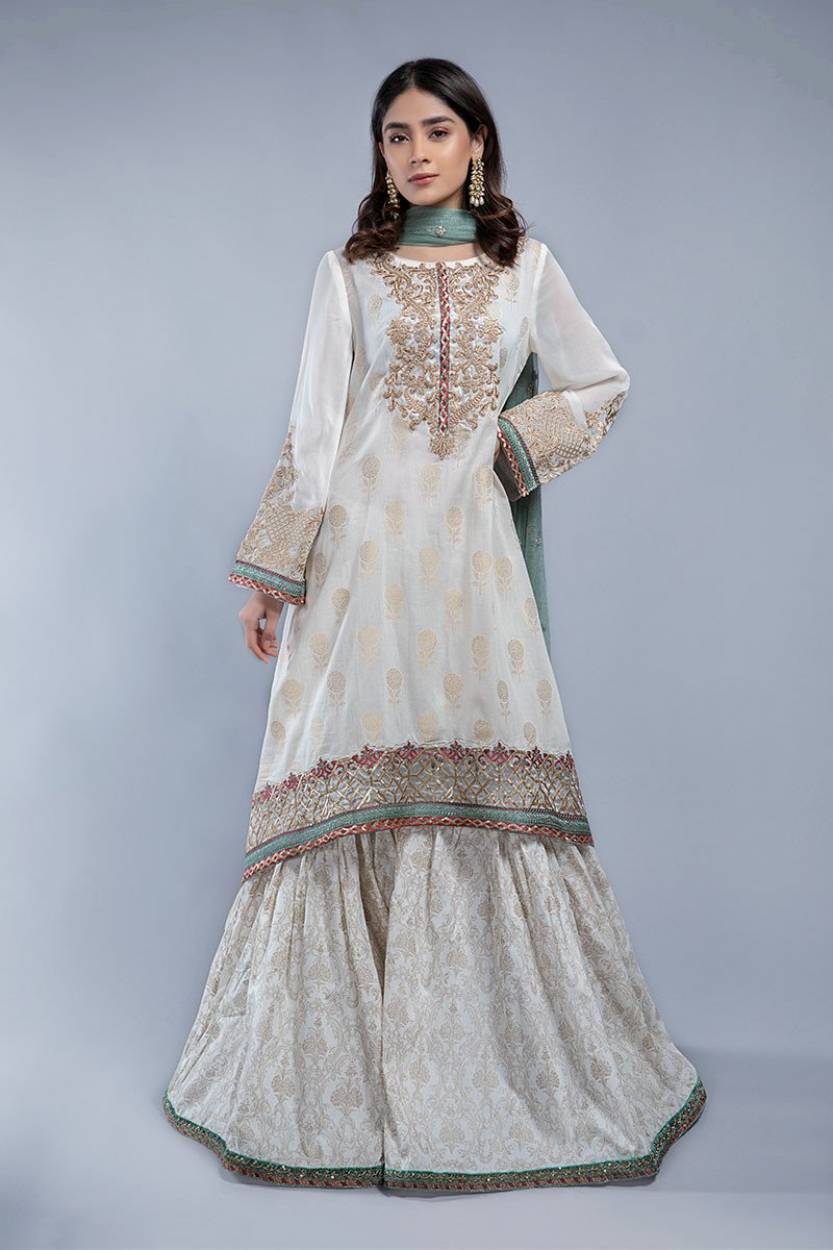 A gharara is a dress that can make you look perfect at a Pakistani event.
This Maria B dress has A-line off white jacquard shirt embellished with embroidery on the neckline and borders, a screen-printed gharara having embroidered border and a beautiful net dupatta.
Price: 13990
Buy Here: https://www.mariab.pk/dw-w19-99-off-white.html
Embellished Formal Suit by Phatyma Khan
Buy this Phatyma Khan heavily embellished luxurious dress.
This dress has a tissue net shirt with heavy embellishments and silk lining.
It comes with jamawar aqua-colored pants, adding grace to this already beautiful dress.
Price: 33844
Buy Here: https://www.phatymakhan.com/collections/luxe-pret/products/royal-glance
Embroidered Silk Suit by Nishat
This luxury prêt by Pakistani designer is to die for. It has a beautiful embroidered and pearl work front open gown. Which is, without a doubt gorgeous?
It comes with culottes trousers.
Price: 10500
Buy Here: https://nishatlinen.com/pk/kf-532-black-dyed-embroidered-stitched-formal-raw-silk-gown-slip-trouser-3pc.html
Angrakha Frock by Umsha by Uzma Babar
Umsha has this ravishing embellished dress. It has work of resham, dabka, nikashi on it.
Stitched into a angrkha, this grey dress comes with churidar silk pajama and puri mysuri dupatta with gota adorned borders.
Price: $900
Buy Here: https://umshaofficial.com/formals?product_id=253
Luxury Collection Suit by Zeen Women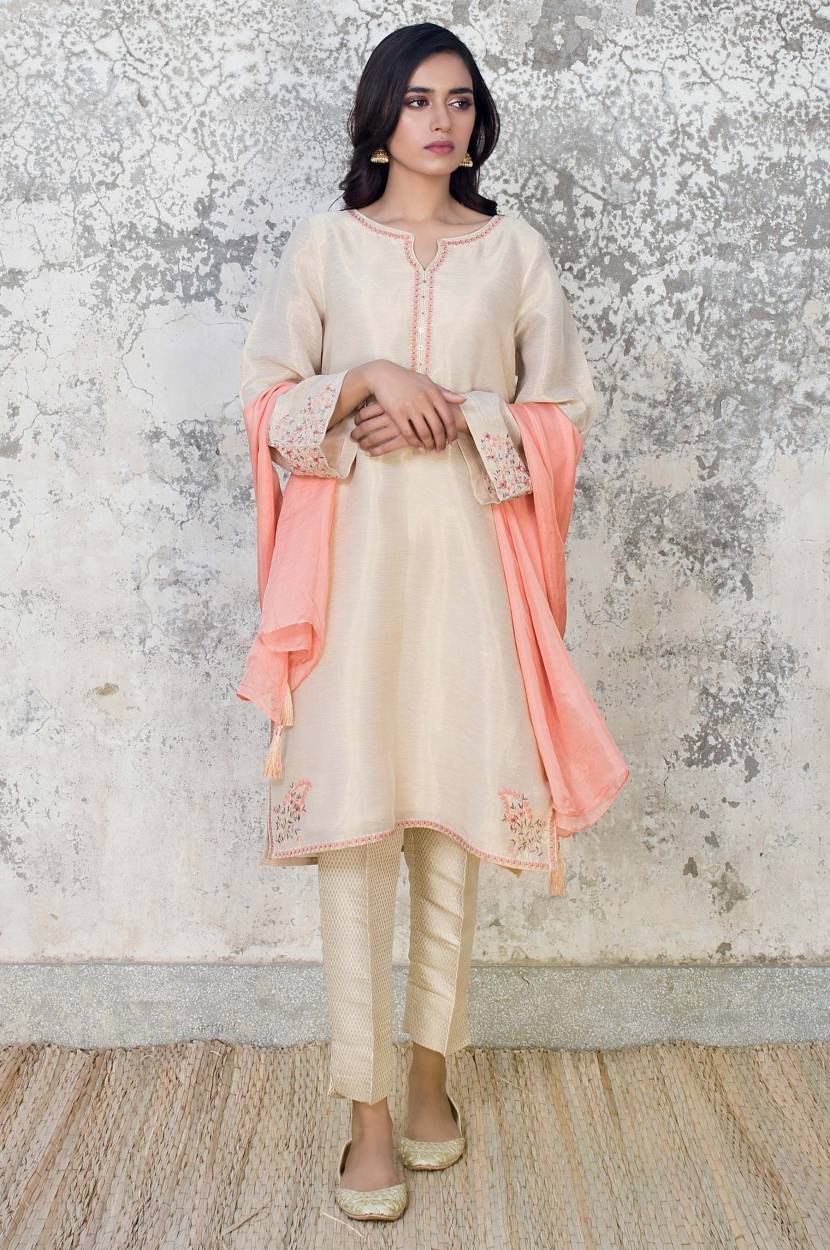 This beautiful off white dress by Zeen woman is elegant and sophisticated.
This graceful dress has a lightly embroidered shirt that comes with light peach dupatta.
Price: 6440
Buy Here: https://www.zeenwoman.com/pk/wzk29405-off-white-2-pc-stitched-suit-zari-dhari
Long Silk Pishwas by Sania Maskatiya
Pishwas is back in fashion and how can we complete a list of most beautiful luxury pret by Pakistani designers without adding it to it.
This long pishwas by Sania Maskatiya is fully embroidered in off white color and is paired with a beautiful cape dupatta.
Price: 61000
Buy Here: https://www.saniamaskatiya.com/long-embroidered-peshwas
Embroidered Silk Pakistani Luxury Dress by Dhanak
This elegant dress worn by Azeka Daniel is so beautiful. It has maroon raw silk shirt with embroidery on it. It comes with silk trousers and a digital printed silk dupatta.
The eye-catching colors, right fabric, and beautiful styling make this a perfect luxury pret by Dhanak.
Buy Here: https://www.dhanak.com.pk/product/dl-0050-maroon/
Price: 17433
Graceful Black Dress by Jeem
Jeem official has this beautiful black dress that speaks its own language of grace and beauty.
This dress has closed sides velvet shirt with beautiful embroidered patterns over it.
It comes with silk straight pants.
Price: 21900
Buy Here: https://jeem.pk/product/fable/
Designer Luxury Suit by Cross Stitch
Buy this luxury prêt by Pakistani designer cross-stitch having a beautiful collar necked shirt with beautiful embroidery. It also has pearl embellishments on it.
Moreover, it comes with rust dupatta having pearls dangling from the sides.
Price: 6050
Buy Here: https://crossstitch.pk/collections/luxury-pret/products/shepearl
Maroon Luxury Dress by Sana Abbas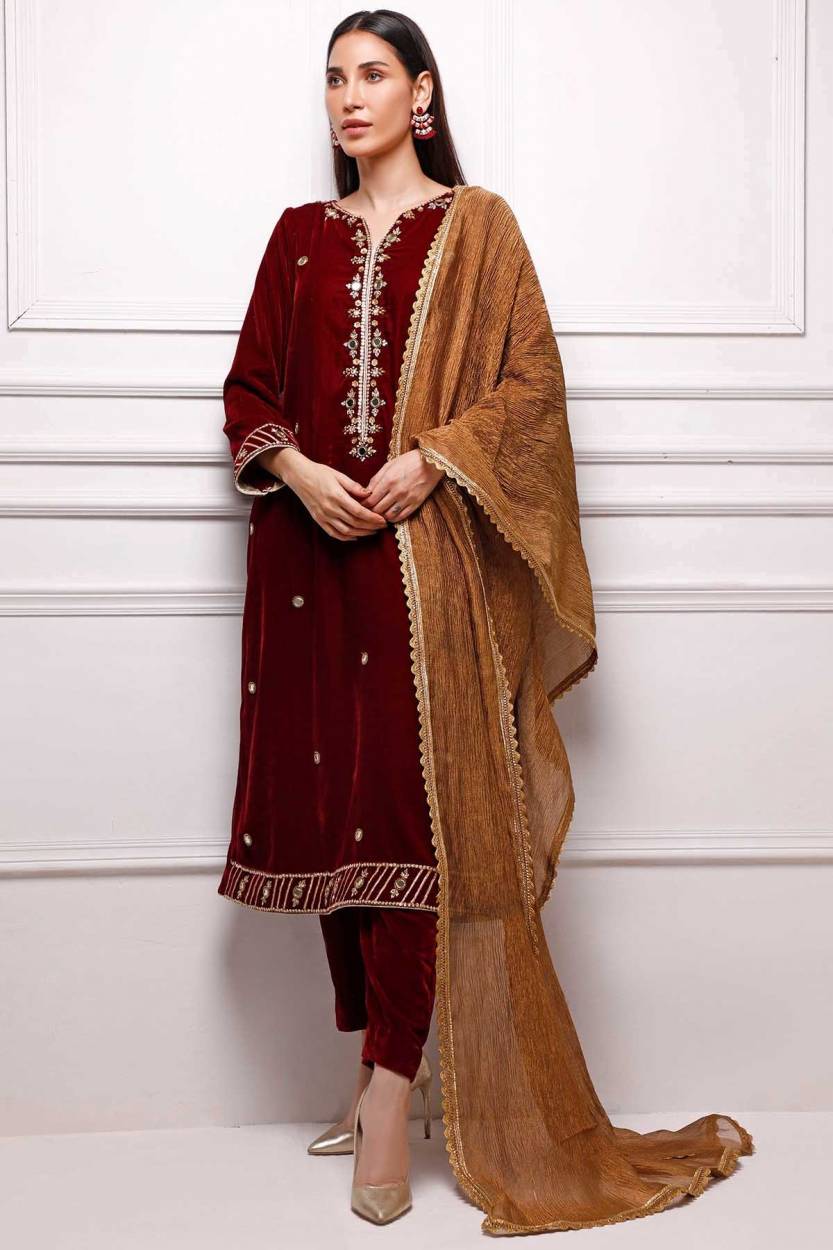 This Sana Abbas dress is to die for. This dress has Maroon shirt in velvet with an embellished neckline, sleeves, and borders.
It comes with straight pants and mehsori dupatta with trimmings.
Price: 15000
Buy Here: https://www.sanaabbas.com/pk/salp-0133-ruby.html
Pink Heavily Embellished Suit by Annus Abrar
Buy this beautiful pink traditional basic outfit having a shirt with modern cuts embellished with pearls, crystals, and stones.
It has adornments of all traditional work and is paired with equally beautiful dupatta by Annus Abrar.
Price: 26000
Buy Here: https://www.annusabrar.net/salmon-reef
Traditional Shalwar Qameez by Mirusah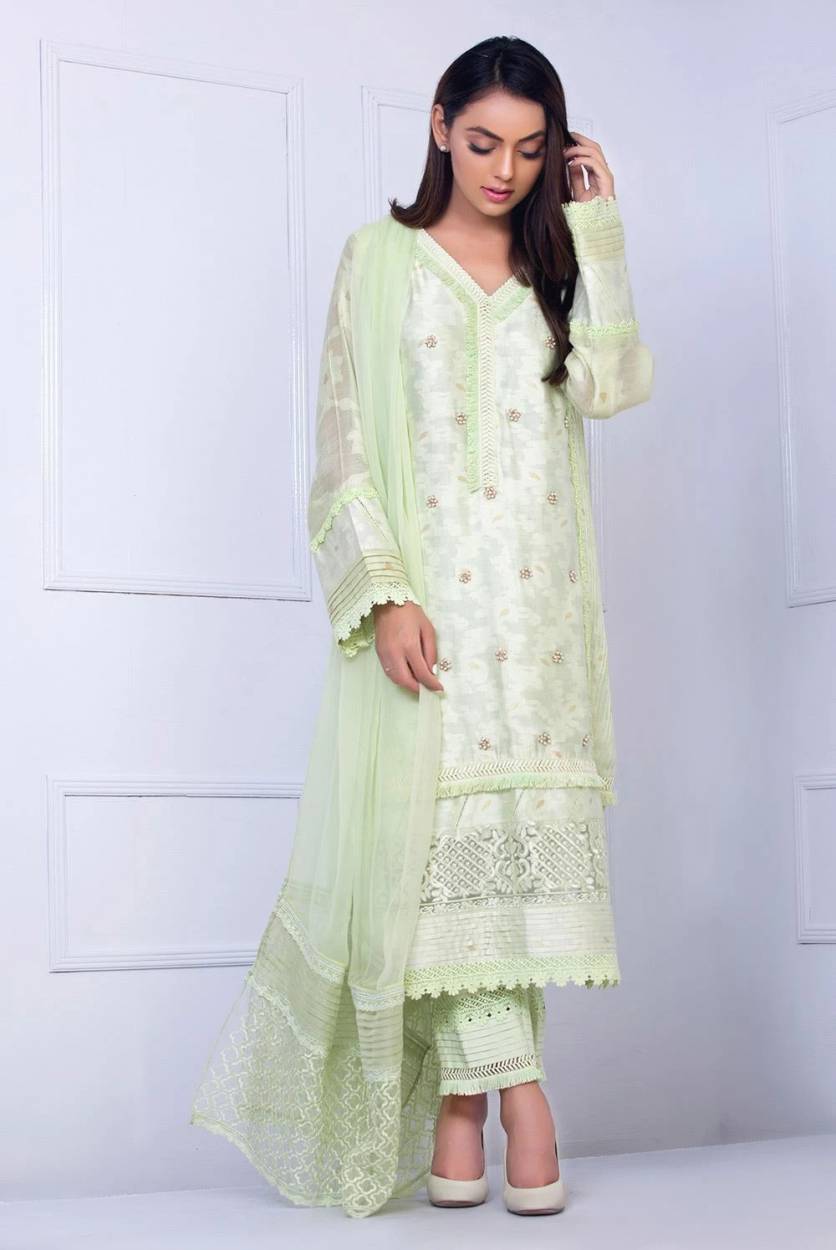 This Mirusah cotton net dress caught our eyes at once. In soothing green color, this dress has moderate embellishments and embroidered work.
Stitched into simple trousers and a long shirt, this dress is paired with a beautiful chiffon dupatta.
Price: 15500
Buy Here: https://mirusah.com/collections/luxury-pret/products/kiwi
Pishwas by Elan
This luxury dress is so beautiful and regal that words can't describe it.
This is one of the best Elan dresses this season. Made into a pishwas this dress is adorned with tulle cobweb work and floral thread work. It is in the mint shade made of chiffon fabric.
Price: 19000
Buy Here: https://elan.pk/collections/wedding-luxury-couture/products/artemisia-eb-19231?variant=17605042929735
Ankle Length Suit by Nida Azwer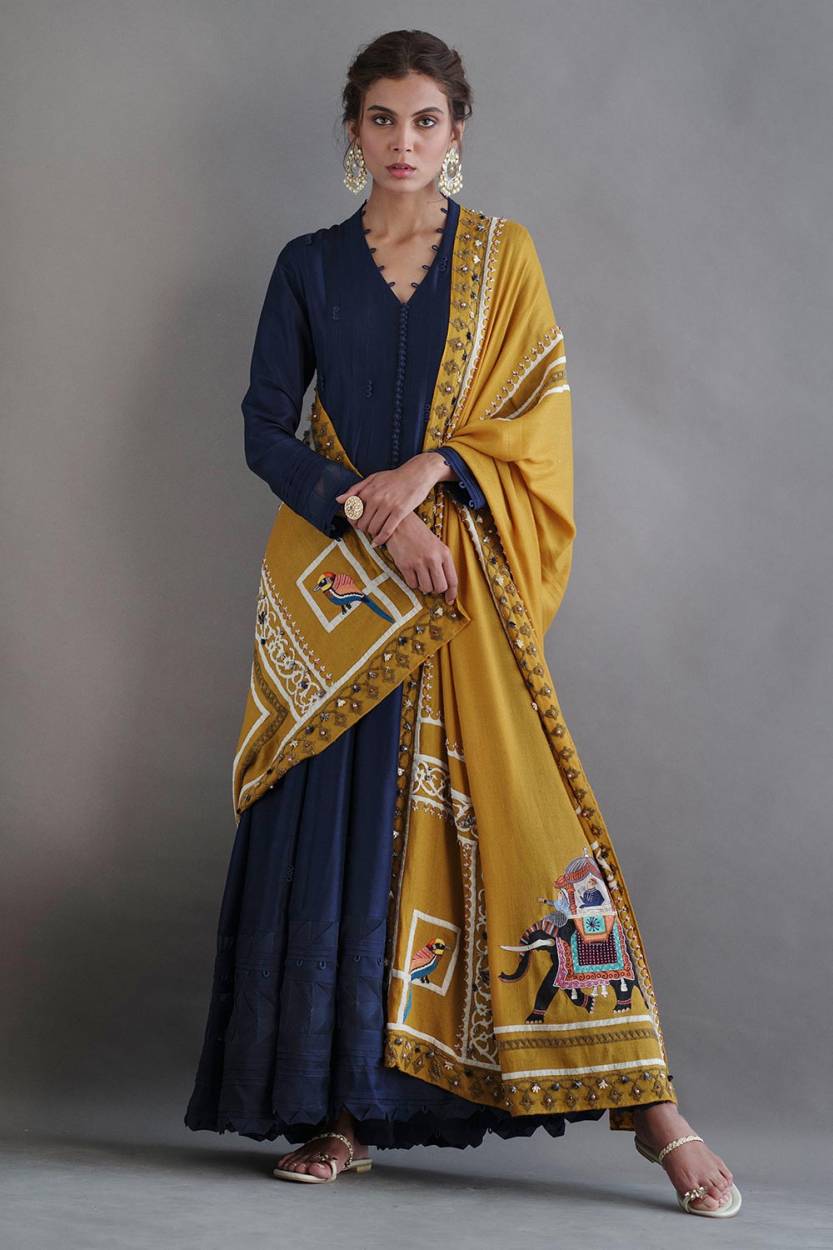 An extremely beautiful and elegant blue dress with long frock with v neckline and embroidered detailing on borders in silk, it is paired with straight pants and a beautiful handwoven embroidered shawl by Nida Azwer.
Price: 79500
Buy Here: https://www.nidaazwer.com/mn-0919-lpt-s-18-navy-blue
Luxe Pret by Ayesha Ibrahim
A beautiful net light purple dress by Ayesha Ibrahim having beautiful work and embellishments on it.
Stitched into a frock this dress has straight pants and beautiful tissue dupatta.
Price: 30800
Buy Here: https://www.ayeshaibrahim.com/lavender-fantasy
Gold Tissue Suit with Jamwar Pants by Sablev
This pure tissue dress is gold color by Sablev is so regal.
This luxury pret by Pakistani Designer has a buttoned neckline and has zardozi work over the neckline, sleeves, and borders.
Moreover, the border has imported chantilly lace on it.
Price: 48300
Buy Here: https://sablev.net/product/one-piece-attire-17/
Final words
You have now seen this pretty collection of luxury pret by Pakistani Designers and we are quite sure you loved it as we did.
This ever so ravishing clothing will make you stand out on any event and it is impossible to not get noticed in such gorgeous clothes.
This season if you want to feel special as you become a part of any event do not think twice before choosing a dress from this collection to rock the event.
Also, the prices of these dresses and the link to where to buy have been placed with each dress to make it easier for you to get your dress.
So, do not wait and grab the first opportunity to get your favorite luxury pret now.