Mahum Asad started her brand in 2013 and made a name for herself quickly.
This emerging fashion designer has built an empire based on hard work and resilience.
Her work speaks for itself.
This strong work ethic, hard work, and creativity, as well as the quality of work, is what has helped her make their way into the list of renowned fashion designers this quick.
Her customers believe in her, and their loyalty to her results from that sheer passion and love for what she does.
It is not easy to become recognized in such a small amount of time when the competition is so fierce and people have so many choices to select from.
In such an environment, standing out is an art, and Mahum Asad is the artist.
Mahum Asad Collection 2020 with prices for formal pret and bridal wear dresses is so beautiful and up the mark.
Her latest dress collection is so beautiful that we decided to compose a post on all three.
So we have selected the best dresses from bridal, formal and pret wear and put them in a single post so you can have an idea that what they have and how they are so famous.
This collection will show you what is in fashion this winter and how to design and carry them with grace and style.
Different styles and types of clothing can be found here, which makes it easy for everyone to choose and pick.
Also, beautiful and reliable color combinations and contrasts have been a fantastic addition.
These dresses are made of organza, jamawar, jacquard, velvet, and other fabrics.
These dresses, according to style and type and occasion for which, they are designed to have beautiful embroidery, threadwork, and adornments which make these dresses all the more beautiful.
Let's have a look at their beautiful collection and see why we are bragging about them so much; and we are sure after seeing this, you will be joining us as well.
The prices of these dresses are given below.
Saffron Bridal Gharara
A beautiful and ravishing bridal dress by Mahum Asad 2020 collection is so awesome. It has gota and zardosi work on the gharara.
While the medium-length shirt works with botti embroidery, this dress comes with a beautiful saffron dupatta having embellishments on all four sides.
Buy Here: https://www.mahumasad.com/collections/bridal/products/saffron-bridal
Bright Pink Organza Dress
Designer beautiful organza dress from Mahum Asad formal collection has medium length shirt with golden gota work on it. The work has been done with beautiful patterns.
It comes with straight pants and a beautiful dupatta having silk jacquard borders.
The elegance of this dress can make you look ravishing.
Price: 29750
Buy Here: https://www.mahumasad.com/collections/formal/products/shafaq
Textured Ivory Kurta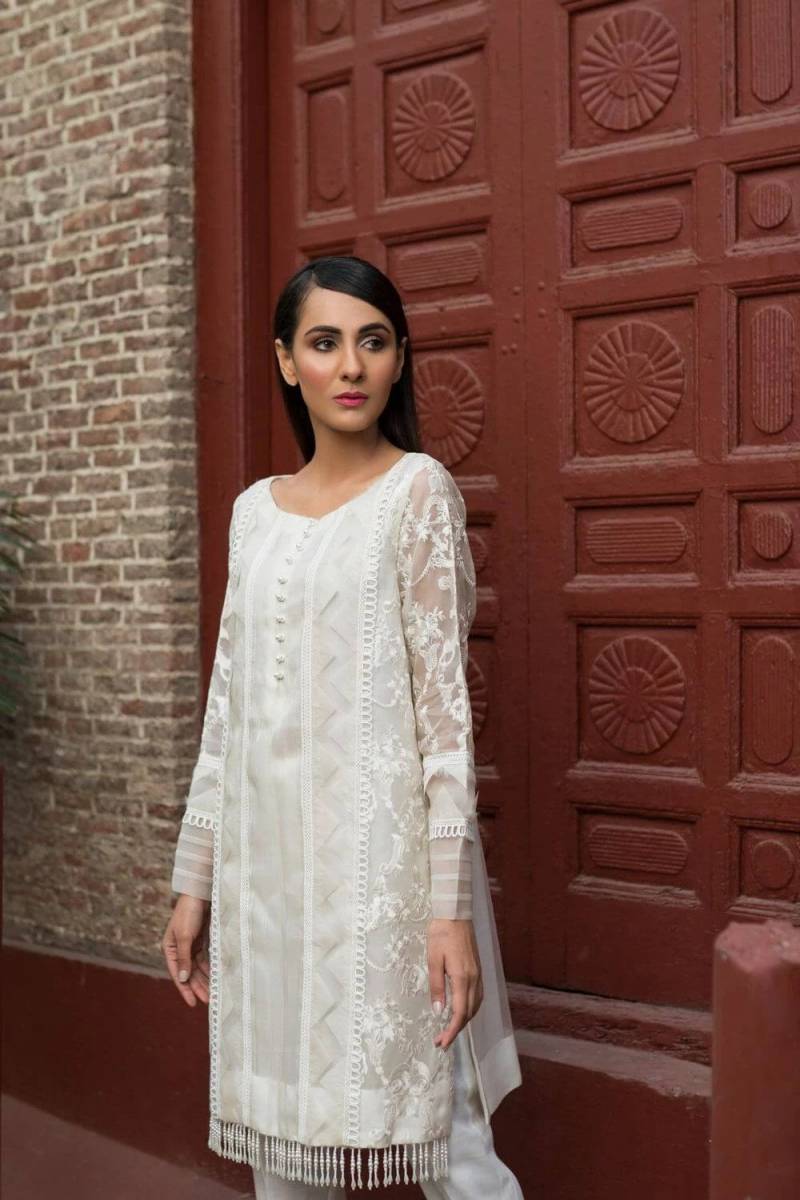 This beautiful and soothing ivory dress is so eye-catching and pretty.
This prêt collection 2020 suit has an ivory textured shirt in organza.
This stitched shirt has a proper standard length and comes with silk pants having the same texture.
It can look beautiful and give a smooth look for both day and evening events and meetings as well.
Price: 13175
Buy Here: https://www.mahumasad.com/collections/pret/products/ivory-chevron
White Kalidar Suit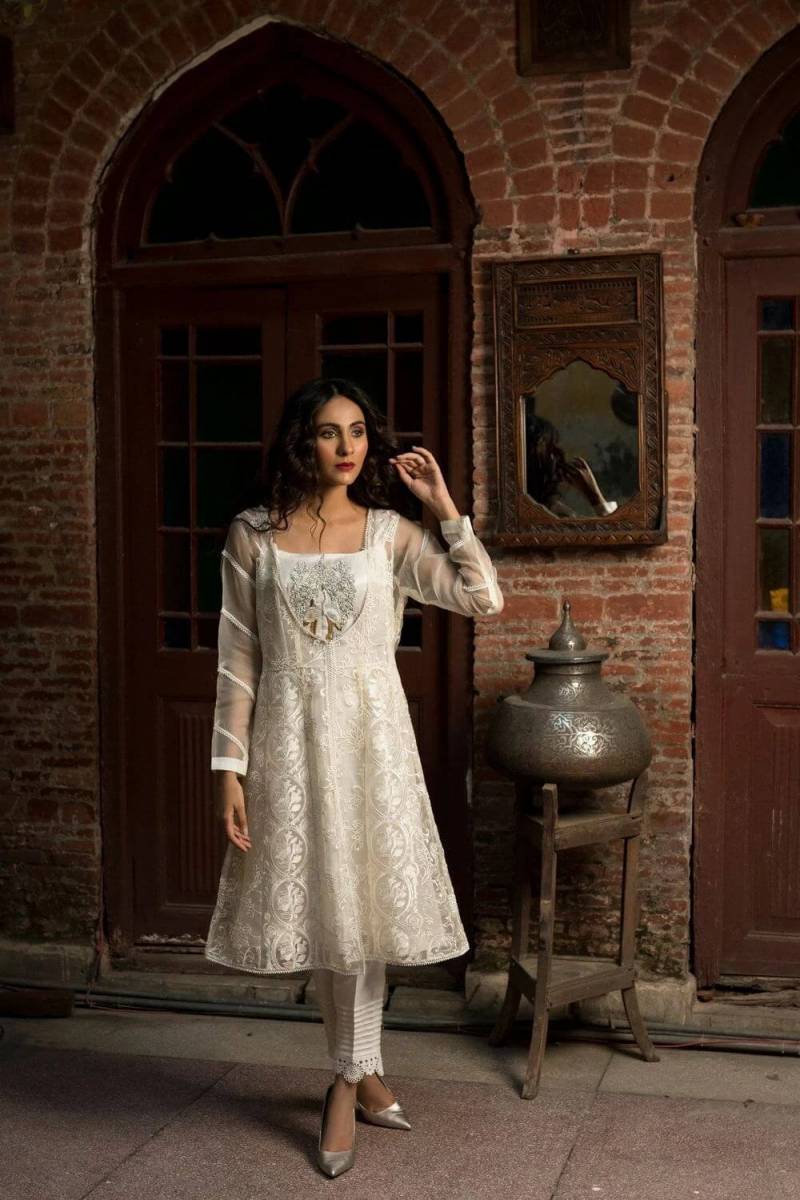 This pret wear by Mahum Asad has grace and elegance with style.
It can be worn on day events as well as semi-formal occasions.
It can be worn at university parties, events, and official meetings as it has both style and grace.
It was made into a low-length organza frock style shirt with embroidered handwork motifs.
It is paired with pleated trousers to complement the look.
Price: 17000
Buy Here: https://www.mahumasad.com/collections/pret/products/vintage-flare
Cobalt Blue Jacket Dress
This beautiful designer outfit from the formal collection comes with a beautiful cobalt blue medium-length jacket.
The jacket in silk has beautiful 3D work on borders.
The copper rust work makes this dress look so beautiful.
It comes with silk inners and cotton silk pure boot leg pants that make it a symbol of empowerment and grace.
Price: 33575
Buy Here: https://www.mahumasad.com/collections/formal/products/cobalt-iznik-jacket
Anarkali Dress
This beautiful anarkali dress cannot be ignored. We have been a fan of anarkali frock since ever.
So we cannot be happier to see in back in fashion and Mahum designing one with such grace.
This frock has beautiful embellishments over it. It comes with motif worked trousers.
Price: 32300
Buy Here: https://www.mahumasad.com/collections/formal/products/anarkali
Zardosi Embellished Dress
This ravishing and traditional dress is such a beautiful addition to Mahum Asad collection 2020.
It has a medium-length shirt in gold tissue fabric.
It is beautifully worked with zardozi all over it in silver shading.
It comes with a silk inner, which helps enhance the beauty of the dress and is paired with tapered pants.
Price: 23800
Buy Here: https://www.mahumasad.com/collections/formal/products/serena
Traditional Dusty Pink Angrakha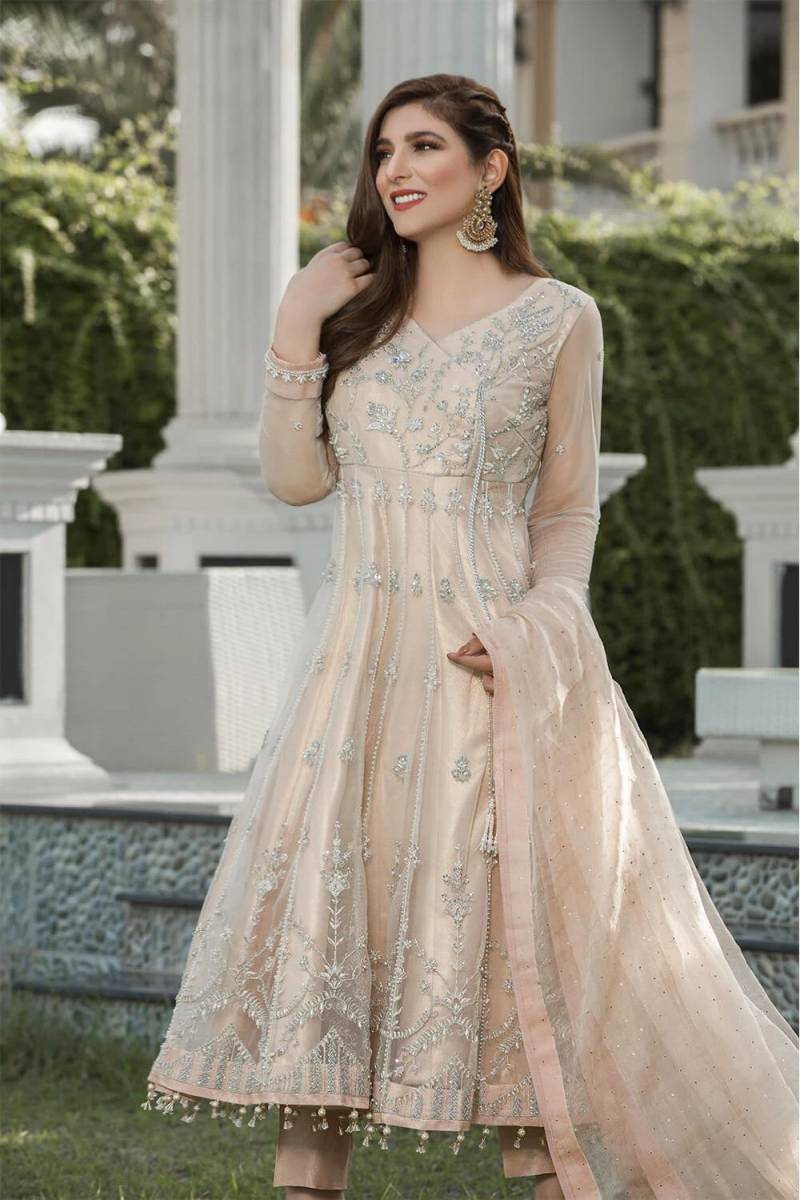 This conventional yet classic dress has our hearts at first sight.
This dusty pink organza dress with silk inner is stitched into angrakha.
The angrakha has the work of sequence, zardosi, pearls, crystals over it.
It comes with silk trousers and a beautiful chun dupatta, which not only completes but enhances the look of the dress.
Price: 46325
Buy Here: https://www.mahumasad.com/collections/formal/products/mystical-aura
Crystal Embellished Green Dress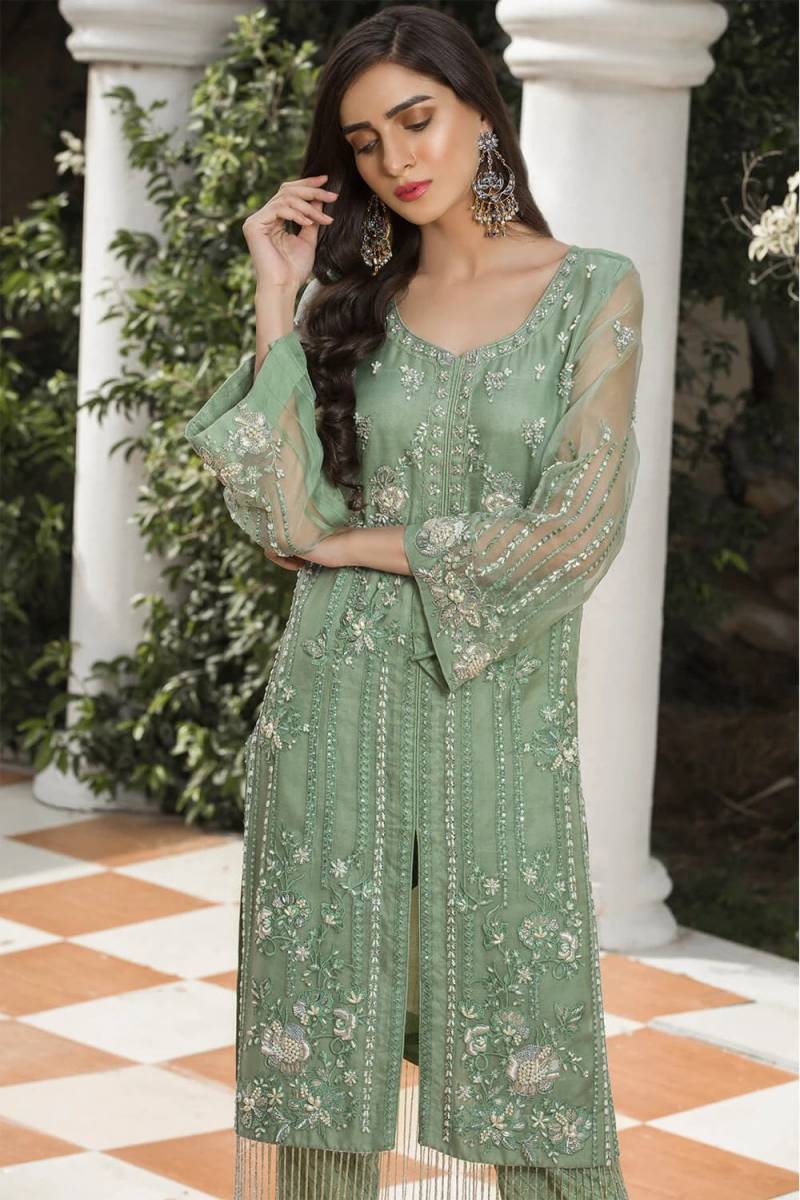 An elegant and pretty green suit has a front open shirt of medium length. This ravishing outfit has the work of zardosi and kamdani.
It comes with embellished crystals and pearl work. It has a tassel dangling from the ghera. Mahum Asad's formal dress is paired with embroidered pants.
Price: 29750
Buy Here: https://www.mahumasad.com/collections/formal/products/moda
Conclusion
Maham Asad collection 2020 has such grace and beauty in it that it catches the eyes and the heart of its customers.
This latest collection has aced all three categories of bridal, pret, and formal wear.
These clothes are not just beautiful but also hold a certain elegance to themselves.
Moreover, these dresses have uniqueness and the signature style of Maham Asad that escudos grace.
These dresses are reasonably priced and readily available both virtually and not.
You can shop at your nearest store, and you can also order them online from the links given above, and for more detail and queries, you can visit their official website and can get your questions answered.