Maha Osman is all about colors! Maha, without a doubt, knows her colors and how to play with them.
We are amazed by her brilliant work, her combinations, choice of fabric, quality of fabric and embellishments.
The beautiful work of traditional works of zarri, doria, resham, dabka, kora and whatnot.
Maha knows how and where to use it and her incredible team behind Maha Osman bridal collection 2020 did their best to bring it on this time around.
This year Maha Osman Bridal Collection 2020 has everything that you expect and even wish for in our bridal dresses.
From brightest and eye-catching colors to soothing and light colors, you can find them all in this beautiful and mesmerizing collection.
Moreover, The traditional work and its placement are done with such grace that we are just amazed.
A mix and beautiful fusion of modern and traditional style and her thoughts can be seen in these clothes.
Maha Osman always claims to take inspiration for nature which can also be seen here without a doubt.
For you, we have selected the brief but elegant collection of Maha Osman Bridal Collection 2020 and composed it into a single post with all the details that you might want to know about her dresses.
These bridal dresses have such amazing detailing that we were for some good time stuck by the beauty of them.
Now we have them here for you and you have to decide if you also find them as incredible and amazing as we did.
One of the best things we found about Maha is that they have clearly shown their prices with their bridal dresses that many designers don't do, hence making it even easier for us to make a decision all along.
Now have a look at these versatile dresses by Maha Osman Bridal Collection 2020 and make your own opinion which we are quite sure will be that you fell for them at once.
M couture by maha osman Lahore
Red Bridal Lehenga
The red color is the color of traditional brides.
When we think of a sub-continental bride, we automatically assume the bridal dress will be some elegant red dress.
It is sure the answer to that dream.
It h heavy embellishments on the long shirt with silver thread to die for.
It is paired with raw silk adorned lehanga and a beautifully worked net dupatta.
Price: $4182
Buy Here: https://www.mahaosman.pk/product/ox-blood-bridal-wear/
Pakistani Wedding Wear
A modern-style bridal dress with a fusion of tradition is something that looks awesomely stunning.
It has a medium-length shirt with beautiful embellishments all over it.
The work of stones and crystals is so amazing on the net shirt.
It comes with flapper-style trousers in tissue with adornments on the border.
It is paired with a self-organza dupatta.
Price: $2311
Buy Here: https://www.mahaosman.pk/product/ice-blue-bridal/
Embroidered Lehenga Choli
This Pakistani bridal lehanga has modern style lehanga with sequenced short choli in net and a jamawar lehanga with heavy embellishments and work of stone.
The most amazing feature is the beautiful mughal artwork on the border of the lehanga in powder blue color.
That work is so keenly done and looks so amazing that one is mesmerized by it.
Price: $3985
Buy Here: https://www.mahaosman.pk/product/mughal-art-lehnga-bridal/
Peach Bridal Wear
This light-colored, very basic style lehanga is so beautiful that one just cannot ignore it.
It has medium length loose fit shirt in jamawar with such beautiful work on it on a different combination of works, with a net lehanga with light work on it.
It is paired with a beautiful and lightly adorned dupatta.
Price: $2029
Buy Here: https://www.mahaosman.pk/product/peach-bridal/
Maha Osman Instagram
Pakistani Bridal Maxi Gown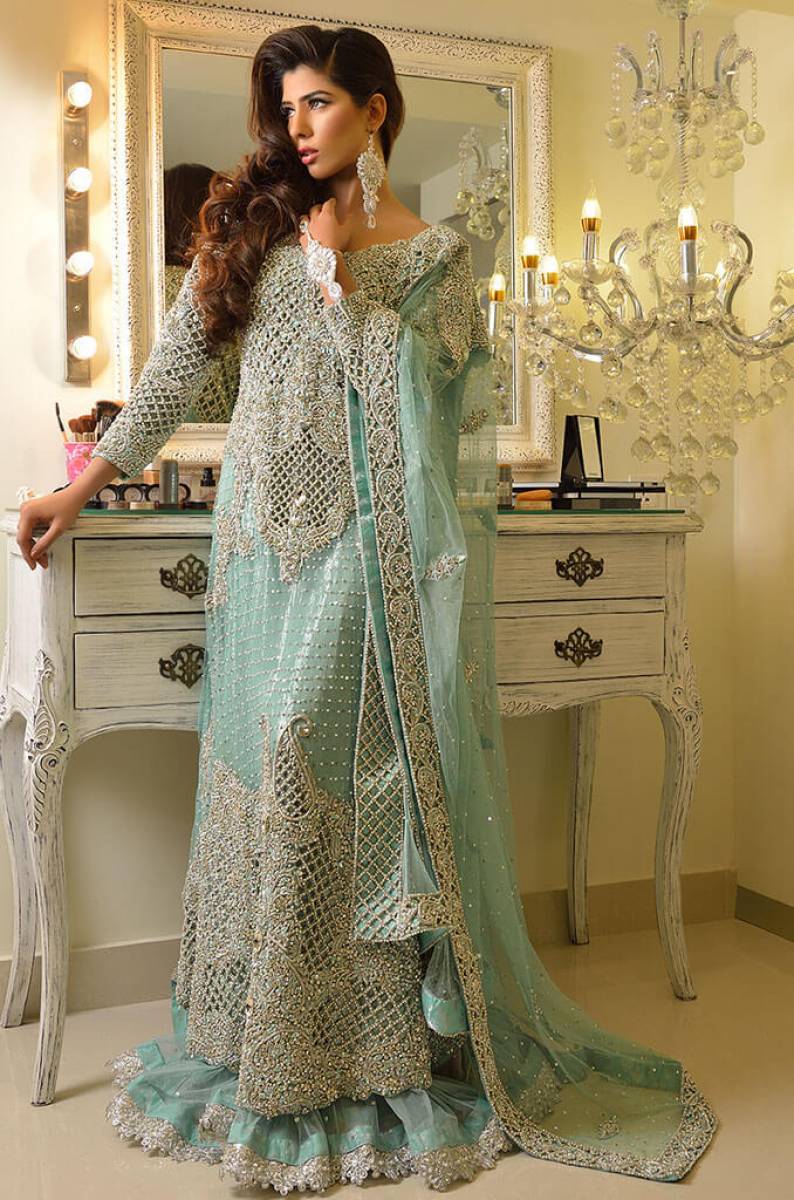 Heavily embellished Pakistani bridal wear is like a signature wedding wear.
Giving an amazing twist to already beautiful style, Maha Osman Bridal Collection 2020 has won our hearts.
This aqua blue maxi dress has beautiful but heavy work on neck front and border.
It is paired with a beautiful lehnaga with silver embellishments which makes it a perfect bridal dress for walima.
Price: $2029
Buy Here: https://www.mahaosman.pk/product/aqua-bridal/
Embroidered Peplum with Chunri Lehenga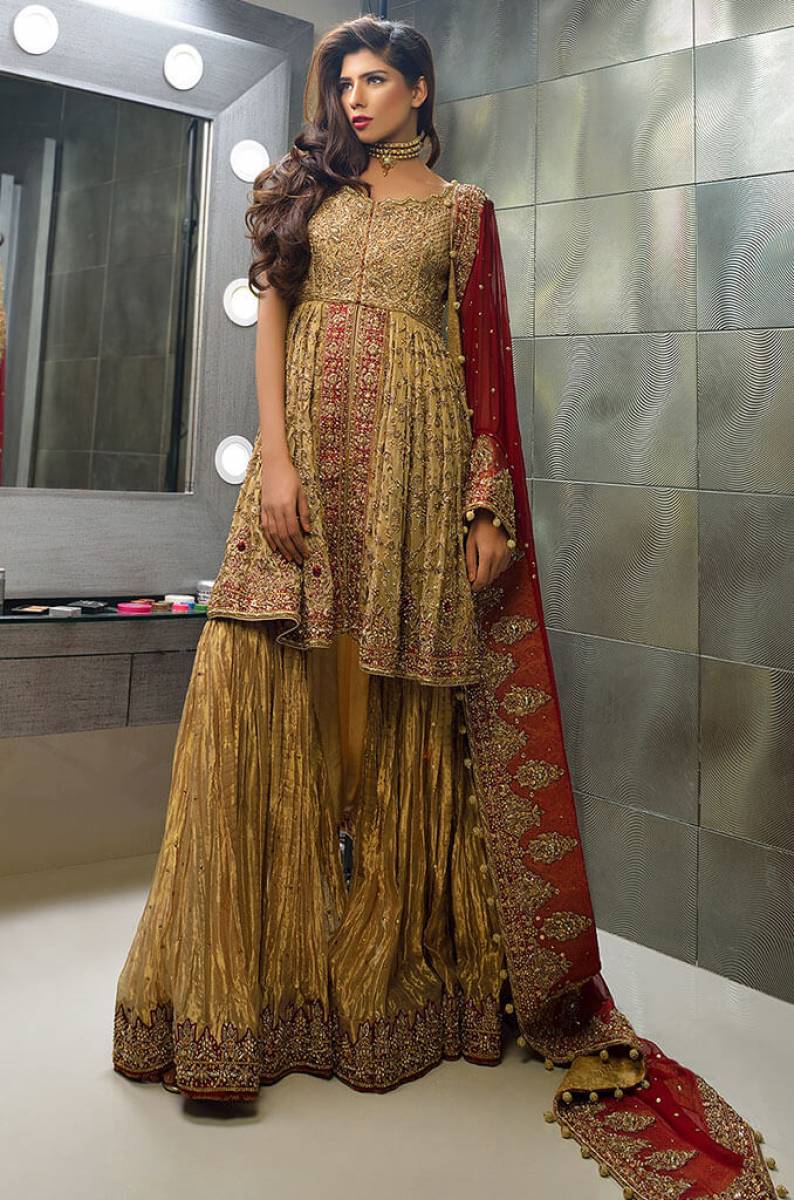 It won my heart at first glance. This dust gold color dress is to die for real.
It has an embellished peplum top paired with a chunri lehanga.
This unique combination looks amazing especially paired with chiffon embellished red dupatta.
Price: $1833
Buy Here: https://www.mahaosman.pk/product/peplum-top-with-gold-sharara-and-mehroon-dubbata-bridal/
Orange Maxi Dress for Pakistani Weddings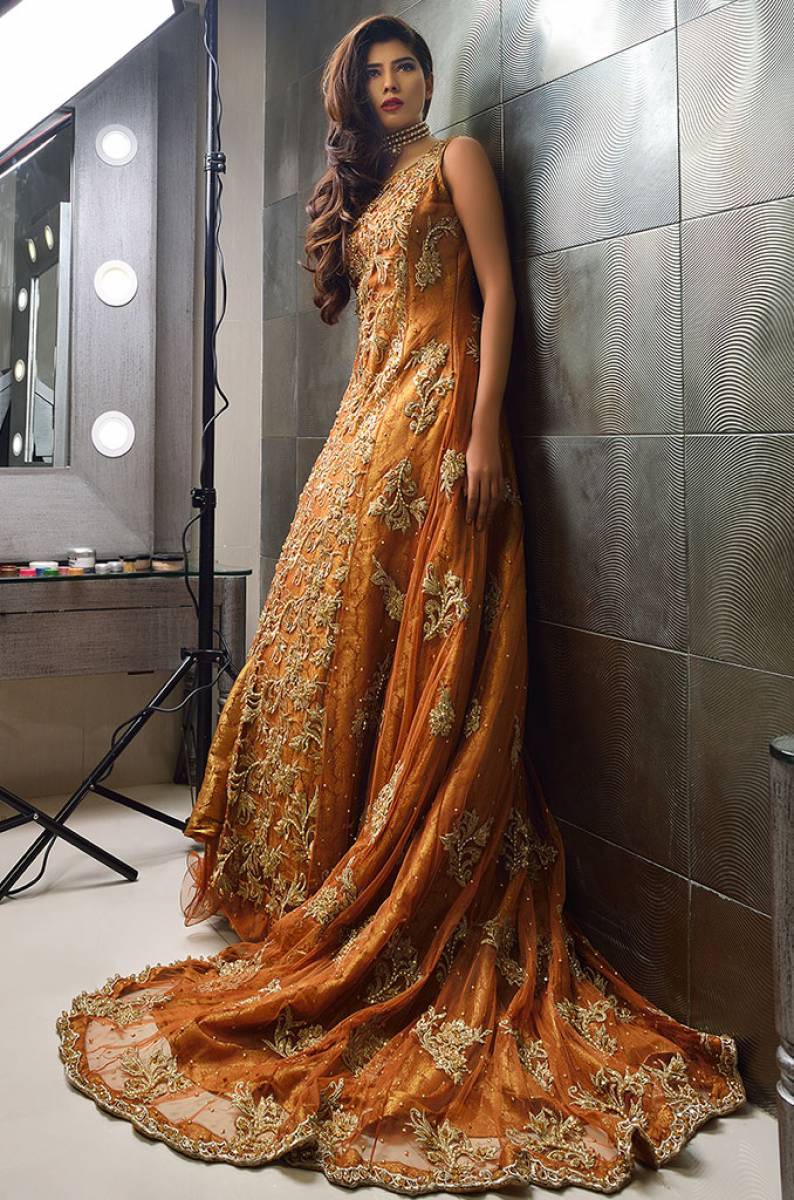 The grace of this Pakistani dress by Maha Osman bridal collection 2020 has no competition.
It has maxi in full length in burnt orange color.
On a jamawar net fabric, this color looks so amazing and beautiful scattered embellishments make it dreamy.
It comes with an equally beautiful dupatta.
Price: $1594
Buy Here: https://www.mahaosman.pk/product/burnt-orange-trail-dress-bridal/
Colorful Pakistani Wedding Dress
This basic but regal style outfit for brides looks amazing.
it has a mixed red, pink and orange gown style shirt with beautiful embellishments and full length and equally graceful dupatta.
It comes with a real red tail lehanga with such amazing work on its tail that it grabs the attention at once.
For a basic traditional yet regal look, nothing can beat it.
Price: $3029
Buy Here: https://www.mahaosman.pk/product/red-bridal-outfit/
Front Open Bridal Gown
Maha Osman has this beautiful light green bridal outfit for Pakistani brides that have everything in it that a bride needs to look stylish, trendy, beautiful yet elegant and gorgeous.
It's a long, elegantly fitted shirt with an open front and comes with beautifully embellished and patterned lehanga.
Paired with a light Pink embellished dupatta it is beautified 100X times.
Price: $3949
Buy Here: https://www.mahaosman.pk/product/green-mountain-meadows/
Conclusion
The brief but beautiful collection is to die for!
This small collection is composed of different styles, a variety of colors, and a thought-provoking choice of combinations and color contrasts.
This Maha Osman bridal collection 2020 has many features which make it a good consumption.
Something worth spending money on, this bridal collection deals with different styles, so you might not get stuck with limited options and choices.
All the colors and dress and style and embellishments speak high of their amazing work.
Moreover, at Maha Osman's they have the incredible option of returning the dress, that too within 14 days, like you have whole two weeks in which you can make your final conditions.
We recommend you either visit their Lahore outlet or check their collection online, make an appointment for yourself, and get you an ideal bridal dress made from Maha's this time to never regret a decision again.