Shamaeel Ansari is one of the names in the fashion industry that we can blindly believe in. Her work does the talking.
Her collections show her passion, creative power, innovation, and insight.
She is blessed with a sight that many lacks. Her talent for molding unspeakable into a craft is what distinguishes her from the others and makes her stand out among all.
This is one of the reasons we always look forward to her new collections, as her designs and styles speak for themselves and tell a tale of their own.
This year too, the bridal and formal wears by Shamaeel Ansari are just outstanding.
Moreover, Shamaeel Ansari's formal and bridal wear collection has such fine quality fabric that promises to last and shine. A good fabric does show, and in this case, it definitely will.
Also, the work done on these dresses, the embroidery, and embellishments such as crystals, beads, pearls, and stones are too beautifully done and crafted that one gets lost in their beauty.
In this post, we have submerged some of our favorite and the most beautiful bridal and formal wear dresses by Shamaeel Ansari.
The reason for doing so is to show you all that fabulous work she has been doing and what you could be missing if you do not give her the attention she deserves.
Almost all her dresses in both collections are beautiful and mesmerizing. They have a look of elegance that makes the wearer stand out.
We are sure that whoever wears Shamaeel Ansari's clothing will feel special and beautiful.
Now have a look and decide if you feel as we do and love these dresses as we are being crazy about them or not. Let's check them out.
Shamaeel Ansari 2020
Heavily Embellished Bridal Lehanga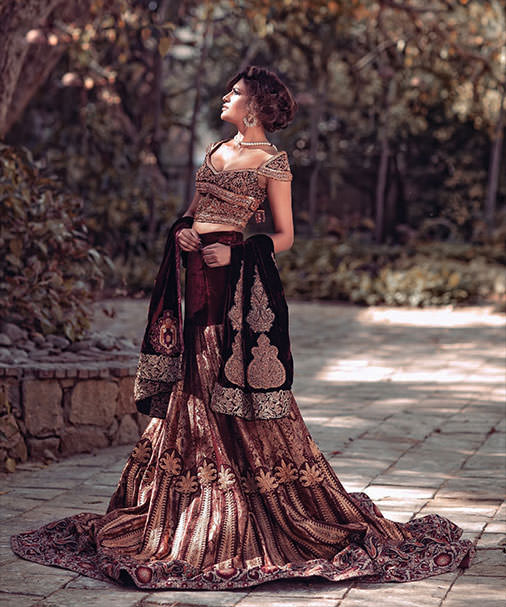 A heavily embellished bridal dress is what we all want for a Pakistani wedding, and that looks most traditional and regal as well.
This beautiful dress has heavily embellished maroon and gold choli, and a silk and velvet mix lehenga is an excellent choice.
It comes with a velvet maroon shawl with embellished patterns all over it.
Buy Here: http://www.shamaeelansari.com/collection/bridals.html
Green Velvet Formal Dress
A designer dress has a long slit shirt in green velvet and comes with jamawar straight fit trousers.
The shirt is embellished with patchwork and embroidered motifs.
The borders have golden embellishments on them with cut dana work and a maroon neck work does its magic and makes it prettier.
Buy Here: http://www.shamaeelansari.com/collection/bridals.html
Gold Dabka Embellished Bridal outfit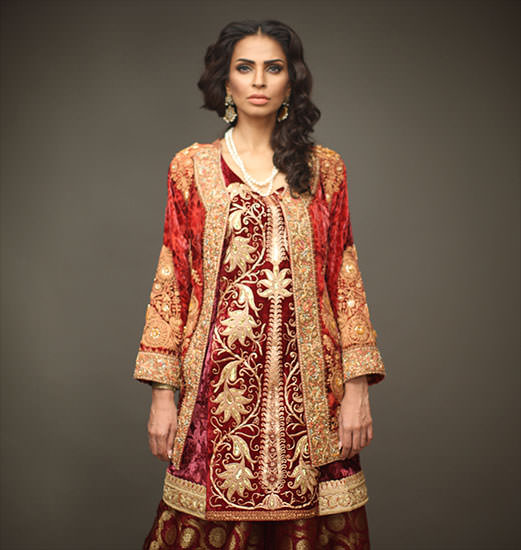 This beautiful Pakistani bridal dress in red silk having dabka work all over it is amazing.
This dress has peplum style shirt that comes with a jacket both have elegant patterns and work over them.
It comes with a lehanga with full embellishments, handicraft, embroidery and dabka work all over it.
It is a perfect Pakistani bridal wear dress that encompasses traditional style, work and embroidery.
Buy Here: http://www.shamaeelansari.com/collection/bridals.html
Carrot Jacket Pakistani Dress
Sahmaeel Ansari speaks of traditions, roots and their basic belonging through her dresses and style and patterns.
This dress speaks volumes. It is a mix of tradition with modern trends.
A beautiful carrot red jacket with golden work on sleeves and beautiful patterns and sequin all overlooks perfectly
It comes along with a silk shirt and flapper-type trousers that make the beauty comes out more beautifully.
Buy Here: http://www.shamaeelansari.com/collection/bridals.html
Shamaeel Ansari Bridal Collection PFDC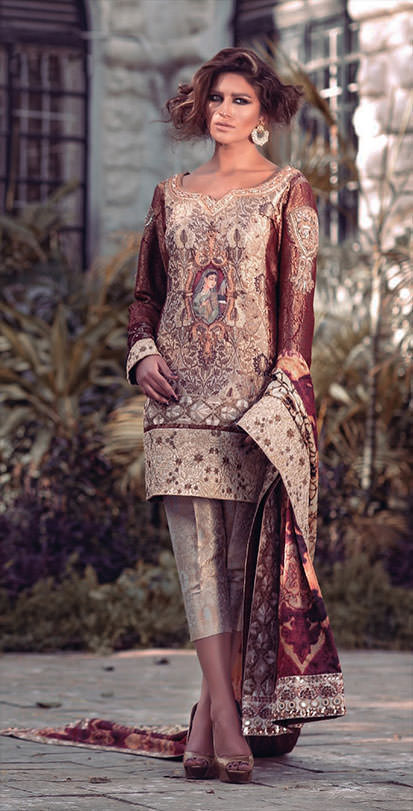 Maroon Waist Coat Dress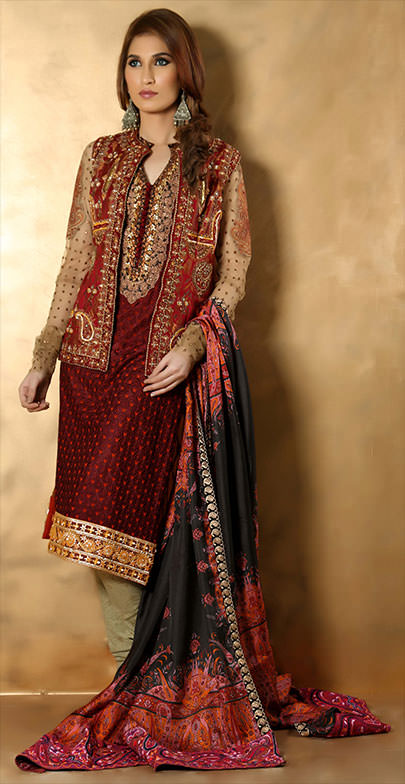 A beautiful and traditional Pakistani wedding dress having a waistcoat seems very attractive.
This dress has a maroon Sindhi pattern over the shirt and waistcoat. Moreover, the mirror work and traditional hand embroidery make this dress eye-catching.
It comes with silk chori dar. A perfect traditional dress for any day or night event and can even be worn in a traditional gathering or a wedding.
Buy Here: http://www.shamaeelansari.com/collection/bridals.html
Off White Maxi Style Bridal Suit
This beautiful purplish grey and off-white bridal maxi by Sahmaeel is different and beautiful.
This dress has a beautiful maxi-style gown with white embroidery and other traditional works all over it and it comes with equally daunting lehanga with similar patterns.
It can give you an awesome and different look for a bride.
Buy Here: http://www.shamaeelansari.com/collection/bridals.html
Peacock Green Embellished Dress
Shamaeel Ansari formal and bridal dresses have this beautiful and traditional basic style gown dress in peacock green.
This frock-like gown dress has kali style and its front has golden embellishments all over it from neck to the end.
Also, beautiful red 3D embroidered floral patterns make it even better.
Buy Here: http://www.shamaeelansari.com/collection/bridals.html
Bride's Sister Wedding Dress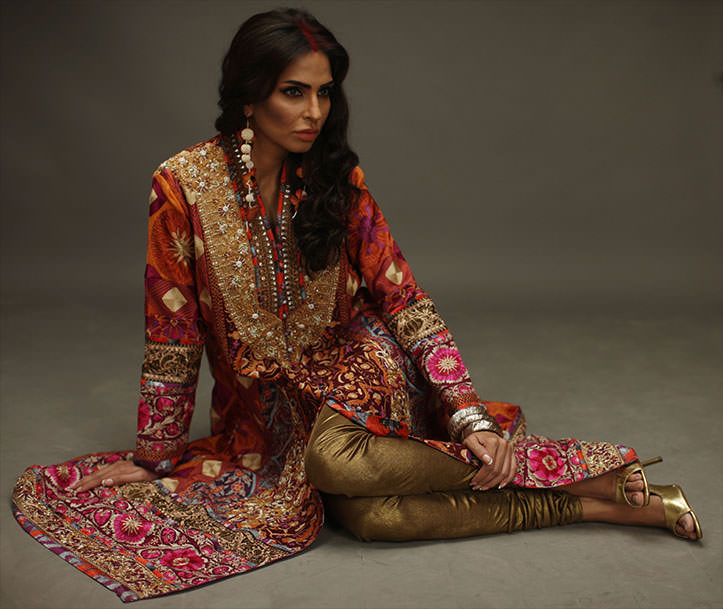 This traditional wedding dress having a front open gown in rust color by Shamaeel Ansari is just too beautiful and regal.
It has a neckline motif with the work of zari and zardozi, and overall beautiful embellishments have been put on them.
It comes with silk chori dar, which adds grace to it.
Buy Here: http://www.shamaeelansari.com/collection/bridals.html
Pakistani Wedding Dress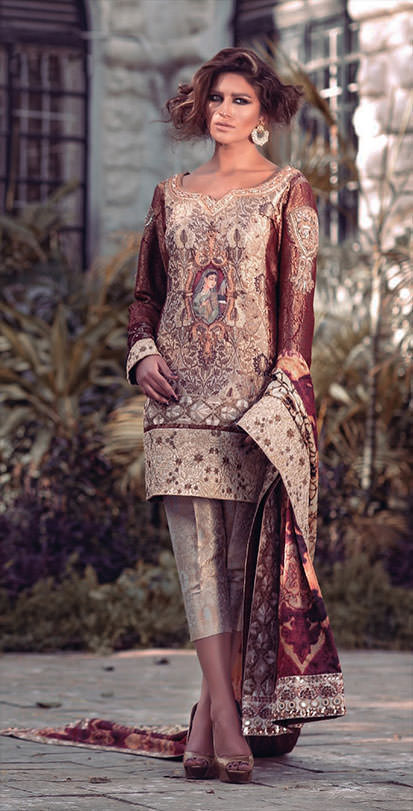 These elegant and beautiful trousers and medium-length kameez got our attention because of the beautiful design and patterns that have been implanted in them.
This dress has beautiful embroidery, and mughal inspired painting of a princess catches the attention. It comes with silk organza trousers and silk printed dupatta with jamawar borders.
Buy Here: http://www.shamaeelansari.com/collection/bridals.html
I think these dresses are enough to spark the want to get one for you. And you might want to see more dresses to see if you would love one even more.
For that, visit their website, and for these particular dresses, their prices and links to buy have been given along to you.
These dresses come at affordable prices, and getting such amazing formal wear at such a reasonable price is a big deal nowadays, isn't it?
Our verdict is that if you are getting married sometime soon or you have a big event to attend in recent times.
Do visit Shamaeel Ansari bridal and formal dresses and get the amazing outfit of your dreams.