Iqra F Chaudhry is an emerging star in the Pakistani fashion industry.
She started her career six years ago, and now she is making a mark through her resilience, creativity, inquisitive style and passion that can be seen in her work.
Iqra has a fantastic collection of bridal and formal dresses.
Her dresses have a unique personality and aura around them, be it her formals or bridals.
They speak of their beauty and elegance.
This year too, Iqra has come up with such a beautiful collection of bridal wear and formal wear dresses that one needs to appreciate her creative ideas, designs, style, and thoughtfulness.
Her dresses do speak of their culture and roots.
This has to be Iqra's specialty that her work is modern, stylish, updated and goes with the time, and still, it does not forget and fully depicts its belonging and roots.
Her work is the depiction of Pakistan's cultural and traditional fashion.
Iqra F Chaudhry's bridal collection has beautiful bridal dresses, including front open shirts, frocks, lehangas, shararas, short shirt styles and choli dresses.
All these dresses are beautifully embellished and carefully crafted.
These dresses do show the real creative power of the brand and the hard work of the team.
While on the other hand, her formal dresses are equally ravishing and stylish.
The colors and shade selection are just so awesome like she has selected the most amazing shades of each color to go with her dresses.
Moreover, they are beautifully designed and have such beautiful embroidered work all over them.
They are made into the styles of angrakha, peplums, frocks, peshwas, anarkalis and what not.
All traditional fashion styles are being occupied in these dresses, which makes this collection looks all the more beautiful.
We have composed this post to give you a sneak peek into the latest collection and we have selected here some of the best and our favorite dresses by Iqra F Chaudhry and put them together for you to see and choose for yourself.
Red Formal Wedding Dress
Red seems to be the color this season for Iqra F Chaudhry collection, as this year, it has chosen to use different shades of red for her formal collection.
This beautiful and ravishing dress has a net shirt with mukesh work on it.
It comes with beautiful embroidery all over in gold and has a long dress with a double slit style.
It comes with pure raw silk trousers.
Price: 49000
Buy Here: https://www.iqrafchaudhry.com/product/keya/
Off Shoulder Wedding Dress
This ravishing and gorgeous wedding outfit by Iqra F.
Chaudhary has off shoulder medium-length shirt having beautiful embellishments of dabka, nakashi, sequin and stones over it.
It comes with a gharara style embellished trousers and a complimentary embellished choker that will add beauty to this already beautiful dress.
Price: 69000
Buy Here: https://www.iqrafchaudhry.com/product/celebre/
Ferozi Bridal Sharara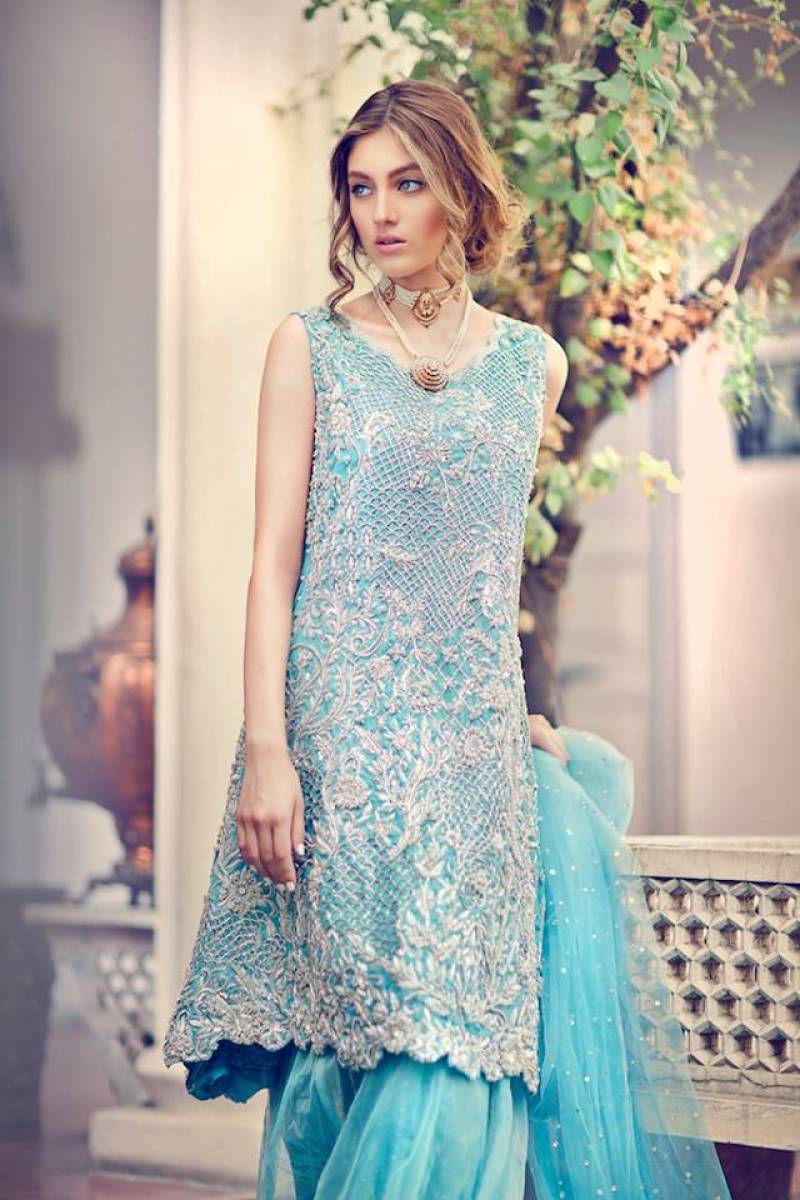 Iqra F Chaudhary has this bridal sharara in her collection that is perfect for engagement of nikkah event.
This dress has a medium-length shirt with beautiful work of embroidery, motifs, floral 3D work and other embellishments over it.
It comes with a net beaded sharara and dupatta, which makes it such a light yet elegant bridal wear.
Buy Here: https://www.iqrafchaudhry.com/ETOILE/
Hand Embroidered Kurta
Iqra F Chaudhary has this atlas hand-worked kurta with intricate details on it.
It has sudden pop-ups of a few colors, such as beige, beige and dusty green, which makes this sophisticated dress a little more beautiful.
It has scalloped hand-worked borders on pure raw silk pants.
It is the best choice for an elegant yet appropriate look for a wedding dress.
Price: 55000
Buy Here: https://www.iqrafchaudhry.com/product/charmant/
Front Open Bridal Gown
Iqra F Chadhary has this elegant bridal dress that is a pure display of beauty and regal looks.
This dress has a long front open gown with a bodice.
It has beautiful embellishments; embroidery, and thread work all over it.
It is paired with an orange embellished lehanga that makes the overall look even look eventful and attractive.
A beautiful embroidered red dupatta with kiran work completes the look.
Buy Here: https://www.iqrafchaudhry.com/GRANDIOSE/
Dabka Embellished Angrakha
A dabka embellished dress is a favorite outfit for a wedding event.
This angrakha has medium length and beautiful work of stones, crystals and pearls along with dabka.
It comes with open and loose-fitted trousers that enhance its beauty.
This traditional red angrakha is an excellent choice for wedding wear.
Price: 75000
Buy Here: https://www.iqrafchaudhry.com/product/diamante/
Designer Bridal Maxi Dress
This bridal maxi won our hearts at a very first look.
This Bridal outfit is made of pure tissue that comes with beautiful work of dabka and naqashi.
It also has work of sequins and embellishments of pearls, and crystals along with stones and beads.
This bridal maxi comes with a chiffon dupatta having mukesh work all over it and embellished borders.
Buy Here: https://www.iqrafchaudhry.com/elia/
Pakistani Peplum Designer Wear
This Pakistani wedding outfit from the formal dresses collection by Iqra F Chaudhary has beautiful work of pastel sequins, thread work flower motifs and pearls work all over it.
Made into a peplum top, the bodice is fully hand embellished and such a graceful show of expertise.
This dress is a stylish and updated wedding dress that can make you look super chic.
Price: 55000
Buy Here: https://www.iqrafchaudhry.com/product/eclat/
Fancy Pakistani Silk Dress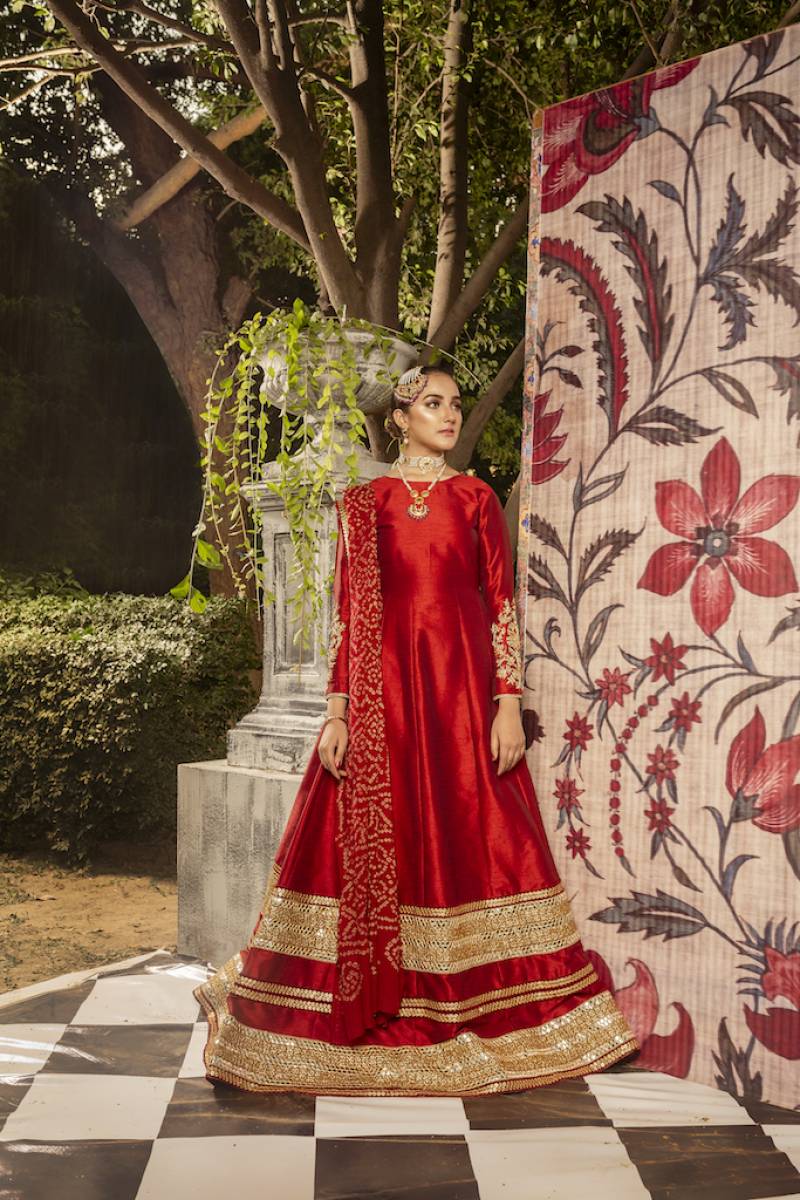 A pure raw silk full-length gown having beautiful work all over it by Iqra is such a perfect wedding outfit.
This traditional dress has dabka work adornments along with French knot, dhaaga and micro sequin work.
Also, the borders have embellished laces to add more beauty to this already graceful dress.
It comes with a chunri dupatta to complete the look.
Price: 30000
Buy Here: https://www.iqrafchaudhry.com/product/kaia/
This beautiful collection is to die for, isn't it?
These dresses have grace and elegance and an aura of royalty around them.
We loved this collection has wanted too badly to show you because this collection of bridal and formal collection by Iqra F Chaudhry deserves to be seen.
We at Pakistan Prêt Wear urge you to check these dresses out from the links given with them and place your order before they run out of stock.
Because their beauty is telling us that they might go out of stock real soon.
So don't miss the chance to look your best this wedding season and order your favorite outfit now.