Khaadi Winter Collection 2018 is heavenly, artistic, and charming.
The dresses in this collection are divided into different sections from stitched, unstitched, embroidered, printed casual, and semi-casual.
Furthermore, each section has irresistibly beautiful dresses and styles. Also, this year's collection has more focus on traditional style, though it also has a mixture of modern and traditional.
The Ready to Wear  collection of this year's winter is gorgeous, stylish and very trendy. A mixture of west and east can be seen in these dresses
This Khaadi winter collection 2018 has selected fabric other than what has now become usual and trend.
Instead, they have decided to give its customers different from what is expected to style themselves better.
Being the basic fabric of this collection, Jacquard has made it more attractive and trendy, as they give your regular casual suits more divine looks.
Besides, a simple jacquard dress with a bit of embroidery can make your dress suitable for a semi-formal occasion.
Also, they have cambric, linen, denim and satin dresses
Khaadi Winter Collection with Prices
#1 Peach Embroidered Khaadi Dress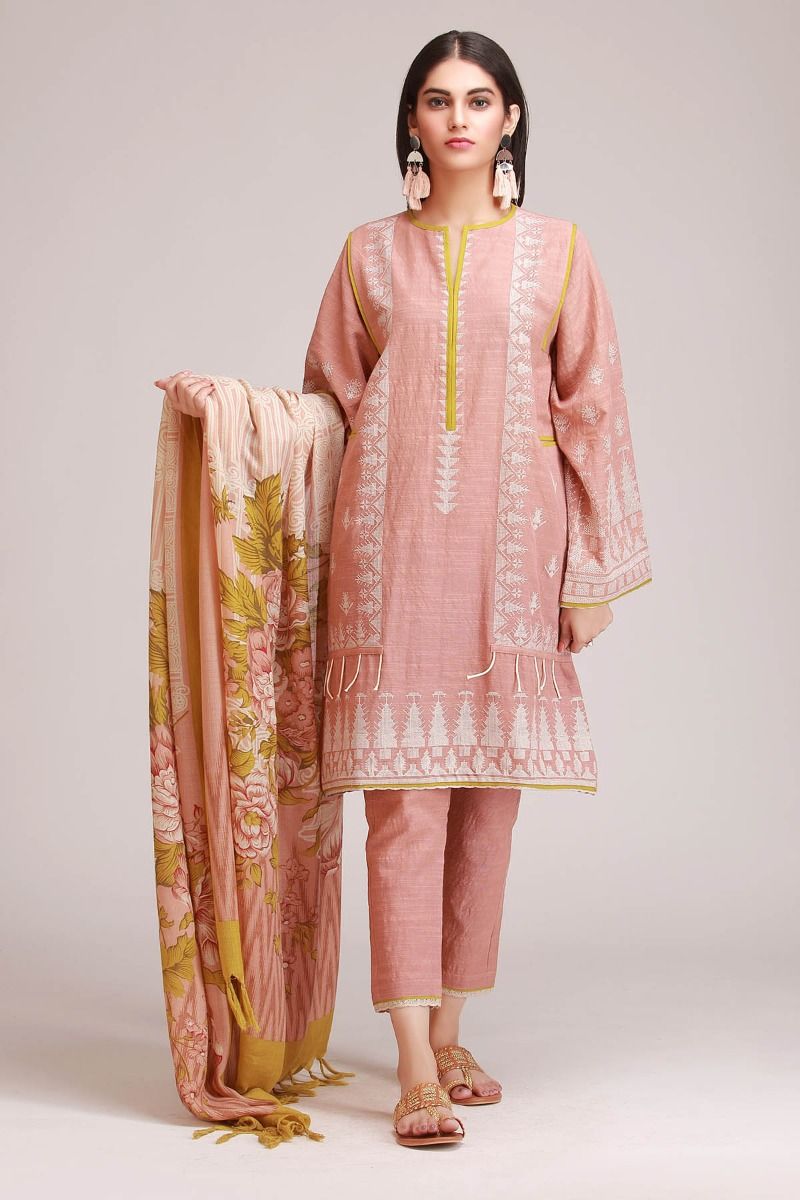 Khaadi Winter Collection's Peach Color Embroidered Suit with Digital Printed Floral Shawl.
The Beautiful Traditional Shalwar Kameez is a perfect dress for a formal event or for women at work.
You can buy this for PKR 6900 at Khaadi's Online Store.
#2 Pink Aline Frock with Dupatta
Khaadi Unstitched V Neck Aline Frock with Shalwar and Dupatta for Sale. The Unstitched Suit features a Printed Kameez with Piping on Neck and Sleeves, Plain Shalwar and a Printed Dupatta in Jacquard Fabric.
You can buy the dress at Khaadi online store for 3600/-
#3 Formal Dress
Formal Dress by Khaadi Winter Collection is your first choice to wear for Office or University. It's also a nice daily wear Khaddar Unstitched Suit.
The Blue Dress features a 3 Meter Shirt including Sleeves, 2.5 Meter Shalwar and 2.5 Meter Khaddar Dupatta.
You can buy this dress for PKR 2200 at Khaadi's website.
#4 Embroidered Khaddar Suit
Embroidered Khaddar Suit by Khaadi Winter Collection features a Beige Shirt with Embroidery Front and Printed Back, Dupatta and Dyed trousers.
Thus a perfect Pakistani Unstitched Embroidery Dress for this Winter Season.
Buy now this three-piece suit here for PKR 2800/-
#5 Designer Pakistani Suit
Unstitched Designer Pakistani Suit for Sale by Khaadi Winter Collection 2018.
The beautiful dress features a Digital Printed 2.5 Meter khaddar shirt with .75 Meter sleeves, Dupatta and Shalwar.
Buy now this Khaddar Suit here for PKR 2200/-
#6 Pakistani Winter Suit for Women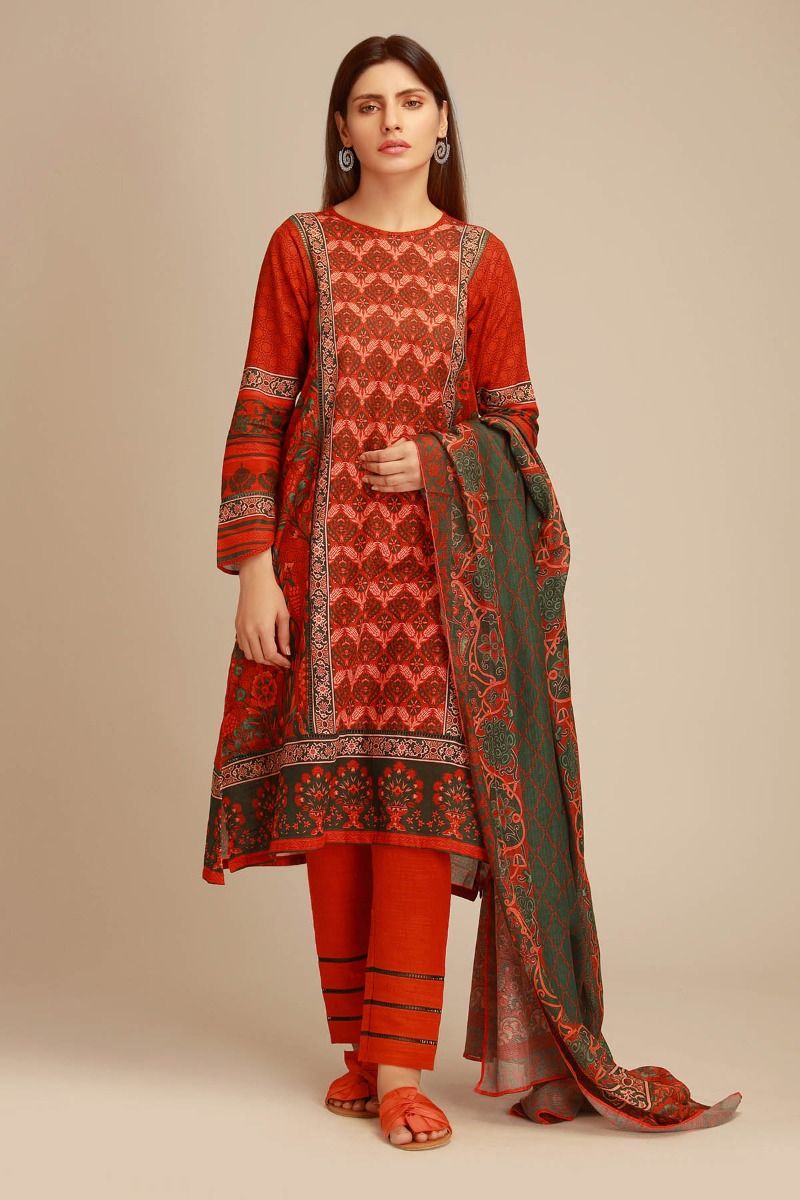 Winter Collection 2018 features this beautiful Red Pakistani Suit for Women.
The Khaadi's Unstitched Suit features a Digital Printed Kameez and Dupatta with Shalwar.
The simple yet elegant dress is available for PKR 2300/- at Khaadi.
#7 Unstitched Khaddar Suit
Unstitched Khaadi's Collection features a Rust color suit with Digital Printed Kameez (Front & Back) with Cotton Square Printed Dupatta and Shalwar.
Buy now this 3 Piece Unstitched Suit here for PKR 2300/-
The dresses of Khaadi have types from three-piece to one piece and printed to embroidered. The choice for the customer is wide.
They also have offered casual dresses and semi-formal suits as well. Embellishments and styles are very well thought and sensible.
The unstitched collection of Khaadi is mostly Jacquard, with self-print. These dresses have a very traditional touch, which gives an exquisite and graceful look to the one who wears this.
Also, the cambric light and satin dresses have a very stylish touch. The embroidered dresses among them stand out.
This year's winter's Ready to Wear collection is gorgeous, stylish, and very trendy. A mixture of west and east can be seen in these dresses.
From peplum tops, denim shirts to traditionally embroidered Jacquard Kurtis, everything is available in this collection.
Also, all the fabrics are given equal place, and these dresses can relate to people of all tastes.
The Khaadi's khaas collection this year hold my special attention as it is not just gorgeous but very captivating and bewitching
The printed Kurtis have beautiful prints, digital printing, and styling, elegant cuts and styles. All the clothes are stitched beautifully.
The plain denim and crosstitch denim tops are very favorite western-style shirts as they are stylish, simple, and dignified.
Khaadi Winter Collection Volume 2
#8 Sweat Heart Neckline Pakistani Anarkali Suit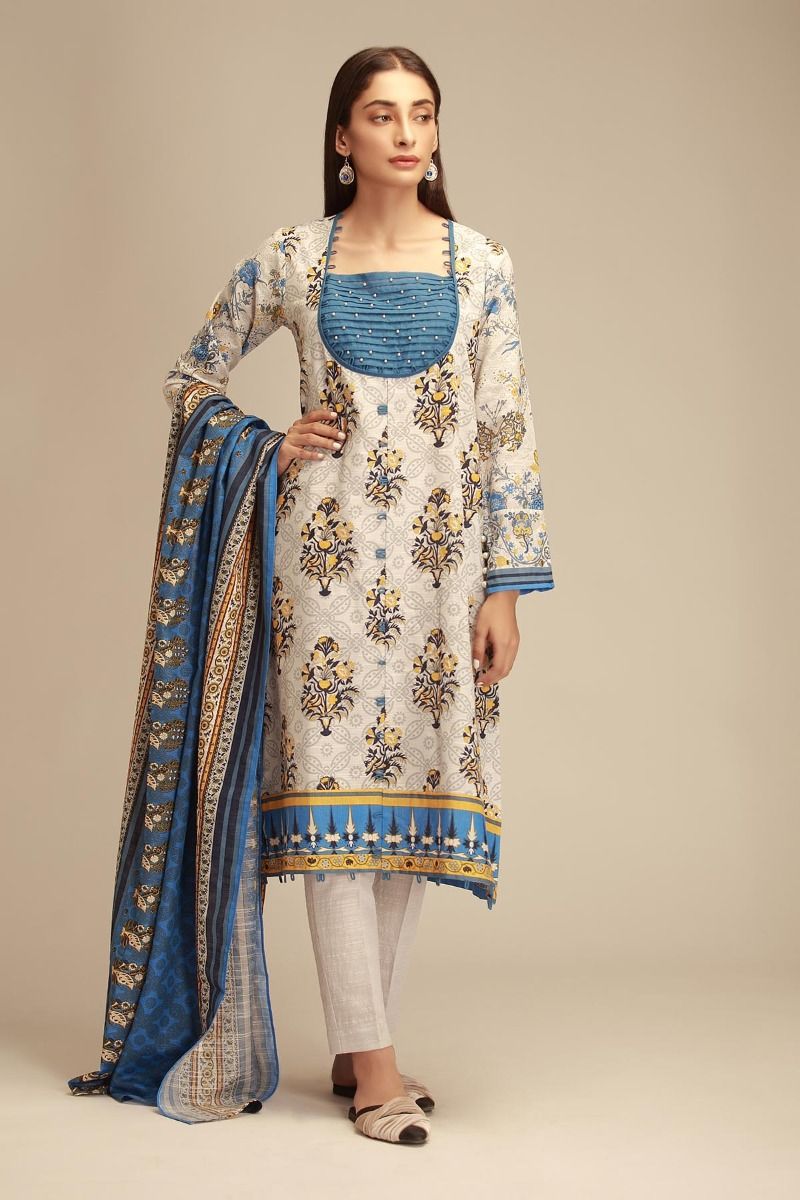 Khaadi presents this beautiful and simple Anarkali-type Pakistani Dress in the 2018 Winter Collection.
The Khaddar Unstitched Dress features a Printed Shirt with Sweat Heart Neckline with Motifs, Plain White trousers and Khaddar Dupatta.
You can buy this Blue dress at Khaadi's Store for PKR 2200/-
#9 Khaadi Kurta with Embroidered Sleeves
Khaadi 2018 Collection features this Rusty Kurta with Embroidered Sleeves, Digital Printed Dupatta and Plain Dyed Cambric Trouser.
You can buy this dress at Khaadi for 2800/-
#10 Embroidered Unstitched Suit with Chiffon Dupatta
Embroidered Unstitched Pakistani Suit features an orange kameez with Embroidered Gala (Neckline), dolmen sleeves, chiffon dupatta and white designer trousers.
Jacquard Shirt Size 3 Meter and Dupatta is 2.5 Meter. You can buy this dress for PKR 4500 here.
#11 Embroidered Khaadi Suit with Shawl
Khaddar Shirt by Khaadi 2018 comes with an Embroidered Shawl.
The beautiful Shawl will keep you warm this Winter Season. The Beautiful Formal Dress for Women is priced at 6900.
Click here to buy it now.
#12 Unstitched Shalwar Kameez
Khaadi Winter Collection 2018 features unstitched shalwar kameez in khaddar fabric.
The beautiful dress comes with a 2.5 Meter front and back printed shirt, 0.75 Meter Sleeves, Khaddar Dupatta and Shalwar.
Buy now at Khaadi's store for PKR 2200 only
#13 Black Winter Dress for Women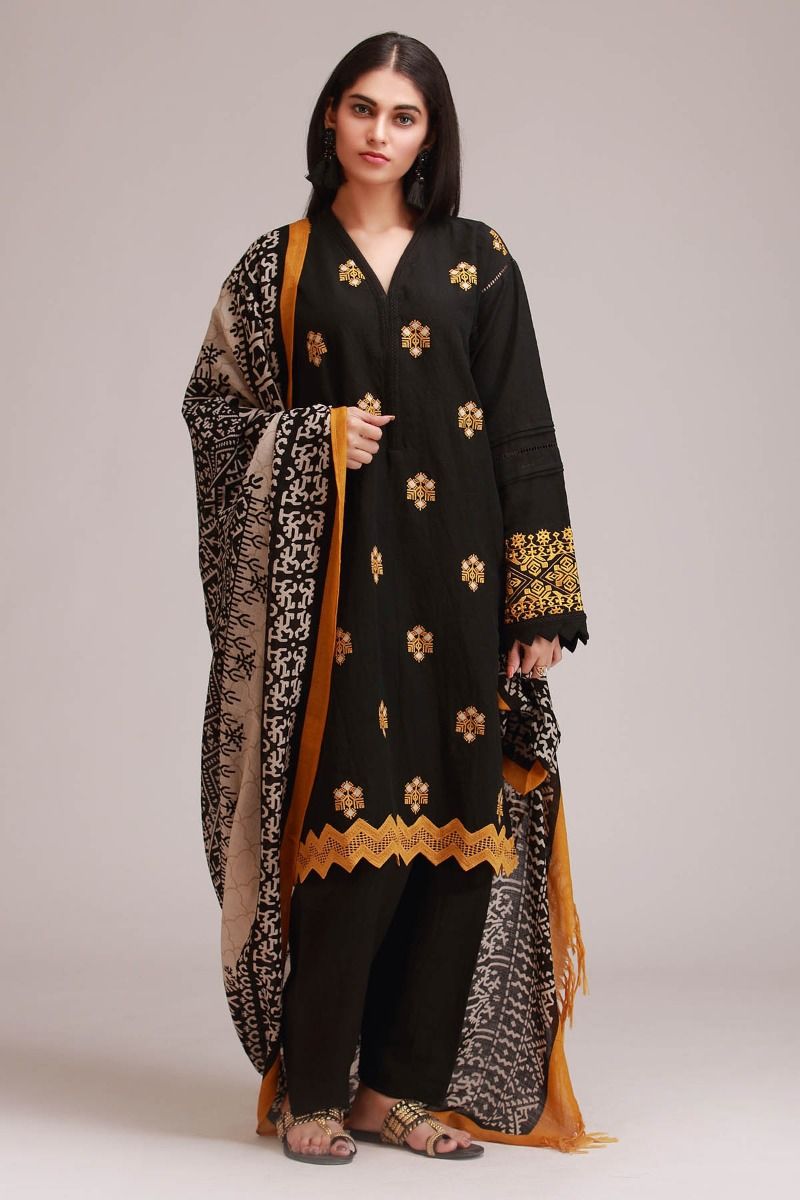 Khaadi features this Beautiful Black Color Winter Dress for Women with a Warm Shawl.
This Khaddar Embroidered Suit is perfect for a Formal Evening Event.
You can buy this Unstitched Suit for PKR 6900 at Khaadi.
#14 High Collar Digital Printed Khaadi Suit in the USA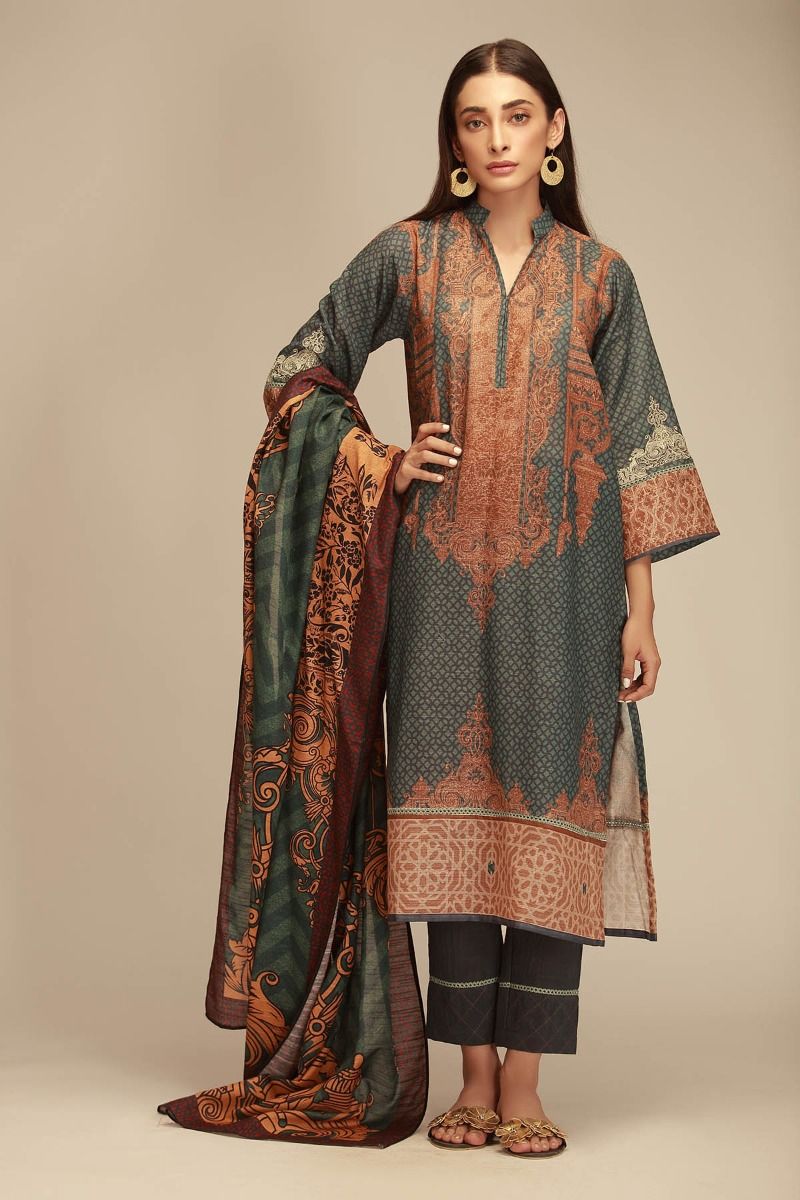 Mesmerizing warm color Unstitched Pakistani Suit for women with High Collar V Neckline is available Online.
The khaddar dress features a Printed shirt, dupatta and dyed trouser with embroidered sleeves.
You can buy Pakistani Dresses Online here for PKR 2800/-
#15 Pink Stylish Pakistani Suit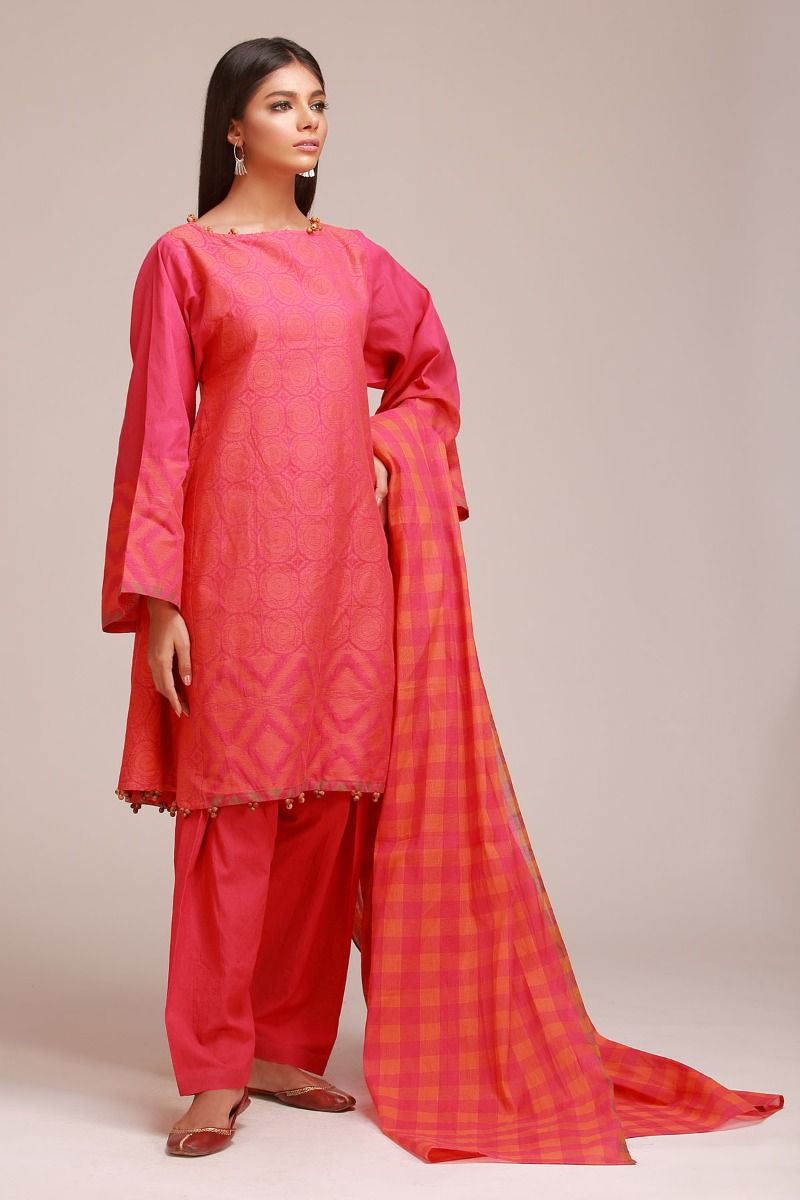 A gorgeous and stylish pink-colored unstitched dress.
This dress has a stunning jacquard shirt. It is paired with a self-printed dupatta and trousers.
Priced 3600 available here
#16 Black Dress by Khaadi for Women
This adorable black three-piece dress is available online.
This pretty dress has a gorgeous jacquard shirt and dupatta paired with trousers.
Priced 3600 available here
#17 V Neckline Black Suit with Red Dupatta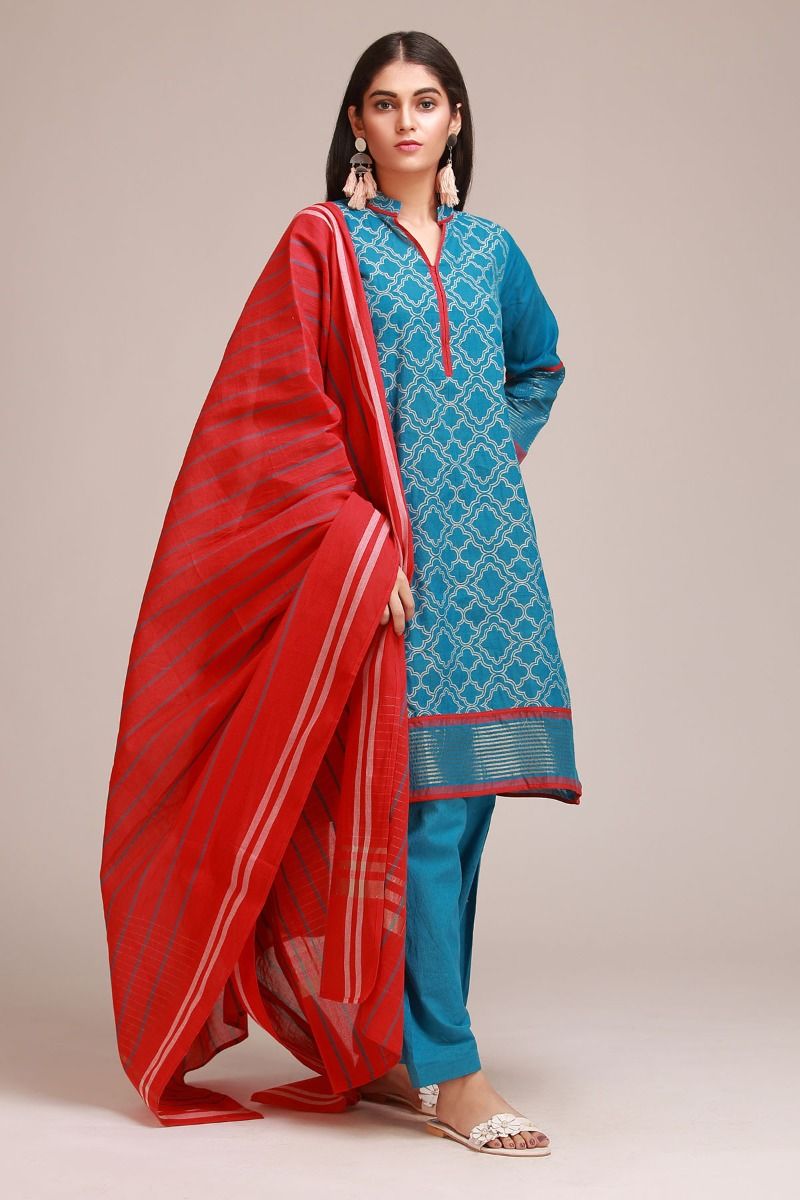 Radiant and charismatic Khaadi three-piece dress available online. This dress from the Khaadi winter collection 2018 has a jacquard shirt.
It has a jacquard dupatta and straight trousers.
Priced 3600 available here
#18 Unstitched Suit with Chiffon Dupatta
A stunning grey Pakistani three-piece Khaadi winter dress.
This pretty dress has embroidered cambric shirt. It comes along with plain trousers and beautiful chiffon printed dupatta.
Priced 3500 available here
#19 Unstitched Linen Suit with Embroidered Sleeves
Unstitched Winter Suit with 1.25 Meter Printed Front & 1.25 Meter Back, 0.5 Meter Embroidered Sleeves and 2.5 Meter Shalwar for sale at Khaadi's Online Store.
You can buy this for PKR 2200 here.
#20 Blue Kurti for Women by Khaadi
Khaadi winter collection 2018 in their pret collection has this basic blue kurti. This elegant crosshatch denim Kurti has closed sides and medium length.
The round has a slit neckline with button pleats and full sleeves.
Priced 2000 available here
#21 Khaddar Kurta for Girls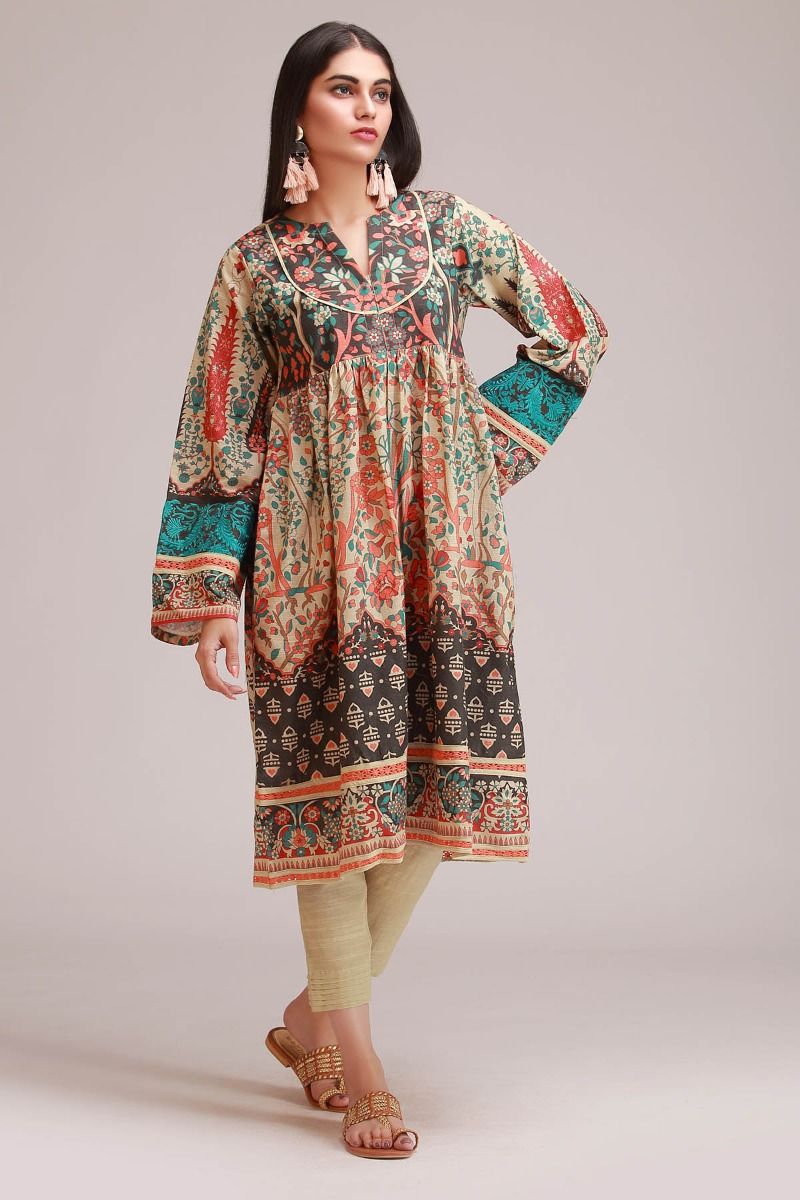 Khaadi Winter Unstitched Collection Features this Printed Frock in Khaddar Fabric.
The Kurta features Printed Front & Back with Embroidered Sleeves and Shalwar.
You can buy it here for PKR 2200/-
#22 Khaadi Peplum with Embroidered Trouser
A beautiful and stylish Pakistani winter ready-to-wear dress. This beautiful dress has a handwoven block printed shirt.
The shirt has a stylish mixture of angrakha and peplum. Which gives it a unique and beautiful look.
Priced 4000 available here
#23 Silk Chiffon Angrakha by Khaadi
Khaadi winter collection 2018 has this orange gem of a dress in their Khaas Semi-formal collection. This silk chiffon angrakha dress has tassels.
It is adorned with embroidered all over it.
Priced 15000 available here
#24 Beautiful Embroidered Rajasthani Top
Heavy embroidered pure chiffon top with composed design on bodice, flare, sleeves and back. Handmade buttons complete the final piece.
Hence, a very favorite dress for any occasion.
Priced 16000 available here
Pakistani Dresses Online You May Also Like to Buy:
This year, the khaas collection holds my special attention as it is not just gorgeous but very captivating and bewitching.
This collection has beautifully embroidered Jacquard, chiffon silk and silk dresses. Made in traditional way but still giving vibes of modernism, these dresses are a must-have.
From straight shirts to angrakha style, everything is pleasing and radiant.
Also, Khaadi Winter collection colors are being chosen very carefully. The shades of color are chosen according to fabric, printing and style.
You see a dress and can think no other color would have looked better here.
Khaadi as known to give attention to even the minor details of their each and every dress, has made beautiful contrasts in three piece and two piece dresses as well as in the colors of embroidery and prints.
Khaadi Winter Collection in the USA, UK, Canada, Europe, and the Middle East, Including Dubai, Saudi Arabia, and Qatar are available Online. You can buy from here.
You can wear these dresses by Khaadi's winter collection anywhere. That is to say, from casual to semi-formal these dresses can be worn at any place.
These are perfect for casual family dinners, official dinners—a day out with friends.
Also, the tops, Kurtis and two-piece dresses are perfect for university students and office wear.
Three pieces are also a fascinating choice for office wear, especially in a meeting.
Besides, the Khaadi Khaas collection has a beautiful range to cover your semi-formal affairs.