Pakistani Wedding Dresses by Tena Durrani has collected the most alluring and stunning formals since 2005.
The source of inspiration is art and architecture from the ancient Mughal period that defines the roots of our traditions.
Pakistani Wedding Dresses by Tena Durrani collections are fluid, always changing to ensure individuality and brimming with vibrant, rich colors and embroidery patterns that are extensively sampled to perfection before being used in her designs.
Gorgeous and Alluring Pakistani Wedding Dresses by Tena Durrani
#1 Embroidered Pink and Green Dress
Coral pink organza knee-length shirt with elbow-length sleeves.
Beautiful floral embellished neckline. Pearl sequins chan on sleeves with floral embellished motif.
Also, there is a gold aari and handwork on the shirt and daaman. Besides, deep red velvet gharara with booti chan.
Also, lime organza dupatta handworked embellished borders and motif chan.
Priced 100,000 available here
#2 Teal Embellished Lehanga
Teal velvet halter cut choli with floral hand woven neckline and borders on hem.
This Tena Durrani dress has moss-colored brocade lehnga with pockets.
Also, lilac net dupatta with beautiful floral handwork on all four sides with sequin and floral booti chann allover dupatta.
Priced 40000 available here
#3 Black Velvet Beauty
Black velvet loose cut kurta with bell-shaped sleeves. Embellished daaman and sleeves. Drop stones finishing on sleeves.
Black brocade pants make this wedding dress a must-have Pakistani wedding dress.
Priced 150000 available here
#4 Yellow Embroidered Skirt
Pakistani wedding dresses by Tena Durrani yellow net peplum cut shirt with a deep V-neck.
Front and back neck line embroidered with gold tilla and and resham machine work.
Also, cutwork on necklines. Besides, bodice has cotton silk lining. Three-quarter bell-shaped sleeves are also embroidered.
Heavy resham and tilla embroidery on hemline with cotton silk finishing.
Yellow charmeuse choli with braided straps.Digital print charmeuse silk lehnga with charmeuse finishing and lining.
Priced 60000 available here
#5 Golden Jacketed Wedding Dress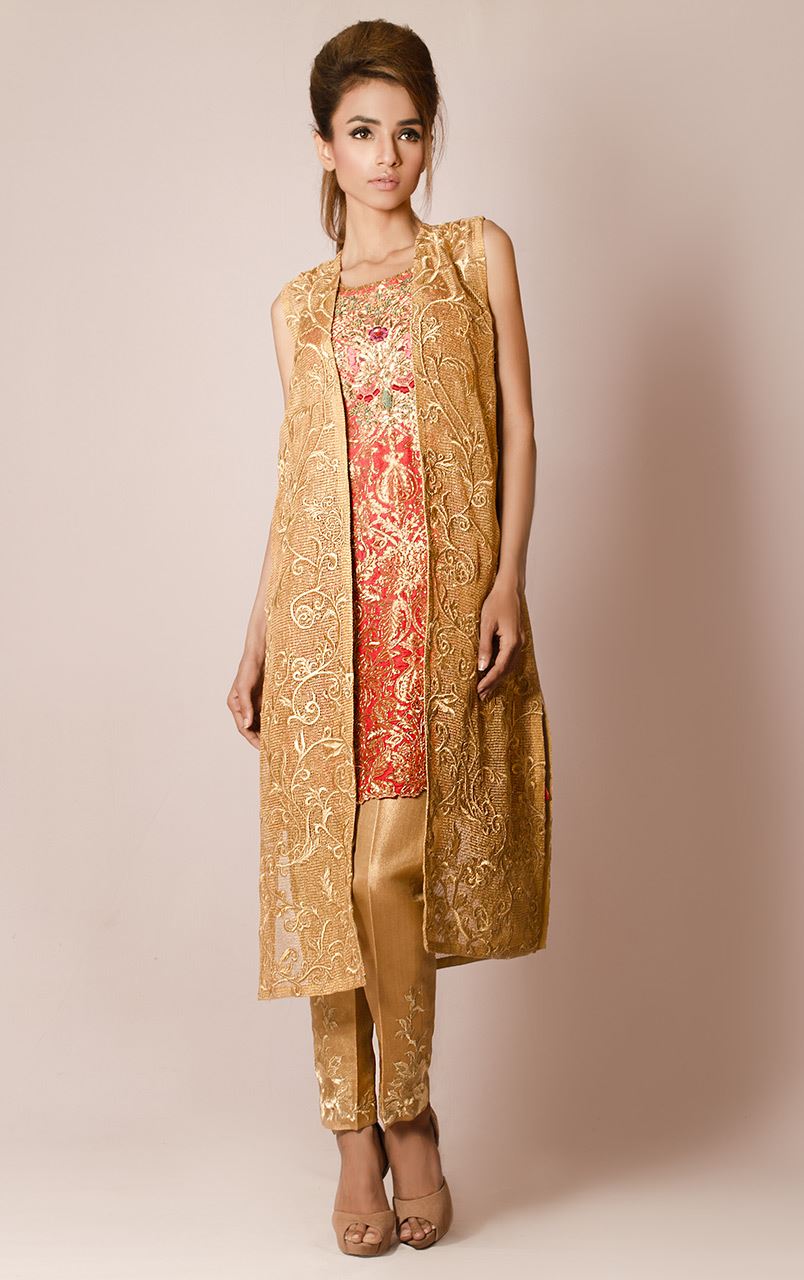 Halter cut shirt with sequins and beads embellishment on the neckline and armholes.
Floral motif on shirt front is embellished with French knots, sequins, beads, dabka and nakshi. Sequins and resham jaal on shirt bodice.
Beads and sequins outline on floral motifs of brocade shirt fabric. Front daaman is cut worked—plain brocade fabric shirt.
Gold organza tissue pants with gold floral tilla embroidery on cuff. Gold jaali jacket, front open, with gold tilla embroidery on front and back.
Priced 90000 available here
#6 Off-white Adorned Lehanga
Short kurta cut shirt. Also, cut worked round neckline embellished with sequins, pearls, beads and crystals.
Besides, bell sleeves are embellished with sequins, pearls, beads, and crystals with cutwork on the hem.
Also, the shirt hem is heavily embellished with pearls, beads, sequins and crystals. There are embellished trellises on shirt back. Cut worked hem front and back.
Priced 100000 available here
#7 White Embellished Sarri
Ivory net skirt sari with hand-worked borders on all edges worked with crystals, beads and sequins.
Also, floral booti chan and motifs are scattered throughout the net sari.
Brocade sleeveless blouse. Also, it comes along with a brocade petticoat. Hence, a must-have traditional wedding dress
Priced 180000 available here
#8 Pearl Pink Wedding dress
Pakistani wedding dress by Tena Durrani Pale pink net shirt with rounded neckline embellished with crystals, beads, and resham handworked embroidery.
Also, net sleeves with chan and cuff work. The hemline of the shirt is rounded. Brocade lining under shirt.
Brocade pants with handworked embroidery of crystals, beads and stones on side hem with slit.
Priced 80000 available here
#9 Peach Traditional Dress
Cut worked neckline worked with nakshi, resham and sequins. Also, scattered floral bootis of sequins on shirt front.
The front hem is cut worked with floral sequins embroidery. Plain back. It comes with raw silk loop buttons pants and chiffon or silk dupatta.
Hence, this peachy three-piece dress makes a beautiful wedding dress
Priced 55000 available here